Quirky cafe Taste of Honey is a Deventer hidden gem and the star of this Dutch town
It was like Russian roulette at Amsterdam's Central Station when, on a sunny Sunday, Sharps and I decided to take pot luck and head on a train to a small town called Deventer Netherlands tourist information. We had managed to get ourselves a cheap day train ticket that can be used anywhere in Holland. The plan was to visit Maastricht for the day but we overslept. And as Maastricht is about two-and-a-half hours from our base in Amsterdam we decided it was too late in the day to go and check it out. In hindsight probably quite ambitious anyway as you really need a weekend to do Maastricht any kind of justice. So with no set plan, apart from a quick look at the tourist board's website which has vague info on anywhere other than the usual Dutch city suspects (think Amsterdam, The Hague, Rotterdam), I suggested the Hanseatic town of Deventer. It laid claim to being one of the oldest cities in The Netherlands, plus it was a bit over an hour away from Amsterdam. And this was how I came to stumble across a Deventer hidden gem, A Taste of Honey.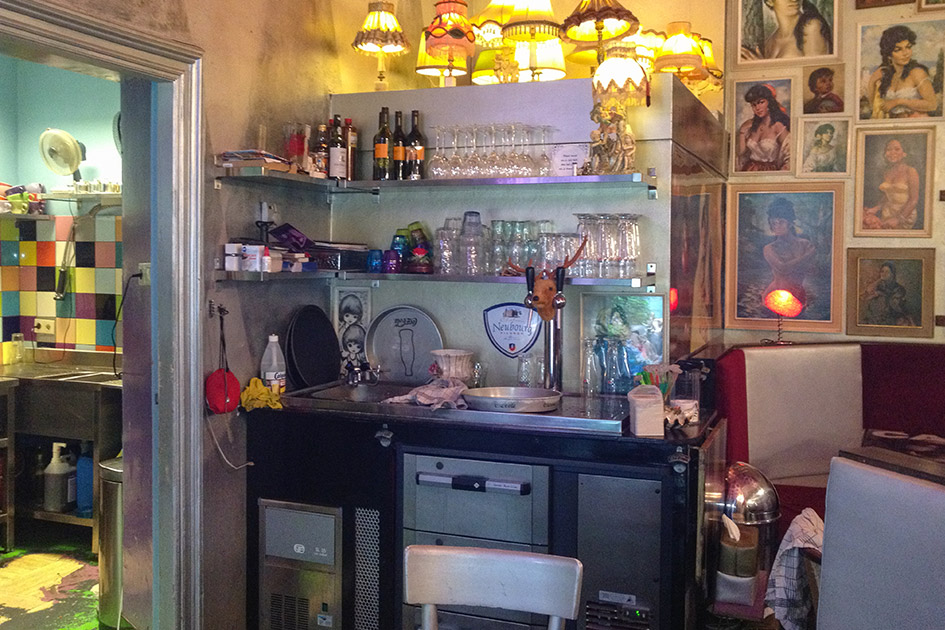 As luck would have it the Sunday in August we decided to go coincided with Deventer's annual book fair, the largest annual consumer book fair in Europe. Sharps noticed hoards of old people waiting at the station for our connecting train (our journey from Amsterdam took about an hour-and-a-half in total), but strangely they didn't all get off at Deventer. On arrival it was relatively easy to find our way to the city centre, in part because there was a lady with maps and info at the station (she was there due to the book fair), but also because the town itself is relatively compact.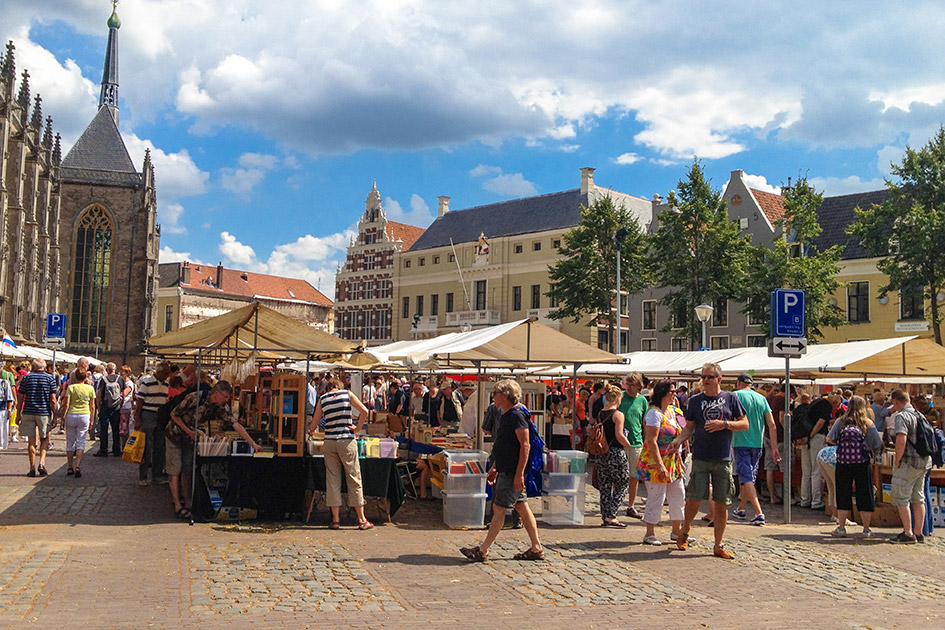 Deventer is a typical Dutch town, consisting of an obligatory market square, which was where we found the book fair. While obviously the majority of books were in Dutch it is also possible to find books in English too if you can be bothered to hunt them out. We were also fortunate that because of the book fair most of the shops were open as it's worth noting that otherwise they are usually closed on Sundays. Deventer's other claim to fame is that the epic war film, A Bridge Too Far, starring Sean Connery, Dirk Bogarde, Michael Caine, Anthony Hopkins, Robert Redford, Elliott Gould, Gene Hackman – the list of famous faces goes on – was filmed in Deventer. As you can see from my pic below the very bridge shot in the film is behind Sharps.
It was while we were wandering round the shopping area, made up of lots of little side streets, that I spotted A Taste of Honey, my Deventer hidden gem. What I loved about this cafe was the outdoor area – a big courtyard where you could sit outside on couches or chairs decorated with fluffy cushions and order food.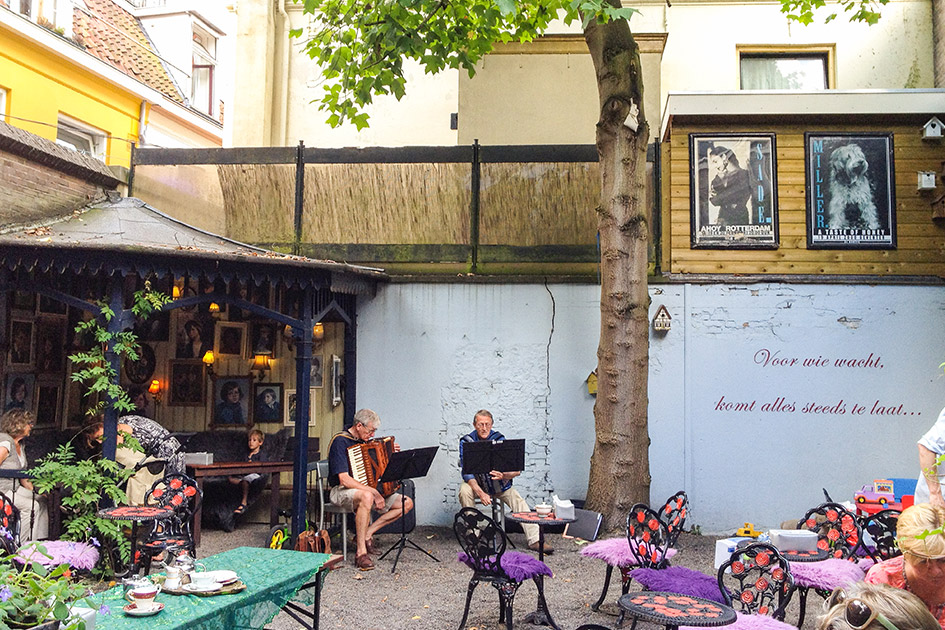 Tucked away at the back there was a cool wooden conservatory, again decked out with tables and couches and adorned with lots of paintings of the same (slightly creepy looking) child – the owner told me this used to be a form of poor man's art in Holland. We timed our pit stop perfectly as we even had musical entertainment, to our delight a couple of guys were playing the accordion.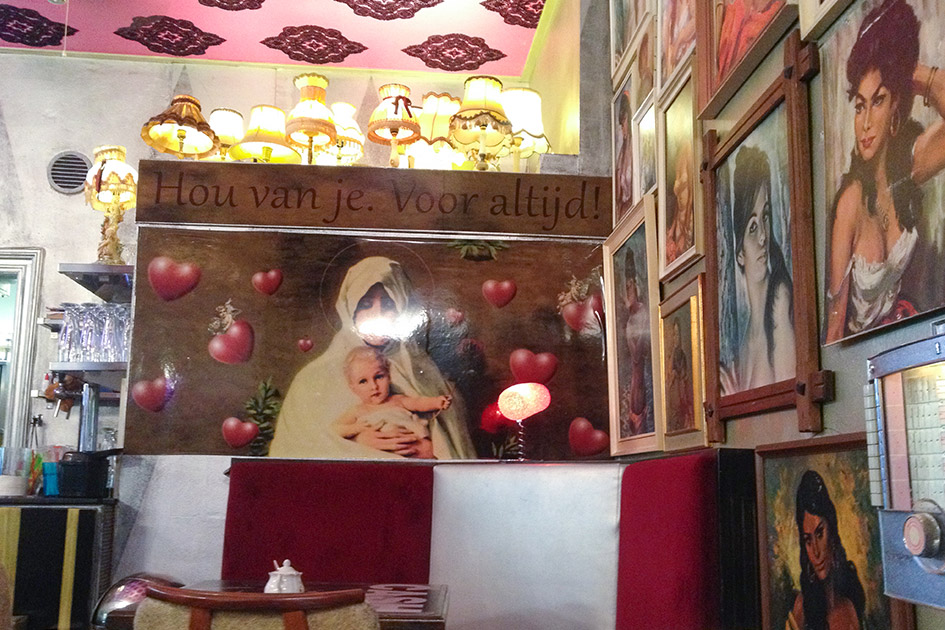 It wasn't just the outside of this Deventer hidden gem that was cool. Stepping inside A Taste of Honey (names after a Four Tops hit) was a surreal throwback to the 50s, with songs from the decade playing in the background, Johnny Cash memorabilia and almost Spanish feel. On the walls were a host of quirky pictures, a selection of reindeer and flamingos and downstairs was equally as interesting as the ladies toilets had glittery silver seats and there was a big jukebox in the corridor.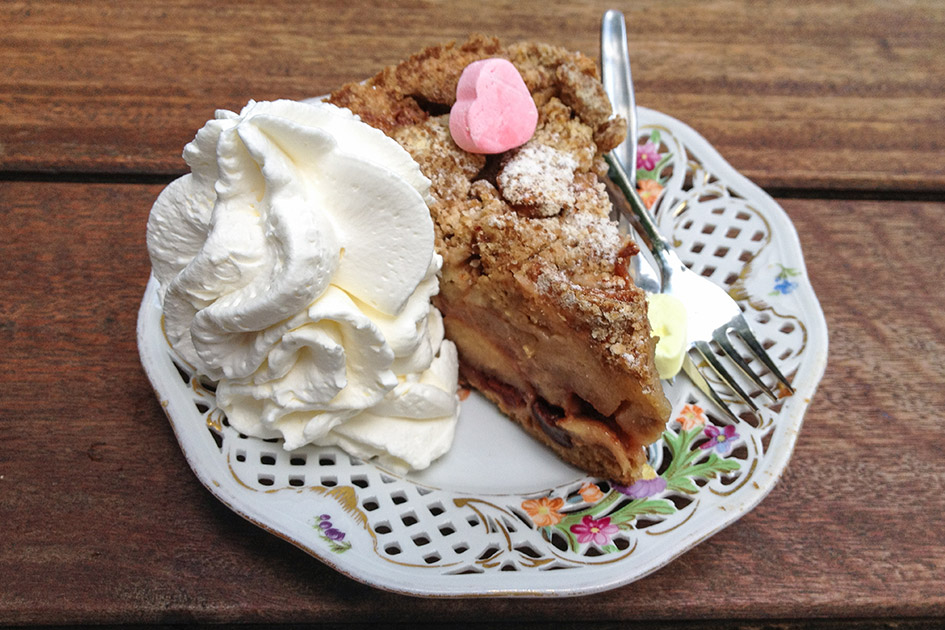 What made this a Deventer hidden gem for Sharps was the food. The menu is pretty basic – a selection of bagels (from €4.50 – €8.50), salads, cakes, hot and cold drinks (€2.65 for coffee and €2.35 for tea) and we shared a generous slab of Dutch apple cake (€3.75), served on a proper china plate. The soft, plump apple had a hint of cinnamon and was bit strudel-like in taste and texture, and Sharps ordered a huge dollop of fresh cream on the side (€0.60). I have to be honest and say while we had a lovely day out it there isn't that much going on in the town itself so it was definitely A Taste of Honey that made our trip to Deventer sweet.
You might also like