Thanks to a revamp this could be the best pub in Forest Hill
I never expected to be writing about the Railway Telegraph pub in Forest Hill, let alone describing it as the best pub in Forest Hill. In the five years I've lived in South East London I've never actually been inside the Railway Telegraph. Not because it's on Stanstead road so a little out of the way from the main hub of Forest Hill. But because, to be frank, it looked like a total dump. Which was why I was a bit surprised to learn that some of Forest Hill fashion week's events had been held there.
It all made sense when I received an invite to sample the new menu. It turns out that the Railway Telegraph, the best pub in Forest Hill, is undergoing something of a revamp. First off, the transformation from old man's pub you wouldn't dare to set foot in to a cool destination pub is pretty impressive. Not only is the Railway Telegraph the best pub in Forest Hill it also easily serves the best cocktails in Forest Hill. All of which looked almost too pretty to drink. Almost. I opted for a knickerbockerglory. This rum-based mohito complete with raspberry cream on top looked exactly as it sounds. I wasn't brave enough to try the English Rose, an absinthe based cocktail, but I'm told was quite pleasant with a mere hint of the lethal liquor.
I also discovered there's a hidden gem of a Victorian style drinking den located in the basement of the best pub in Forest Hill. It reminded me of The Worship Street Whistling Shop – vintage furniture and lots of dark wood which gives it more of a pub vibe as opposed to a pretentious cocktail bar. As it only seats around 25 people, meaning it will be tickets only. But that will give this speakeasy more of a secluded feel.
The drinks may have been inventive but when it came to the food, I have to be honest, I wasn't holding out much hope. Fortunately I was wrong – the executive chef comes from the Hix stable. His menu of wholesome cooking, inspired by Mrs Beeton, proved to be hearty without being heavy. We sampled a selection of dishes. These included moorish pea and mash fritters, duck livers on brioche with whisky cream and oysters wrapped in bacon on a light base of puff pastry (my friend Sabina said you could taste the saltiness of the sea). As I don't eat meat I was treated to the grilled seabass (minus the crayfish and clams as I don't eat shellfish) in a white wine and tomato sauce. I also tried some of the veggie option of tasty roasted red peppers stuffed with red rice, herbs and topped with feta cheese.
I'm not usually a pudding person but for me the stand-out dishes were the desserts that I somehow managed to find space for. A rose Turkish delight, mulberry and almond cheesecake was creamy and fluffy and the best cheesecake I've tasted in a long while. I'm not usually a fan of dark chocolate but the classic combination of chocolate and orange in this rich dark chocolate orange tart was divine.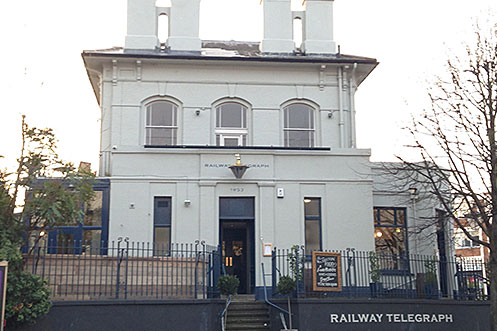 Forest Hill may be an up-and-coming area of South East London but one thing it sorely lacks is a decent restaurant (not counting Babur as it's in Brockley Rise). The Railway Telegraph pub could be the answer. As well as serving up its own new menu Threepenny Mansion, the upstairs dining room, is going to be used as a function room and a space for fortnightly pop-up restaurants. It also has a terrace area where people can hang out too.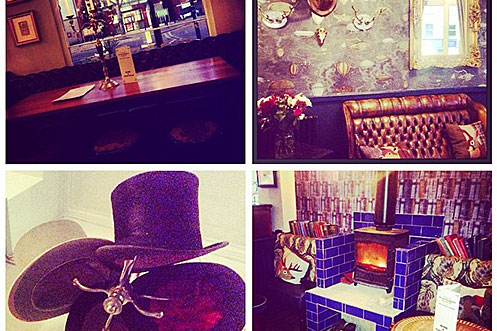 As a mum it's often a struggle to find family-friendly pubs, especially ones that cater for groups of mums with buggies. This is where the Railway telegraph also excels itself. Not only does the best pub in Forest Hill welcome mums and babies during the day (with lots of space to manoeuvre and step-free access to get inside), it also hosts classes for little ones like Music Giggles in the function room upstairs.
Another exciting development is the outside area of the best pub in Forest Hill. There are plans for BBQ's, a kids' play area and outdoor film screenings. There's even talk of further down the line the car park being converted into a beach for the summer of 2016. With so much going on (and not forgetting those cocktails) the Railway Telegraph, the best pub in Forest Hill, is no longer on the wrong side of the tracks. It's an SE23 hidden gem worth taking a detour for.
You might also like