Is this the best Indonesian restaurant in Amsterdam?
Forget curry or Chinese, it's Indonesian food that's a staple cuisine in Amsterdam. But with so many Indonesian restaurants, of varying quality, to be found in the Dutch capital it can be tricky to know where to go. I'd been told by those in the know that the best Indonesian restaurant in Amsterdam is Blauw, located in the posh suburb of Amsterdam West close to Vondel Park. So it goes without saying I had to find out for myself if Blauw lived up to its reputation as the best Indonesian restaurant in Amsterdam and was indeed one of Amsterdam's hidden foodie gems.
I have to admit that things didn't get off to the best start on the night I went. First up there was a mix-up with our booking, the restaurant called at 6.45pm to see if we were still coming, our table was for 8pm. Then I was given the worst table ever, right next to the bar and on route to the toilet, which mean there was a constant stream of people walking past. But we were given a more pleasant spot upstairs after I asked if we could be moved.
Blauw, the best Indonesian restaurant in Amsterdam, is legendary for its rijsttafel (rice table). I went for the vegetable version and tried not to get distracted by other dishes on the menu, which sounded equally as delicious. I also opted out of a starter. I tried to warn my friends that the rice table was supposed to be massive, but I don't think they quite believed me, and ignored my advice. One of them ordered deep fried crispy shrimp. Two huge pieces of shrimp, covered in a surprisingly light and fluffy batter that didn't stick to the shellfish, served with a mix of sweet, savoury and spicy sauces. My other friend opted for Soto Ayam, a flavoursome, spicy chicken broth, the taste of the lemongrass and kaffir leaves really coming through, with decent-sized pieces of chicken in it.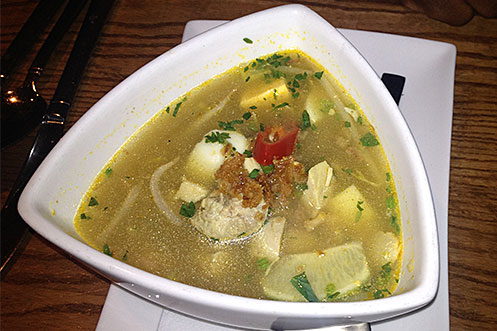 But I knew the best was yet to come. And I wasn't disappointed. Our waitress said the rice table (all 18 dishes of it) was for one person. Seeing the gigantic amount of food before us I have to say it was a bit of a stretch, even for me. My friends had also ordered a meat, fish and vegetable rice table and a main dish of beef to share between them. I was so excited by the vast array of food in front of us I didn't even know where to start. f it tasted as good as it looked I can see why Blauw is the best Indonesian restaurant in Amsterdam.
My vegetarian feast included a variety of veg in sambal sauces, mixed veg in coconut sauce, spicy tofu and tempeh dishes, caramelised potato, sweet and sour cucumber, fried banana and steamed and fried rice. Each dish was delicately flavoured and deliciously spicy, without being too hot, greasy or overpowering. For the meat eaters there were a selection of dishes from the vegetarian ricetaffel as well as goat in soy sauce, stewed beef in tumeric and in a spicy sauce with cinnamon, chicken satay, fried cod in a curry and a spicy sauce and pork in soy sauce with star anise. It wasn't just our table that was groaning at the amount of food on it at Amsterdam's best Indonesian restaurant. We were stuffed. Blauw may well be the best Indonesian restaurant in Amsterdam but it also has a branch in Utrecht so I've no doubt it's probably the best Indonesian restaurant in Utrecht too.
You might also like