Best budget vegetarian restaurant in Amsterdam
Finding a decent vegetarian restaurant in Amsterdam, especially in the touristy parts of town, can be tricky at the best of times. Amsterdammers love their meat (and herring) so I could barely contain my excitement at my discovery of the TerraZen Centre vegetarian restaurant in Amsterdam.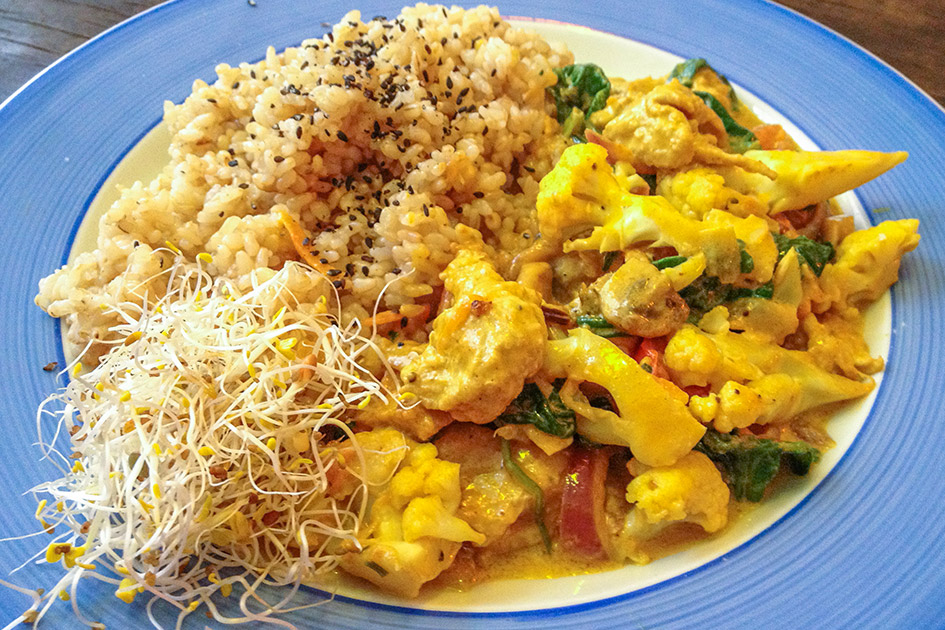 Of the few vegetarian or veggie friendly places to eat in Amsterdam most tend to be slightly further out of the centre (Betty's and De Kas). This leaves non-meat eaters fairly limited, usually a toss up between with the less than healthy option of chips with various forms of mayo, or a cheese sandwich. Unbelievably the TerraZen Centre vegetarian restaurant in Amsterdam is located right in the middle of Amsterdam's main shopping street, close to Damark and Spuistraat. But it's still an Amsterdam hidden gem as it's tucked away down a little side street on Sint Jacobsstraat.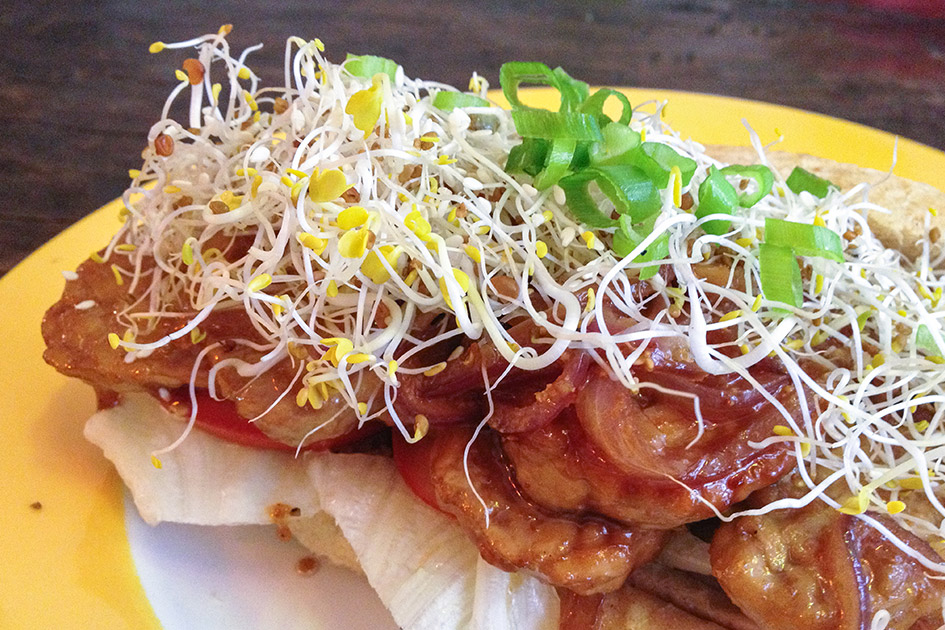 The TerraZen Centre vegetarian restaurant in Amsterdam has more of a cafe feel to it than a restaurant. It's pretty casual, there's a bit of a hippy vibe going on. And it's also quite small – there are only about three tables and a counter area. Our table was quite low down so we sat on cushions while we ate but to be honest at this vegetarian restaurant in Amsterdam it's really all about the food.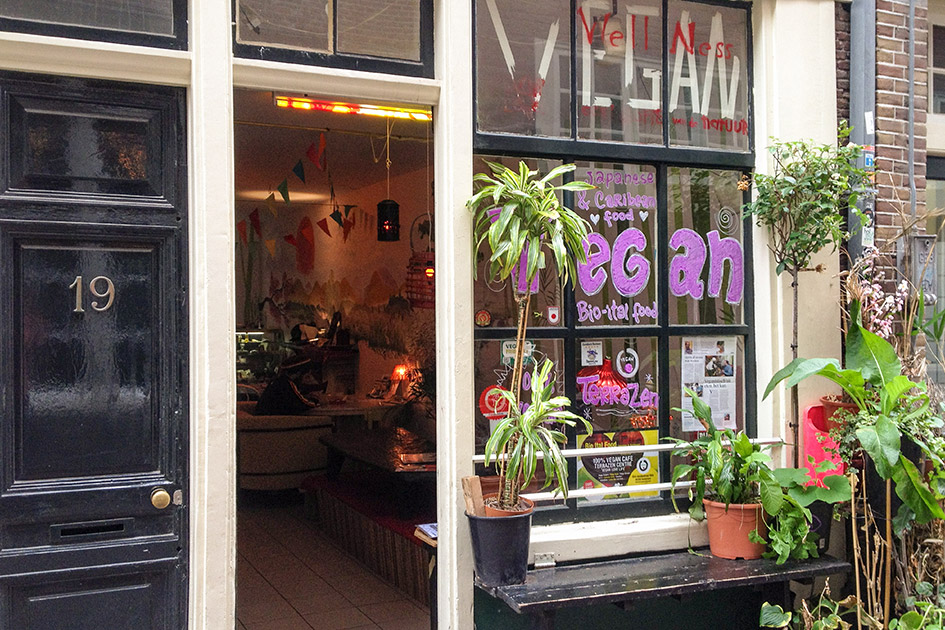 I was surprised by how extensive the menu was. Dishes combine Japanese and Caribbean influences, ranging from vegetarian curries and chicken katsu to noodles, burgers, stews, sushi and sandwiches – all totally vegan made from ingredients such as tempeh, tofu and lentils. feeling totally spoilt for choice Sharps and I decided to share two dishes. We went for a tempeh burger (on the basis the best burger I've ever eaten in my life was a tempeh burger in Sydney, Australia. Sadly it was years ago and I was too drunk to remember the name of the burger bar). We also decided to go for the veggie chicken curry with rice.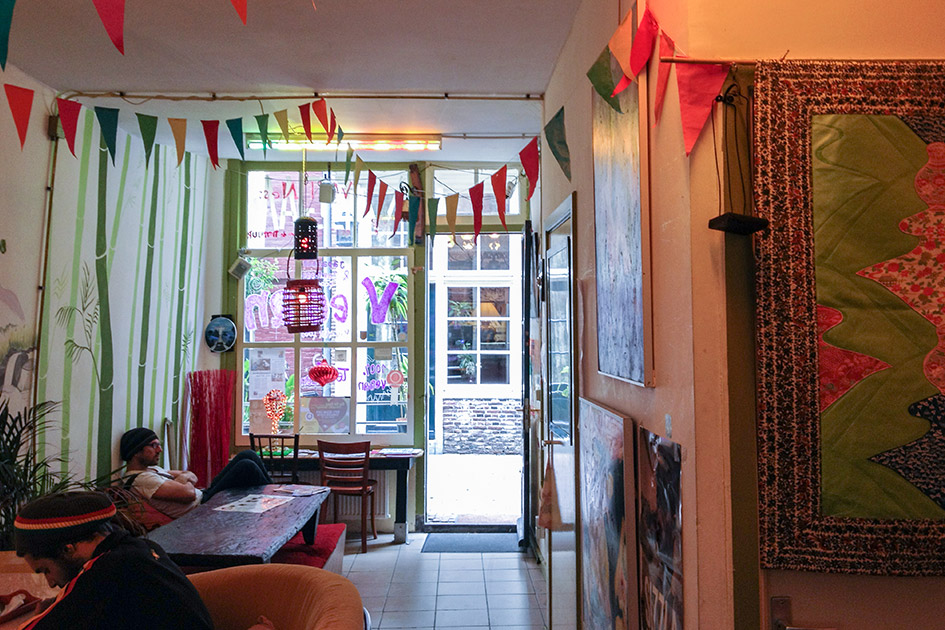 Apart from one rasta guy on the next table Sharps and I were the only people in the TeraZen Centre. Even so our food still took a while to arrive as it was being freshly prepared to order. But also unlike many of the eating establishments in Amsterdam the waitress was super friendly so we didn't mind too much. Plus, unlike in lots of Amsterdam cafes, this food was well worth waiting for. Both dishes were tasty and packed full of flavour, though we both greedily fought over the creamy vegetarian chicken curry which stood out of the two. Sharps even said (unprompted) that he'd be keen to come back so he could try more off the menu at this vegetarian restaurant in Amsterdam. We both left feeling full and far more zen than we had in a long time.
You might also like