The last time I went out for dinner with my brother Darren (who's a bit of a food snob) I came up trumps. We went to The French, Simon Rogan's award-winning restaurant in Manchester. Having set the bar pretty high, I was determined to find another of Manchester's hidden gems in its vastly improving food scene. Just one little problem. We were in Prestwich, North Manchester, not exactly known for its culinary prowess, aside from one of Manchester's best foodie hidden gems, Aumbry, and some great kosher delis. Fine if you're after fine dining or a snack. We just wanted a nice relaxed dinner out without having to trek too far.
As another of my favourite foodie hidden gems, Slatterys patisserie, is just down the road in Whitefield I thought I'd extend my search to there. I'm glad I did as after a bit of research I came across The Parkfield Inn Whitefield, voted number one place to eat in Whitefield by Tripadvisor. Judging by the menu (although you can't always rely on what you see online) it sounded like a winner so I suggested we go and check it out.
Located in a quiet suburban street, The Parkfield Inn Whitefield is definitely a Manchester hidden gem. Opened in 1864, this gastro pub is the oldest surviving pub in Whitefield. That may be the case but there's nothing tired about the Parkfield Inn Whitefield's menu which serves up dishes made from fresh, locally sourced produce. My starter at the Parkfield Inn Whitefield of oak smoked haddock took me by surprise. Mainly because it wasn't in the least what I'd be expecting. Smoked haddock, combined with a pea risotto, pea puree, fish volute, pea shoots and Welsh rabbit glaze was a glorious version of kedgeree which, as I've mentioned in other posts, I'm a huge fan of. Darren didn't fare quite so well on the starter front. He fancied the BBQ ribs with piccalilli but they had run out of piccalilli so he changed his order to the scallops. They were served with a confit of pork belly which he said slightly overpowered the delicate flavour of the scallops and the hazelnut foam if you put too much of it on a forkful.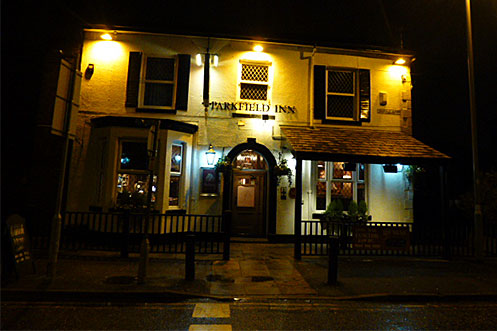 The Parkfield Inn Whitefield in North Manchester
For my main event at the Parkfield Inn Whitefield I chose Indian spiced fillet of cod, served with sea asparagus, coriander potato rosti, onion bhaji and a tomato and raisin dressing. The potato rosti was just the right balance – a crisp shell enveloping soft potato. Likewise moist chunks of cod were underneath the crispy fish skin. The only thing I wasn't sure about was the addition of capers to the mix, they clashed with the sweetness of the raisins. And the onion bhaji was overly salty, hard and chewy.
Darren decided on lamb in a red wine sauce with bacon, shallots and mushroom, topped with rarebit. Unfortunately when it arrived it was minus the rarebit so he had to send it back. But the waiter was apologetic and they did deduct the meal from the bill at the end which was a nice gesture. He said it was worth waiting for the rarebit as it added a creamy texture to the powerful red wine sauce, binding all of the elements of the dish together. My biggest letdown was dessert. Describing my pudding as a rhubarb and Bramley apple crumble was false advertising. To me that conjures up an image of rich, sweet chunks of soft apple, pieces of tart pink rhubarb with a bit of bite topped with a stodgy crumble, crunchy on top. What I actually got was more of a portion of stewed fruit covered in a thin layer of cinnamon crumb. It didn't help that I don't like cinnamon, and there was no mention of it on the menu.
Perhaps I was just unlucky in my choice as Darren's gooey hot chocolate orange fondant pudding was faultless. I couldn't help but cast envious glances over at the next table who had ordered sticky toffee pudding dribbling with butterscotch sauce. While a couple of the dishes at the Parkfield Inn Whitefield may need a few tweaks at least they attempted to be inventive and I'd still highly recommend this as a Manchester hidden gem. The quality of the produce is excellent at the Parkfield Inn Whitefield, as is the execution, and we were both impressed by the standard of the service too. Plus you get to dine in a relaxed atmosphere, the Parkfied Inn Whitefield has more of a country pub vibe about it. The Parkfield Inn Whitefield isn't cheap but you get what you pay for and hopefully the oldest pub in Whitefield will be around for many more years to come.
You might also like