I'm always on the lookout for hidden gems so when the quirky Maastricht monastery hotel, Kruisherenhotel, invited me to be their guest for the night I was delighted. It seemed the obvious choice to me for a stay on a visit to Maastricht. The Kruisherenhotel was formerly a 15th century monastery and the outside of this unusual Maastricht hotel alone is pretty impressive.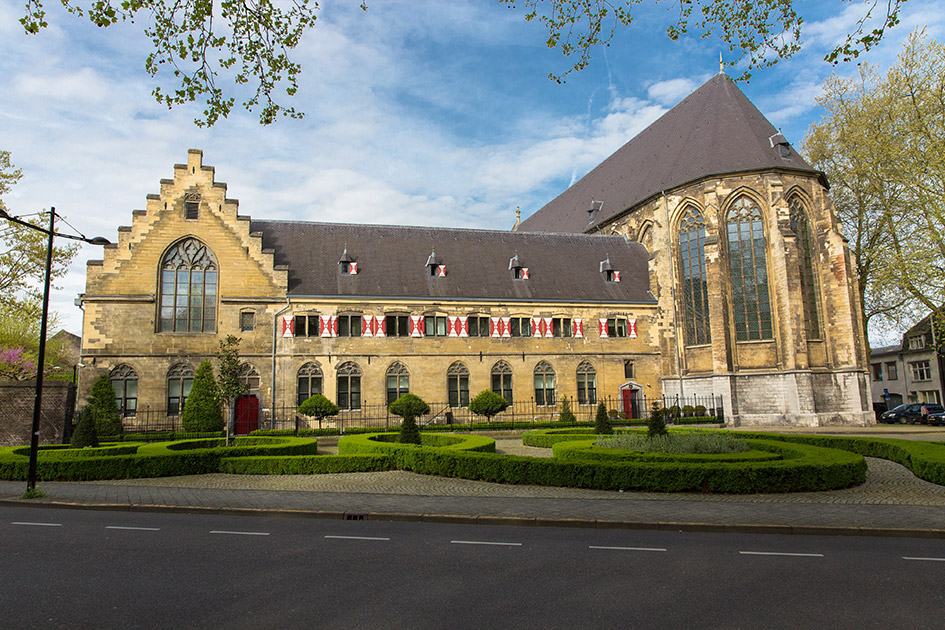 Even before I'd gone through the cool metallic tunnel which is the entrance to the hotel, I was in awe. Stepping inside I was greeted by a mix of original Gothic features and cool, contemporary artwork (there was a temporary exhibition on when I was staying there featuring the work of a contemporary Dutch artist. And I was secretly thanking the Lord we were staying here.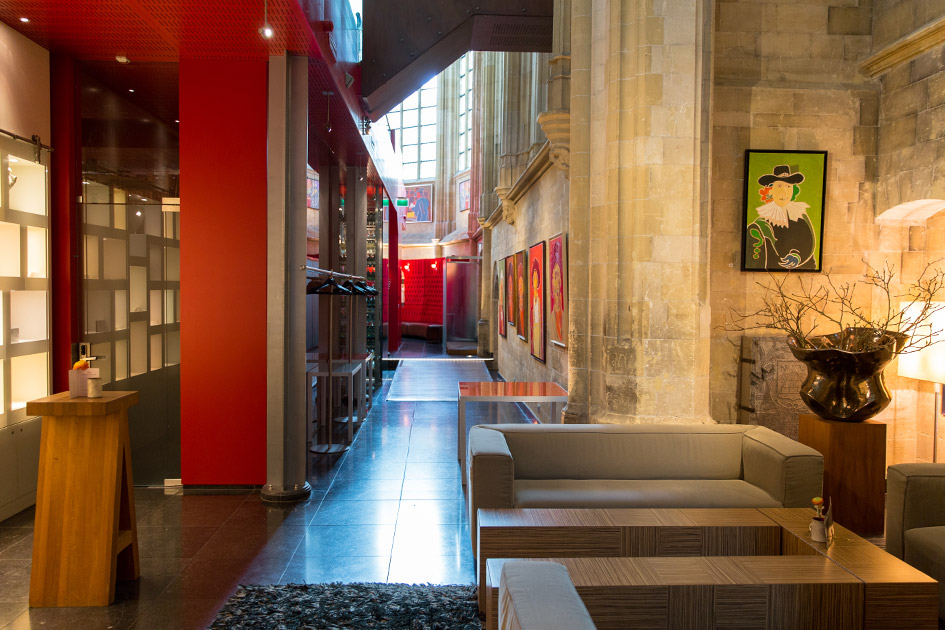 The interior of the Kruisherenhotel, created by reknowned Dutch interior designer Henk Vos with the lighting by German lighting artist Ingo Mauer, really is a work of art. As well as the reception area on the ground floor there is also a library and a chic bar with lots of red velvet and dark wood. If you prefer the hotel also has a lovely little courtyard where you can sit outside and have drinks on the terrace, or lunch, instead.
Our room was on the ground floor (we walked through a large wooden door and along a corridor to get to it) but was still surprisingly quiet. And I loved that this monastery hotel has retained all of its features. Each of its 60 rooms has been uniquely designed by international designers that include Philip Starck and Le Courbusier. With its white walls, white tiled bathroom and big windows our room was light, airy and modern. There was a huge painting called children in the pasture on the wall facing our bed by artist Jonkheer Robert Graafland. And our room also had its very own individual poem entitled a man sleeps in the house.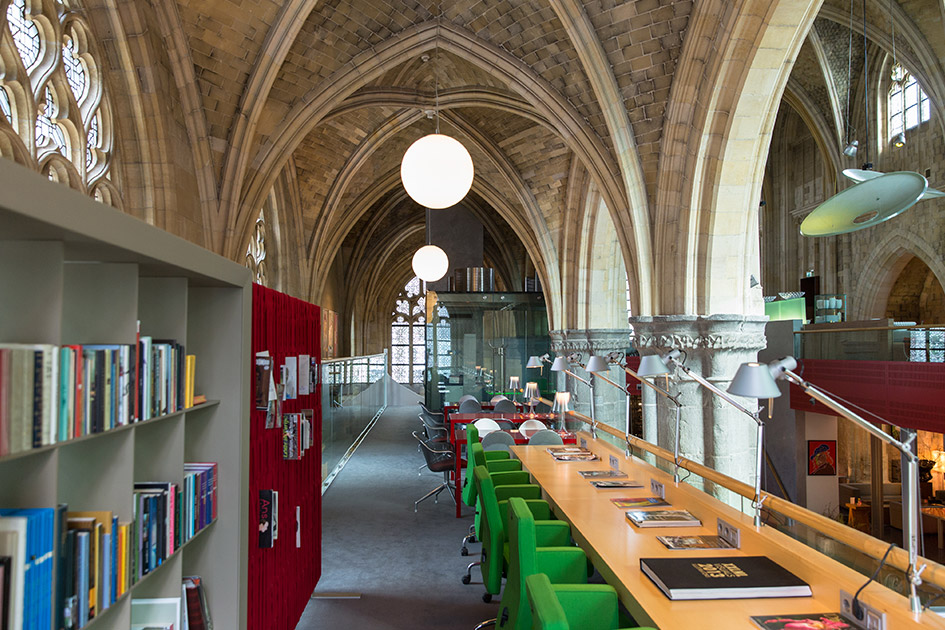 What I also liked about this Maastricht monastery hotel is its feeling of seclusion. It's only about a five-minute walk to one of Maastricht's main squares, the Vrijtof Square, and Maastricht's hidden gems but because it's slightly set back from the town centre it feels more private making it ideal for a romantic getaway in Maastricht.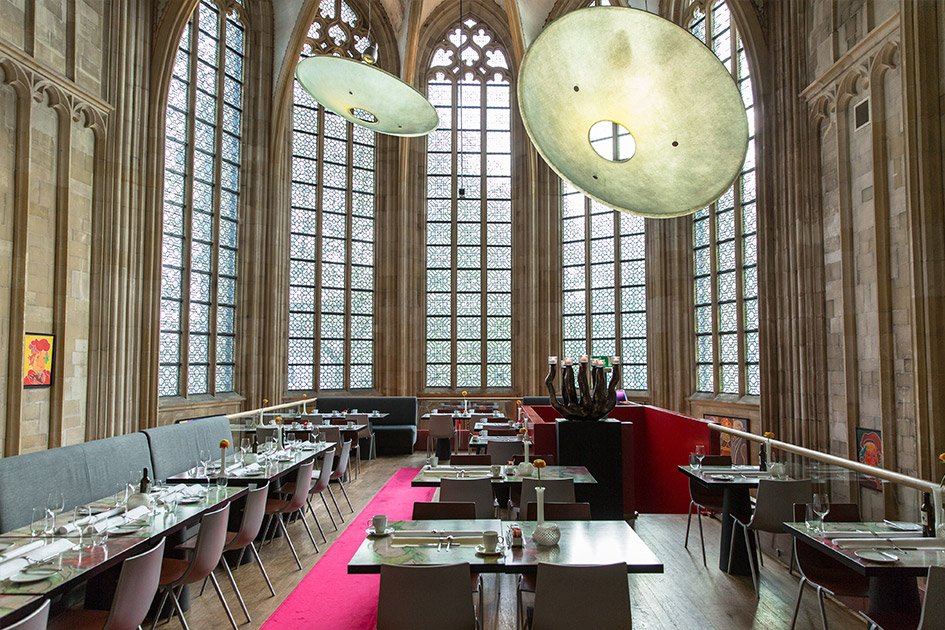 Breakfast is served in the Kruisherenhotel's restaurant, upstairs on the mezzanine in the cloisters. If you're not lucky enough to be staying as a guest it's still possible to eat lunch or dinner here, though it's advisable to book. The Dutch aren't generally known for their breakfasts but the one at the Kruisherenhotel was a lavish affair.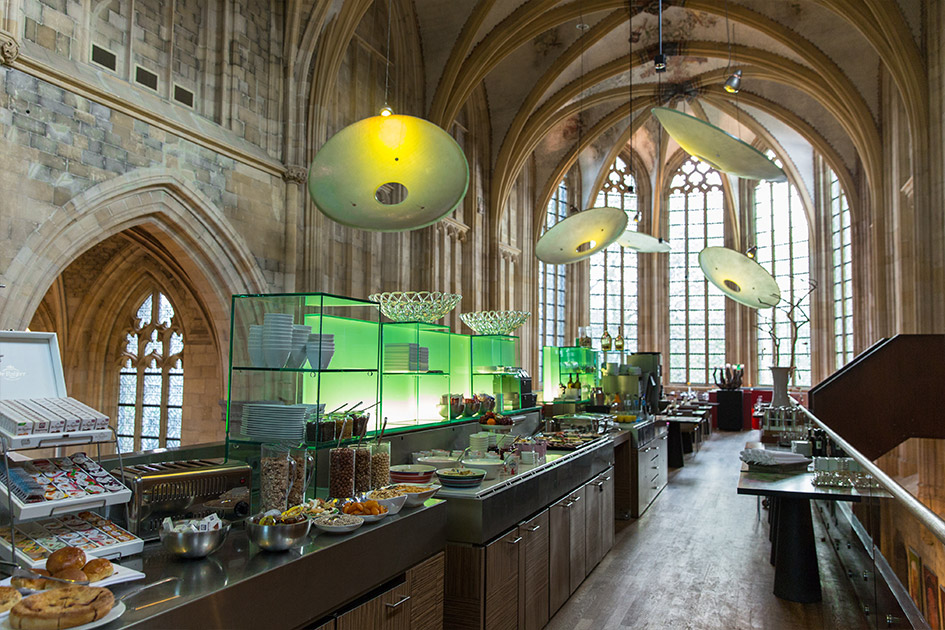 It took all my willpower to stick to the selection of smoked fish and cheese, averting my eyes from the rows of cakes and pastries as I knew we were going to stop off for afternoon tea later in Maastricht. The Kruisherenhotel describes itself as designed between heaven and earth but personally I'd go with the former. My stay at the Kruisherenhotel Masstricht was out of this world and I pray I'll be lucky enough to be back again some day.
You might also like