I'm always on the lookout for quirky new hidden gems and Old School Amsterdam, a restaurant in an old school building, sounded just the thing. Located in the Rivierenbuurt area of Amsterdam South, Old School Amsterdam is about a 10-minute walk from the Amsterdam RAI station making it accessible by tram or train. As is often the case with my hidden gems (and google maps) it wasn't quite as straightforward to find Old School Amsterdam as we thought. We could see what we thought was an old school building, we just couldn't find the road to get to it, so it was a case of trial and error till we found the right street.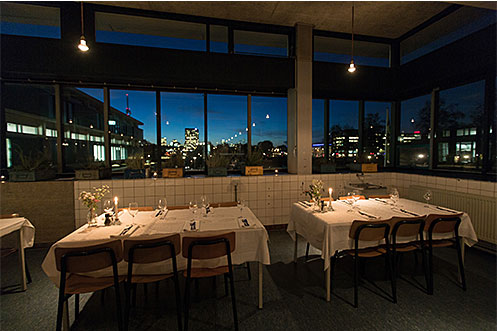 The signage at the entrance of Old School Amsterdam reminded me of being back at college or in a student's union, with various murals and community posters on the walls. The Old School Amsterdam restaurant is located up the stairs on the first floor in what were the old classrooms. I was surprised by how spacious the modern dining area was. I also loved how the interior design managed to strike an ideal balance between contemporary and retaining the original school's features, like the tiled walls and wooden, old school chairs for diners to sit on.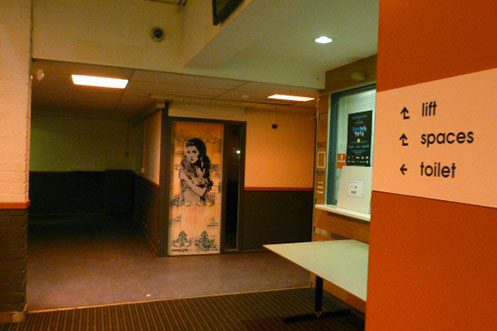 We were told that the starters are platters designed to be shared. There was a choice between meat, fish or veg and Sharps graciously volunteered that we try the Old School Amsterdam vegetarian platter. Sharps and I both agreed it was a total winner and without a doubt the star dish of the night. We both thoroughly enjoyed it. Firstly, and always a bonus, it was a generous size. It consisted of a variety of colourful dishes (decorated with pomegranite seeds), delicately flavoured and each as tasty as the next.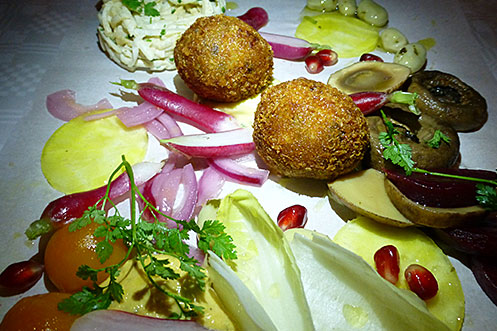 An unusual celery salad which was a bit like slaw, slithers of sweet and sour marinated pumpkin and broad beans, soft, tart pickled mushrooms, sour onions and pickled pumpkin purée. I was most excited about the celery bitterballen. I'd been trying to find a vegetarian version of this traditional Dutch snack, with little success until now – the closest I'd got was fried cheese balls. These were creamy inside with just the right amount of crunch, without being too heavy or greasy. Our plate was a veritable feast of tastes and textures that all perfectly complimented one another.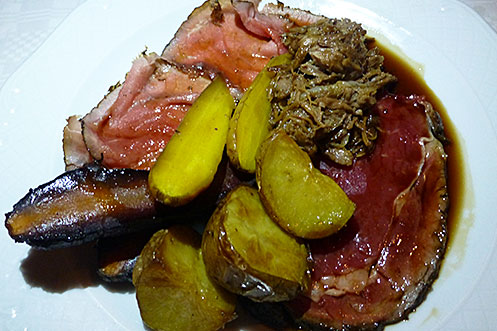 For his main, Sharps opted for veal cooked three ways – slow-cooked, pulled pork style, roasted (like roast beef) and wafer thin veal slices – served with a bean purée, roasted potatoes and carrots. While I have to admit it doesn't look the most appetising of dishes to me (I don't know if that's just because I don't eat meat) Sharps assured me the mix of textures and flavours worked well together – the pulled veal was juicy whereas the slices were rare.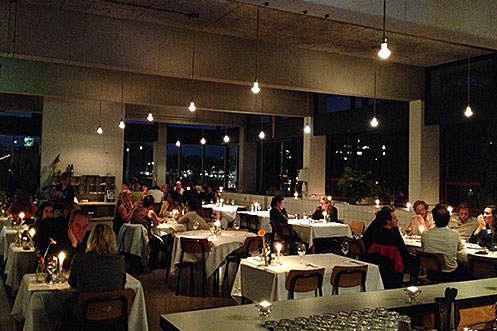 I didn't fare quite so well with my main of cod with salsify and parsnips. When it arrived it was luke warm but to be fair on the staff they were very unDutch and incredibly apologetic. They brought me a new dish out that was piping hot. They did also explain that they were experiencing a problem with their heating lamp which may have been the reason behind it. I also found the dish to be a bit too rich and buttery for me, but again this could be down to personal taste as I'm not a huge fan of creamy sauces – Sharps thought it tasted great. If you fancy dining out in a quirky Amsterdam restaurant that serves high-quality food, in a relaxed atmosphere, Old School Amsterdam is ideal. And as the Dutch have plenty to learn about good service the staff at Old School Amsterdam could teach them a thing or two.
You might also like