I've been wanting to check out Maastricht's hidden gems for ages but it wasn't until the other week that Sharps and I finally got round to heading to the capital city of the Limburg province with some help from the Maastricht tourist board. Typically we chose to visit when engineering works were happening on the train line. This meant it took about three-and-a-half hours to get to Maastricht from Amsterdam, as opposed to the usual two-and-a-half -hour journey, as Maastricht is the most southern city in the Netherlands. Maastricht borders Belgium and Germany and the city definitely has a more cosmopolitan feel to it, people were much more friendly and relaxed in their outlook compared to the bluntness (rudeness) you often find in Amsterdam.
Maastricht's hidden gems are all relatively accessible as the city is quite compact and walkable. From our base at the Kruisherenhotel we were able to explore all of Maastricht's hidden gems on foot. Maastricht comprises of three main squares which form a triangle, making it hard even for me to get too lost. My favourite of these was the Square of Our Lady (Onze Lieve Vrouwplein), a great place to stop for a beer and people watch.
I'd been told by a friend I had to try the white asparagus (white gold), a Limburg favourite (and quite pricey), while we were in Maastricht. Luckily I spotted a chalk board at the 'tKlaoske restaurant, right by the square, which had a special of white asparagus so we tucked into it out on the terrace, against the backdrop of the Basilica of Our Lady.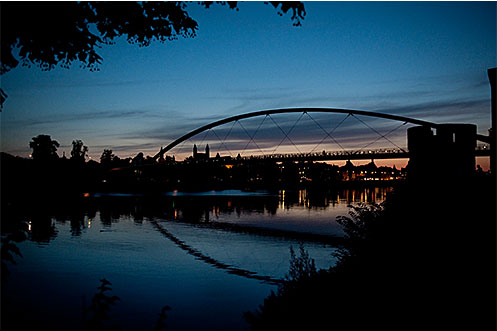 Our hotel was close to one of Maastricht's other main squares, Vritjthof  Square. Home to the Vritjhof  Museum and the Grand Cafe Soiron Maastricht it was where we stopped for lunch another day. The cafe is actually adjacent to the museum in a lovely courtyard which has an orange tree as a centre piece. The cafe serves the usual Dutch fare of sandwiches, salads and burgers. It was only after we were walking round the museum we saw from above what we'd missed out on – the cakes.
After lunch we wandered down the cobbled streets of Maastricht towards the river for a cruise along the Meuse River. While it was a pleasant way to spend an hour there isn't that much to see (though we did pass the building where the Maastricht treaty was signed) or by way of commentary so I'd recommend taking the boat trip where you get out at St Peter's Caves and explore there too.
During our stay we also went on a walking tour to discover some of Maastricht's hidden gems. Founded on the river Maas, Maastricht is quite compact (it has a population of 122,000 and 20,000 are students) and spans both sides of the water. Our guide Cal was quite entertaining and explained some of the history behind the oldest city in the Netherlands (this is disputed by Nijmegen) as well as helping me to uncover some of Maastricht's hidden gems. My friend had also told us to check out the basement of the Derlon hotel, located in my favourite square, for cocktails but we didn't have time. Now I know why as Cal took us inside to the cellar, which doubles up as the hotel's breakfast area and bar, where you'll find genuine Roman excavations.
I was also surprised by just how many shops and galleries there were too. Maastricht is a haven for shopping and art (there are over 70 shoe shops in the centre alone). The only snag was that we were in Maastricht on a Monday which as we discovered meant lots of places were closed. This meant I missed out on trying vlee, a type of sweet Limburg flan, at  Maastricht's hidden gem Bisschopsmollen, the best bakery in Maastricht, which still has its own water mill.
We also came across a tea shop called Teazone which was closed but the owners very kindly let us look around. Sharps was gutted to learn they do a high tea (see my post on London's best afternoon tea) and that an amazing array of flavours of tea including tomato, lime and teas with various vegetables and berries are on offer. The owners also told us that they have just opened a brand new boutique hotel, the bouteaque hotel (see what they've done there) which has just five rooms. But we still managed to get a cake fix as we stopped for tea at TaarT Zaak, a quirky cake shop in the centre of town. TaaT Zaak also serves high tea but we were treated to the Zoete Zonde (sweet sin) which was a selection of three cakes each and a chocolate brownie. Sharps couldn't get enough of the creamy pistachio cake, cherry clafoutis with custard and passionfruit cheesecake – he even managed to polish off some of mine.  My mission to explore Maastricht's hidden gems complete we reluctantly headed back to the train station. Next time I'll try not to leave it so long to visit again.
You might also like