Following on from my post about the safest place to stay in Salvador it goes without saying you can't visit Salvador without exploring the Pelourinho, the city's historical centre and a Salvador hidden gem. Yes it may be a bit dodgy, but then what city isn't? And as one of my friends said to me before we left it's no worse than say Brixton in London, where I wouldn't think twice about going for a night out.
During the daytime we wandered round Salvador's main historical centre (the Pelourinho), a Salvador hidden gem and World UNESCO site, admiring its colonial Portuguese architecture and numerous churches including the São Francisco Church and Convent.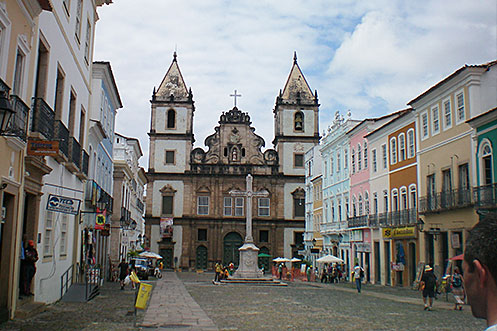 We also took the Lacerda Elevator (a lift which cost us about 10p) and a Salvador hidden gem as you get great views out across the city, down to the Mercado Modelo Market. A word of warning: taking the lift after dark isn't advisable. You'd be hard pushed to find any locals at Salvador's biggest market, which used to be the port customs house. It's a bit of a tourist trap selling everything from sandals and bags to clothes, jewellery and ceramic ornaments. But it is good for souvenir shopping if you can be prepared to haggle. Sharps was quite taken with an oil pourer in the shape of a pair of boobs. Luckily (I mean sadly) we weren't able to carry it on our travels.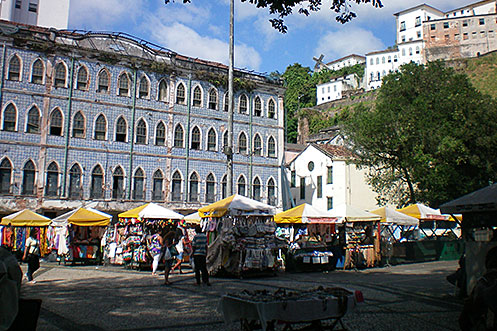 As evening started to draw in we made our way to the Casa do Amarelindo Hotel. I'd read the best place to see the sunset in the Pelourinho is from the rooftop bar of the Casa do Amarelindo Hotel a Salvador hidden gem as it overlooks Salvador's historic centre. When we got up there it was deserted, we couldn't even order a drink, which was a blessing in disguise as the view wasn't as spectacular as  it's made out to be. Personally I'd recommend another Salvador hidden gem, seeing the sun set by the Farol de Barra (Barra lighthouse), then getting the bus in to town.
If you believed everything you read in guidebooks I doubt you'd venture out into the Pelourinho after dark. This would be a real shame as when the sun goes down the vibrant heart of this Salvador hidden gem comes to life. Its central square (Largo de Pelourinho) is transformed when, as the sun sets, street vendors set up stalls selling various skewers of barbecued meats and potent caipirinhas at R7 (around £2.30) a total bargain considering how much you'd expect to pay in Europe.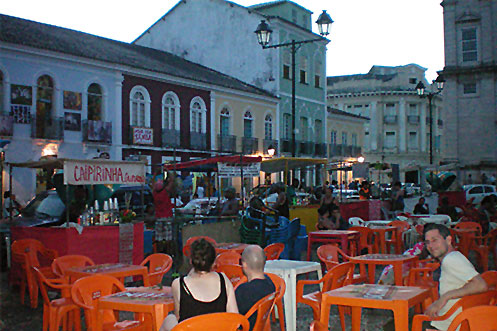 Don't be fooled into thinking Brazil is cheap. We were quite shocked by just how expensive it is. Brazil is on a par with the UK for things like accommodation and snacks, but alcohol is one thing that's still a bargain in comparison. Once you've grabbed yourself a cocktail or two you can sit back, relax and catch a display of Capoeira, the Afro-Brazilian martial arts form that combines dance and music, in the square too.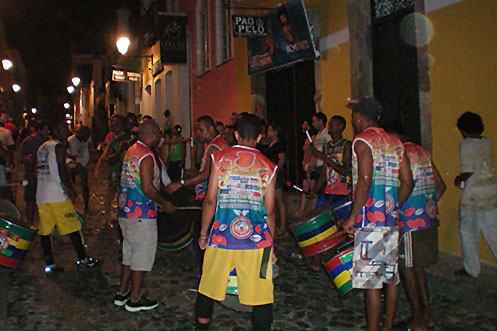 Tuesday is the best night to head in to the Pelourinho as it's party night in Salvador de Bahia. We wandered up the cobbled streets to the Cidade Alta area. Bands kick off the festivities on Terreiro de Jesus, Largo do Pelourinho, and there's a real festival feel in the streets. I can only imagine how amazing carnival is in Salvador and it's no wonder Carnival in Salvador is supposed to be better now than in Rio.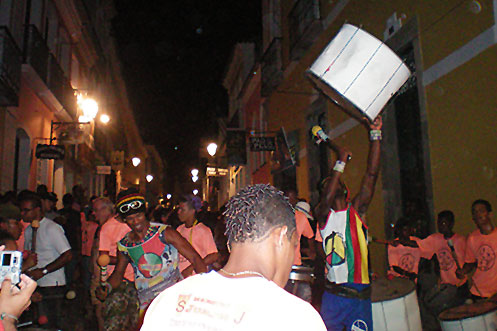 Getting back to in Barra was easy, we grabbed at taxi (R20) from the queue of cabs waiting to pick up revellers in the Largo de Pelourinho that dropped us off at our pousada. We checked the price with our pousada owner before we headed out for the night and negotiated the price before getting into the cab to be on the safe side. Even if like us you only have a couple of days it's well worth checking out this Salvador hidden gem, the Pelhouinho, at night to get a true flavour of Bahia and Brazilian culture. It whetted our appetite and gave us a taste of the real Brazil we were yet to explore.
You might also like