We turned and waved goodbye to the boat as it dropped us off on the deserted beach. Then Sharps and I realised we were well and truly alone. There was literally not a soul in sight as far as we could see. Think of all the usual clichés of Bounty ads and tropical paradise and it pretty much sums up Atins, Brazil's hidden paradise and home to one of Brazil's best beaches.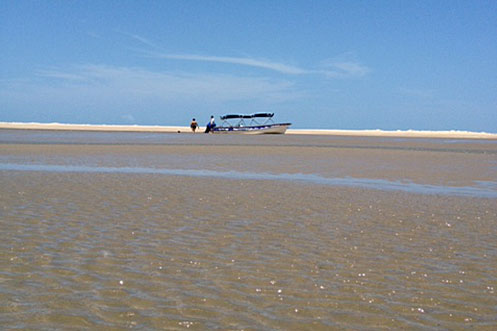 We couldn't help feeling the teensiest bit smug that we had this Brazilian hidden gem to ourselves. Our smugness soon wore off when we realised we didn't have a clue where we were going. Traipsing round in the blistering sun, the sand scorching our flip-flopped feet – the guide's wave of his hand had been a bit vague as far as directions go. We decided our best bet would be to make our way off the beach and inland as we figured that must be the way to the centre of the village.
Luckily we came across what seemed to be a house (it was in fact a house and a shop) and were told we'd hit the main high street of Atins. As you can see from my pic above it's not exactly Oxford Street or Rodeo Drive. The busiest part of Atins pretty much consists of one sandy street with a shop, a couple of restaurants and a cafe. If you're looking for a party island, Atins most definitely isn't it.
Bearing in mind we were in the heart of Atins, Brazil, we were a bit alarmed when the shop owner told us he'd never heard of the posuada we'd been invited to stay at, Pousada Oceano Atins. Much to our relief asked someone else who kindly sent her son off to show us the way to Atins' newest pousada, and clearly a hidden gem if the locals didn't even know about it.
When we finally arrived at the Oceano Atins (it turned out that it backed on to the sandy beach close to where we arrived) we were greeted by a much-needed cool glass of water and took the opportunity to chill out.
Considering we were literally in the middle of nowhere I was really impressed by the contemporary design of the pousada and the chic touches, beds to recline on in the patio area, various statues and artefax with lots of white marble going on at this luxury pousada. The only thing I would flag up is that while Oceano Atins is a boutique hotel, don't expect a TV (why would you want it in such gorgeous surroundings anyway?) or air con as Atins has limited electricity.
Atins is only accessible by boat (we took a boat trip from Barreirinhas to Cabure where we found another boat willing to drop us at Atins for R10 each) or passenger truck. And although we were the only guests when we visited the Oceana Atins we were made to feel right at home. The staff were incredibly helpful and friendly, despite the usual language barrier we faced throughout our trip to Brazil. Breakfast is included as part of your stay and they do offer restaurant facilities if you can't be bothered to go into 'town' and prefer to eat lunch or dinner at Oceano Atins. I'd recommend bringing a supply of bottled water if you can carry it as the prices in Atins are extortionate.
If you're looking to literally get away from it all then a stay at this hidden gem in Atins is spot on. The fact that we were isolated made for a really special experience, though  also a bit strange as there are lots of tourists in Barreirinhas, but people thankfully don't seem to have cottoned on to this hidden gem just yet.
You might also like