There's been lots of buzz at the moment about 5and33 Amsterdam, a new bar and restaurant concept that's part of the eagerly awaited, Art O'tel Amsterdam. Especially as it's been a while since a new hotel opened its doors in Amsterdam.
This made an invitation to check out this new quirky restaurant in Amsterdam, 5and33 Amsterdam, all the more exciting. Before dinner I took the opportunity to explore the brand new Art O'tel. Location-wise, you can't get more central than the Art O'tel – its rooms look out towards central station. Despite its proximity I noticed it was still relatively quiet. You can still hear the ding of tram bells in the background but there's a high probability of hearing these if you're close to, or on, a main road.
What I loved about the Art O'tel Amsterdam, and what makes it a hidden gem for me, is the attention to detail and little touches. Created by Dutch artist Joep van Lieshout, pieces around the theme the 'course of life', representing different stages of the human journey, are dotted around this Amsterdam design hotel. Artwork includes various sculptures giving birth. Downstairs, the Art O'tel also plays host to its very own art gallery. Exhibitions are free and open to both guests and locals alike, with the aim of exhibits changing every couple of months. There's also a gallery shop where people can buy works on display.
I was also mesmerised by the really cool interactive wall curtains. The shapes and patterns changed as I wildly flailed my arms around. The reception area, three heads as opposed to a main desk to give it a less informal feel, is also pretty cool – guests can check in by ipad in the lounge.
At dinner we were lucky enough to be seated at the chef's table, so we had a ringside view in the open-plan restaurant of the culinary masters at work plating up (the food is actually prepared behind the scenes in the kitchen). I loved the little oven in the back that was used to keep burgers warm.
Unusually for a Dutch restaurant the service was impeccable. Our waiter was incredibly knowledgeable about all of the dishes and happy to make personal recommendations of his favourites 5and33 Amsterdam dishes. This may be because many of the key staff had been brought over from the Tozi restaurant, Park Plaza Victoria London, part of the same hotel group.
The concept is Mediterranean tapas style sharing plates. We were advised to order five or six between us. Bearing in mind that we were in the centre of Amsterdam, in possibly one of the most touristy areas, I was pleasantly surprised by how good value 5and33 Amsterdam is. Plates vary on average from between €5 to €12 with the star dish for me being the yellowtail fish with borlotti beans and chard.
Sharps particularly enjoyed his lamb cutlet, served with coarse, chunky babaganoush, and braised ox cheeks on a bed of creamy mash with girolles mushrooms (both recommended by our waiter). He definitely had a case of food envy when he saw what the table behind were having – a gigantic slab of meat accompanied by huge artichokes and potatoes. Luckily this €79 dish was for four people so I didn't have to feel guilty about him not being able to try it because I don't eat meat. But he got over it when his dessert, tiramisu with lashings of cream, arrived.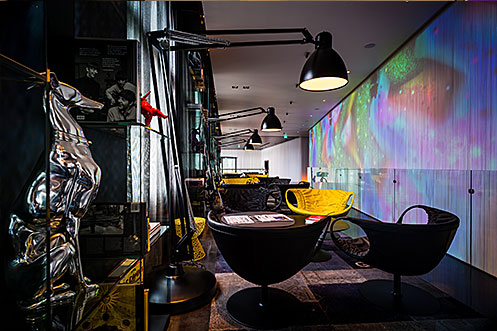 As well as the restaurant, 5and33 Amsterdam has a lounge area, a library (where guests can also check in) and a bar – it's possible to order food in any of these and again you don't need to be staying at the Art O'tel to hang out in them. There are plans afoot for a new Art O'tel in Hoxton, Shoreditch. If this Amsterdam hidden gem is anything to go by it's bound to go down well with the London's arty types too.
You might also like