A couple of years ago Deptford, in South East London, was named as a must-visit, hip London destination by the New York Times. As much as I'm a huge advocate of South East London I'm not sure I'd class Deptford as one of the hottest places to go in the capital. It's a bit on the rough side to say the least. But while it may not be top of my list of places hang out, Deptford is also home to a few real hidden gems like Little Nan's, as you can read from my earlier post, and Big Red Pizza Deptford.
The clue is in the name but this double decker old fashioned London bus has been converted into a restaurant that sells pretty good pizza. I wasn't too sure what to expect, we made sure we went to the loo before we got there as we didn't know if there would be a toilet inside. It turned out that the Big Red Pizza bus is split into the bus part, where we had dinner, and separate outdoor and covered bar areas complete with shisha pipes and toilets.
If you do want to eat at the Big Red Pizza Deptford I'd recommend booking in advance and asking for a table on the top deck, though it is possible to also order food and sit at one of the tables in the covered area near the bar. The day we paid a visit it was a bit chilly so I wasn't sure if I'd be cold. But the bus was heated, the inside lit by the glow of orange fluorescent lights. Some of the seats had been taken out to accommodate the formica tables which could fit four at a squash, it was a bit like sitting at a train table.
As usual our (sorry Sharps') eyes were bigger than our bellies as we ordered way too much food. I chose a napoletana pizza, tomato, mozarella, anchovies, capers and olives pizza, the thin, crispy base smothered in a fresh tomatoey sauce and Sharps opted for a seafood version.
This would have sufficed but we decided to share a salad of sweet firm roasted pear, grana padano cheese, and leaves in a tart balsamic dressing. And to top it off Sharps also ordered a garlic bread with cheese, which went it arrived was the size of one of our pizzas (he claimed he didn't realise it would be so big).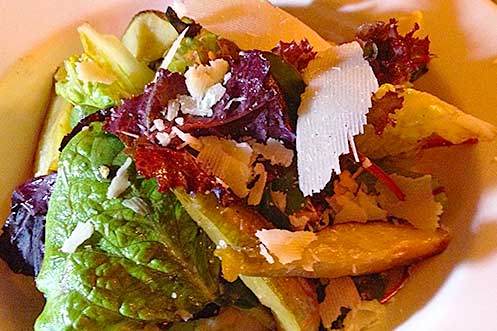 If you're not in the mood for pizza, this London hidden gem is also a great place to come and hang out for drinks. Happy hour is 6-9pm from Tues to Fri and you can choose from a selection of cocktails for a bargain price of £3.50 which is a bit of a result. Admittedly they weren't the greatest mojitos I've ever had but at £3.50 each you can't really complain. In summer the bar is packed full of achingly cool 20-somethings and has late night DJs, and Big Red Pizza Deptford also plays host to comedy and film nights. Perhaps the New York Times may have a point after all.
You might also like