While on a trip discovering Liverpool's hidden gems the tourist board happened to mention that Merseyside and the Wirral is also home to Anthony Gormley's Another Place, Merseyside's hidden gem, located on Crosby beach. I was intrigued. I'm not massively into art. But even I've heard of Anthony Gormley, a past winner of the Turner Prize, famous for creating The Angel of The North sculpture in Gateshead. So the idea of him creating an art installation along a not so glamorous beach in Crosby, Merseyside, peaked my interest. Especially having seen Anthony Gormley's impressively eerie sculpture Sound II, in the crypt at Winchester Cathedral.
On a visit back to my hometown I persuaded my dad to take us out on a day trip (I can't drive) as Crosby is only about  a 40-minute drive away from Manchester. It is possible to go by public transport. You can get the train to Liverpool, then on to Waterloo station (Merseyside, not London!) and walk down South Road to get to Crosby beach. We asked someone for directions along the way. Once you get to the watersports centre and the beach you can't miss the statues.
Another Place is made up of 100 six-foot cast-iron bronze figures (replicas of Anthony Gormley's body) looking out to sea. The statues are dotted across the 3.2km stretch of Crosby beach. Seeing the statues on the beach is rather strange. It's easy to look up and wonder why someone has walked so far out into the sea, until you remember it's one of the statues. But Another Place also left both of us in awe, marvelling at the feeling of serenity their presence somehow provoked.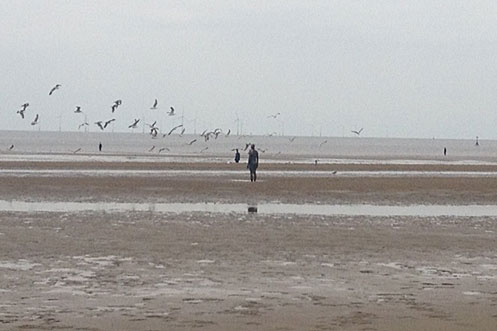 Previously exhibited in Germany, Norway and Belgium the figures were due to be relocated to New York. But despite some controversy it was decided Another Place would stay in Crosby. The art installation by Anthony Gormley, Another Place has been made a permanent fixture. It's now one of Crosby and Merseyside's main tourist attractions, and a hidden gem for good reason.
We visited when the tide was out so we could see the figures in their full glory but what makes this a living art installation a hidden gem is that at other times the figures are semi-submerged or not even visible as they're hidden by the sea. A beach in Merseyside may not be the most obvious spot to see the work of one of the UK' finest contemporary artists but it's well worth a visit as you won't find it in any other place.
You might also like