I'm always banging on about the surprising lack of good Thai restaurants in London (click here for my post on Peckham's best Thai restaurant) so I was pretty excited to hear about Naamya Cafe in Islington, London (recently just voted best newcomer in the Tatler Restaurant Awards 2013. Naamyaa Cafe is the latest venture from Alan Yau (the man behind Wagamama, Busaba Eathai, Hakkasan) and David Thompson (Nahm, Busaba Eathai) and with their past credentials it's a fair assumption to say these guys know what they're doing when it comes to Thai food. The concept of Naamya Cafe is that of a modern day Bangkok cafe and when we turned up for dinner I was a bit surprised by the glaring red neon sign and the modern glass windows, I'd been expecting something a more low-key type of Thai restaurant.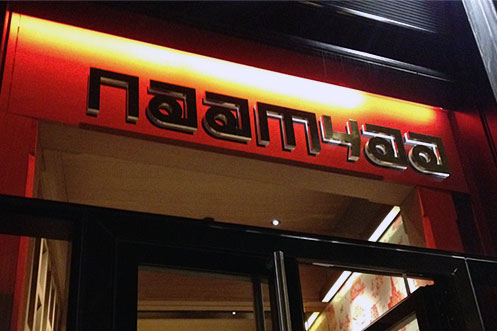 Don't let the brash exterior put you off as inside there is a wealth of . The vegetarian selection is a bit limited so I opted for the salmon sashimi with green pesto. The waitress told us that the dish was quite small to share but I'd say there was plenty for two and Sharps' fried squid was superfluous given the substantial size of the main dishes. Not that Sharps was complaining as he happily tucked in to both.
I had a massive case of food envy when it came to the main dishes. I absolutely love red Thai curry in any form so I was gutted that there was no veggie option available and had to vicariously eat it through Sharps who opted for the red beef curry. Instead I settled for the Chiang Mai speciality of rice noodles with a rich, spicy chilli tomato sauce with big chunks of fresh tomato that reminded me of the type of sauce you'd get with pasta. Our helpful waitress also explained the best way to eat this dish is to take some noodles, add some sauce and mix with the various accompaniments that include star fruit, beansprouts, soft boiled egg and basil.
Not all of the dishes on the menu are Thai, there's an odd mix of Western style dishes that include burgers and a salad Niçoise. And I wasn't bowled over by the choice of desserts, and after seeing the people on the table next to us send theirs back we decided against them. Probably a good job anyway as we were pretty full. But puddings aside the dishes here are packed full of flavour and are pretty good value for what you get. It was only after we'd eaten I realised I'd meant to ask what fish was in the fish main course (all the rest had seafood in them) but forgot. Turns out it's made from white fish, which gave me the perfect excuse to have to come back – when I then tried a new addition to the menu of the seabass red Thai curry. This surpassed any earlier jealousy I may have had of Sharps' meal making Naamyaa Cafe a hidden gem and definitely the best value Thai restaurant in Angel.
You might also like