It's not the first time I've spent the night in jail, click here for my post on Clink 78 but it is the first time I've stayed in a such a luxurious one. Having recently spent a weekend Cambridge it seemed only fair to take Visit England up on their kind offer of a trip to Oxford. And I was all the more excited to learn the accommodation for my overnight stay was the Malmaison, Oxford's quirkiest hotel. A former prison, now a boutique hotel, this Oxford hidden gem  is right next to Oxford Castle. Built in 1071 AD by William the Conqueror, this former stronghold is now part of the Oxford Castle Unlocked attraction, which also boasts a courtyard of bars and restaurants as well as a medieval crypt, Heritage Centre and the original castle mound.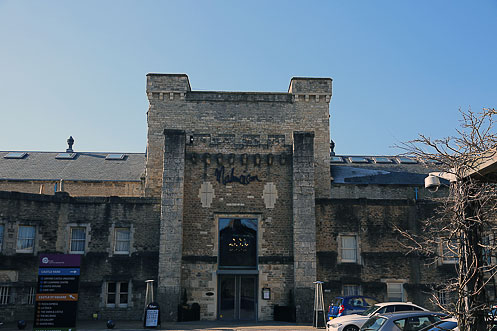 The castle was first linked to being the site of a jail since way back when in 1230. It was completely rebuilt in 1786 – this led to what now form the C-wing, Houses of Correction, and The Governor's House (rooms 301-312) which was added in 1848. The last execution to take place at Oxford prison was in 1950, the hanging cell is now part of the hotel staff area. In 1996 Oxford prison closed its cell doors, reopening one of its wings as a Malmaison hotel in 2006.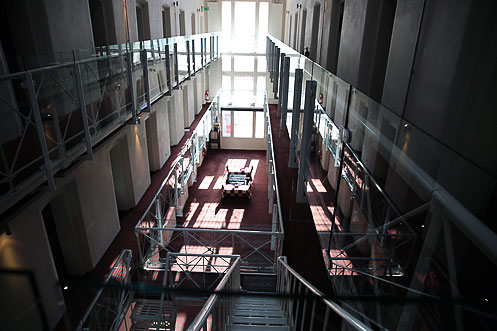 It may be part of a chain of hotels, the Malmaison, but what I love about this boutique Oxford hotel is the way in which it retains many of the prison's features, keeping the character of the building intact. The interior of the A Wing (see my photo above) with its central atrium, metal galleries, glass walkways and staircases is exactly how I imagined the inside of a prison to be (based on watching films and TV of course). This may explain why it has been used as the location for TV series including Inspector Morse, Bad Girls and The Bill and Hollywood blockbuster The Spy Game. There's also a lavish bar (it used to be the Governor's House) with a very high ceiling, for guests on the third floor and there's a roof terrace which looks out across Oxford's spires.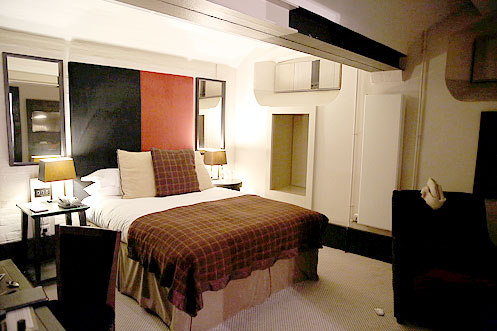 Walking through an original iron cell door felt a bit on the strange side. But any thoughts I had of it being a bit creepy to sleep in a former prison cell, that was potentially home to hardened criminals, went out of the window as soon as I stepped inside my luxury room. A double cell room, on the 5th floor, it's one of the 38 rooms in the former A Wing. It's hard to imagine that the gorgeous adjacent bathroom, complete with a free-standing cast-iron tub, also used to house prisoners too.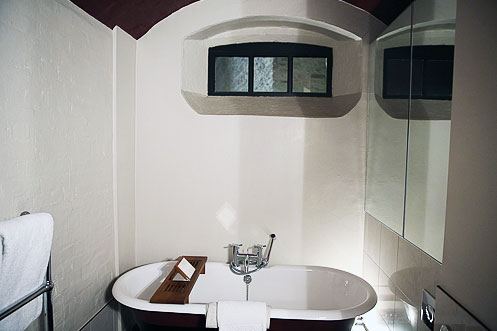 Apart from the quirky appeal of staying in a former prison, the other thing that makes the Malmaison Oxford a hidden gem is its location. It's only about a five minute walk into Oxford town centre and yet it still feels far enough removed not to be too hectic. The hotel also serves up a great breakfast, and not just porridge as I opted for eggs royale with a generous helping of smoked salmon and hollandaise sauce on the side. My one night stay at the Malmaison Oxford definitely felt too short as it's one hidden gem I'd happily let them lock me up in and throw away the key.
You might also like