Lençois, a former diamond mining town in Bahia, North East Brazil, is the main stop-off point for people wanting to go trekking in the Chapada Diamantina region. The centre Lençois is literally made up of  four main cobbled streets so considering its size I was surprised by just how many bars and restaurants it has. I guess it's to be expected as Lençois is a bit of a tourist trap, it also goes some way to explaining why the restaurants here weren't particularly cheap, don't expect to find many budget eats here. But don't get me wrong, English menus and inflated prices aside, Lençois is full of colonial charm.
Luckily for us we were presented with the most amazing breakfast every morning in Lençois. (Click here for my post on the best breakfast in Brazil) which filled us up for most of the day so we only really needed to fork out for dinner. As someone who doesn't eat meat, my experience of Brazilian food in the North East of Brazil as a whole wasn't that favourable. But comparatively speaking some of the best meals we ate were in Lençois, so I guess you do get what you pay for.
Waiting staff may stand outside their respective premises trying to entice you in. A word of warning, the caipirinihas in Lençois are lethal. On one occasion our drinks were so potent we were drunk after just one cocktail each, but not so drunk that I didn't notice the restaurant had overcharged us. Just as I was about to call the waitress over, bill aloft, she hurriedly took it from me and amended it. Gluttons for punishment, after a hard day's trekking we were keen to rest our aching limbs and grab a drink on our last night in town.
It was something as simple as a happy hour offer (from 6-8pm) of two caipirinhas for R5 (under £2) that led me to the discovery of the best restaurant in Lençois, El Jamiro. Plonking ourselves down on fold up chairs, precariously balanced on the cobbles, we ordered cocktails from a super smiley waitress who, as an added bonus, spoke English. She promptly returned with our caipirinhas and a bowl of the most amazing popcorn I've ever eaten. The popcorn, cooked with huge chunks of garlic, oregano, chilli and salt and pepper, was bursting with flavour and was so moreish I immediately ordered another round of drinks so we could have more of it.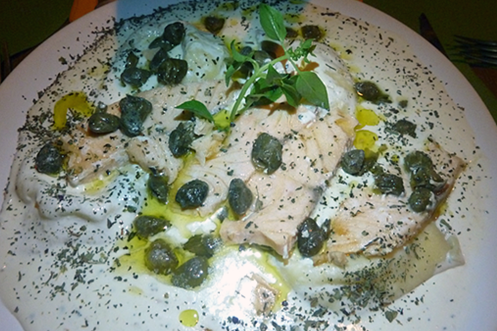 If the popcorn was anything to go by, well how could we not eat dinner here too? My main of pasta in a cream sauce and capers came with big pieces of salmon and Sharps's fillet mignon in a creamy sauce, accompanied with rice, was generously sized too and didn't disappoint.
Our lovely waitress introduced us to the owner of El Jamiro, Max, a DJ who had originally run a restaurant in Morro de Sao Paulo (click here for my post on how to get to nearby Biopeba island) before moving to Lençois. This, he informed me was because he wanted to live in a place where he could be more eco-friendly and grow his own produce. He also revealed his plan to extend the current restaurant to include a pizza bar with a play area for kids to make it more family-friendly. Currently inside there's also a chill out area where you can kick back, relax and take full advantage of happy hour. We were a bit gutted that we didn't find this hidden gem, and in my opinion the best restaurant in Lençois, till our last night. I'm not sure my liver would agree!
You might also like