The last time I stayed in a Best Western Hotel was years ago when I had to share a room with my mum after my cousin's wedding. The room served its purpose but it wasn't one of my better experiences when it comes to hotel stays. So when I read on the itinerary for a trip with the lovely people at Visit England that we'd be spending the night at the Best Western Mytton Fold Hotel I was a little bit apprehensive at the thought of sleeping in their budget accommodation.
The first thing that struck me, apart from the incredible surroundings – there were sheep in the next door field and an outdoor gazebo that plays host to many a wedding ( including local Preston comedian Peter Kay who got married here)  – was the friendliness of the staff. Unlike many of the Best Western Hotels, the Mytton Fold Hotel is family run. The hospitality of the owner Barbara is overwhelming and it's this passion and dedication that makes Mytton Fold Hotel a real hidden gem.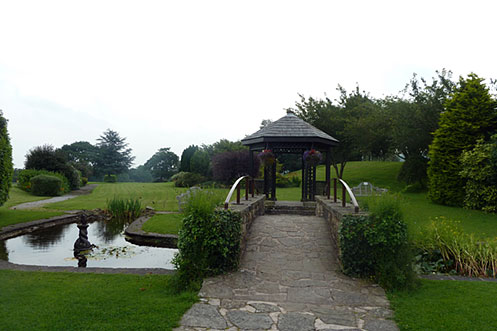 Nothing was too much trouble for Barbara and her family and you can see that she genuinely cares about the people that work for her too – when one of the young girls was quite nervous and dropped a tray of glasses at our drinks reception she shrugged it off and did her best to make her feel at ease. And its these touches that make it all too obvious why Mytton Fold was awarded the accolade of Lancashire's best small hotel.
And watching the sunset at the top of the golf course at Mytton Fold (the course is free to residents after 4pm) was one of those moments to treasure – we could see Pendle Hill behind us and even spotted Blackpool Tower in the distance.
A former farmhouse, Mytton Fold is full of character and while it's not five-star accommodation you'd be hard pushed to get anything as good for the price, £57.50 for a double room including breakfast (their breakfast has won Visit Britain's Best Breakfast Award). I never thought I'd find myself saying that a stay at a Best Western Hotel would be one of the highlights of any trip I've been on, or describe it as a hidden gem. But Mytton Fold in Lancashire proved to be exactly that.
You might also like