The trendy De Pjip area of Amsterdam is home to the Albert Cuyp, the largest street market in Netherlands. Part of the beauty of visiting Amsterdam is that nowhere is that far away and as De Pjip is only about a 10-15 minute bicycle ride from the centre of Amsterdam and about a five minute walk from the Hotel V (click here for my blog post on Hotel V). The market is located on Albert Cuypstaat  (named after the 17th century painter Aelbert Cuyp). We had previously been here for dinner (click here for my post on Bazar restaurant Amsterdam) but I was keen to check out the area during the daytime to see what the market was like.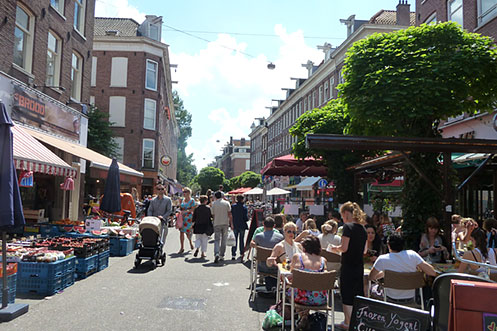 I have to admit that the Albert Cuyp Market wasn't exactly what I'd been expecting. I'd heard it sells clothes and is a great place to bag a bargain, so for some reason I thought there would be lots of cool vintage clothes stalls. There were indeed various clothes stalls, all selling the kind of cheap tat you'd find down Peckham market. But don't let that put you off as I still found the Albert Cuyp Market to be one of Amsterdam's hidden gems, if only for its food.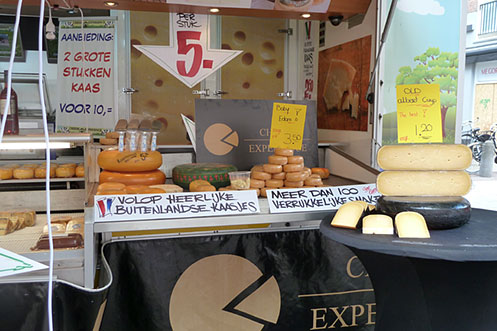 There are around 260 stalls at Albert Cuyp – as we turned down onto the main market strip we were greeted by the wonderfully pungent aroma of fresh cheese coming from a stand selling lots of Dutch cheese. You'll also find a colourful array of stalls selling everything from fresh bread and gigantic pickles to flowers. My souvenir shopping may have gone out of the window as it wasn't the flea market I'd picture but I was overjoyed (sad, I know) to discover a shop just down one of the side streets (Ferste Van Der Helst Straat) selling possibly the best herring I've ever eaten. This was undoubtedly the highlight of my visit to the Albert Cuyp Market.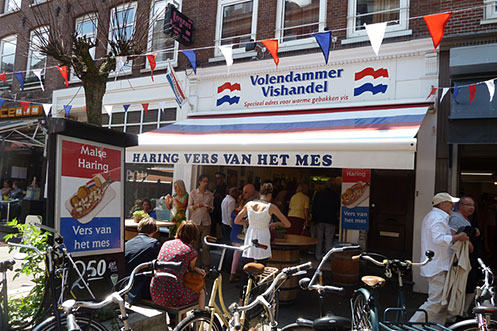 Forget fish and chips, in Amsterdam it's all about the herring, served by itself with onions and gherkins or in a bun (broodje haring) charged according to weight and pretty reasonably priced. Or, if you prefer you can try kibbeling, deep fried cod served with a kind of tartar sauce which was equally as delicious.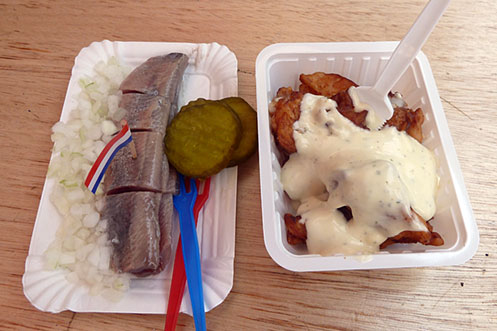 While I'm all about the herring Sharps was far more interested in the sweet treats – mainly the Dutch waffles. He spent ages at Wally's Wafels deliberating over the toppings before finally deciding on cherries topped with rich, warm, milk Belgian chocolate (€3.25). And yes he polished off both.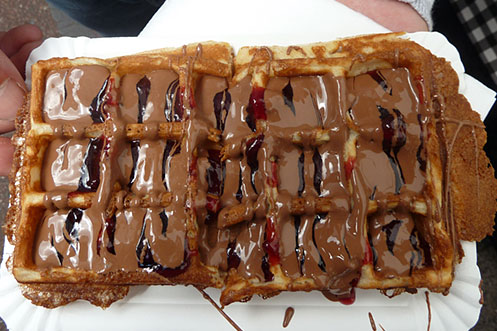 Food aside, what I also loved about the Albert Cuyp Market is its relaxed atmsophere, there's no aggressive trading, you just buy stuff if you want to. Set against the tree-lined neighbourhood of De Pjip, with its cute little cafes and bars, it makes for a great place to stop off for a coffee or beer and people watch. It's worth noting that the Albert Cuyp Market isn't open on Sundays (it's open Monday – Saturday 9-5pm) so if you're only in Amsterdam for the weekend you'll need to factor a visit into your Saturday. And, from 3 April the market is also launching a new farmers market every Wednesday, selling an even greater selection of fresh produce. You may not shop till you drop at Albert Cuyp but this is one hidden gem you certainly won't go hungry at.
You might also like