I'm a teensy bit obsessed with waterparks. And as it's one thing the UK is definitely lacking in, (indoor ones aside where lets face it the slides aren't exactly big enough for grown adults not to  look a bit weird going to them without any kids) I'll take any opportunity I can get to go to one. When I found out that Fortaleza, on the North East coast of Brazil is home to Beach Park, the biggest waterpark in South America, I was beyond myself with excitement. We had to go.
We booked our tickets to Beach Park from the official vendor down by the beachfront at Meireles. The eye watering price tag of R140 (£45) for a day ticket doesn't just gives you entrance into the park, situated about 16km out of Fortaleza. There are local buses but given our experience of them, and considering our time was limited, we opted for organised transport to and from the park from Fortaleza for the sake of ease which was an additional R25 (£8) each. Make sure you take extra cash with you as you'll also need to factor in the cost of hiring a locker and food (you're not supposed to bring your own food in but nobody really checks your bags so you could save yourself some cash as the price of food and drink inside Beachpark is, as you'd expect, similar to that of theme parks elsewhere) once you're there.
The journey from Fortaleza took about an hour as we were picked up at our pousada and had to stop off at other hotels along the way to pick other people up  too. I was concerned this was eating in to our ride time as we'd been told the park opened at 9.30am. But I needed have worried as when we arrived at Beachpark it wasn't even open yet as it turns out it actually opens at 11am (and closes at 5pm).
If you're not a fan of waterparks (what is wrong with you?!) then you'll be pleased to know that Beach Park also owns its very own stretch of private beach on the Porto das Dunas. Your day ticket gives you access to the beach, meaning you can top up your tan and relax with a cool drink if that's more your sort of thing.
When we finally arrived I was so excited I didn't know where to start. Although initially I'd been concerned we wouldn't have enough time to go on all the waterslides at Beach Park in one day I was pleasantly surprised at how quickly the queues went down. This meant we managed to try out all of the slides (pictured above) and go on our favourite ones quite a few times. They were deceptively fast (I acquired a number of bruises as a result) and slides ranged from ones that were open to covered slides or slides that you went down in pitch black darkness.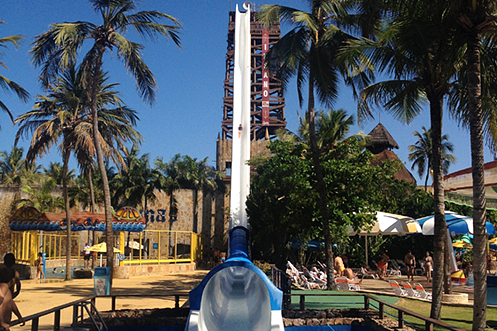 But the mother of all slides at Beach Park is the Insano. As you can see from the picture above of me on it, you don't have to be fluent in Portuguese to work out why the ride is called that. The Insano lays claim to being the highest waterslide in the world, it's 41m high and you go down it at a speed of 105km per hr. Having travelled all the way to Brazil there was no question about me not going on the Insano. Then, as Sharps started going on about how high it was and how he wasn't sure he wanted to do it, I suddenly got the fear. But I knew I'd regret it if I didn't take the plunge, plus Sharps graciously said he'd go first, so we both headed up the tower to the top of the Insano. The walk up was probably the worst part as not only were we knackered from all the stairs it gives you a sense of just how high up you are. And the descent down is so quick it's over before you know it, so I went on it twice. If you're going to Fortaleza you'd be insane not to visit Beach Park, this hidden gem is Fortaleza's best attraction by a long way down.
As you can see I really am a massive fan of waterparks. So PLEASE CLICK HERE AND LIKE MY FACEBOOK ENTRY to help me get my dream job as a waterslide tester
You might also like