I'm not ashamed to admit that I love bingo. From the moment I pop the lid off and breathe in the heady smell of marker pen my adrenalin starts pumping. The last time I played bingo (and dragged Sharps along for the ride, bless him) was on a trip to Eastbourne (click here for my post on Eastbourne's hidden gems). After making a false call (shouting out bingo when it wasn't) and being pitied by some of the older ladies I thought Sharps had been scarred for life. I was resigned that there was no way I'd ever get him down a bingo hall again. So I was quite surprised when he mentioned in passing that Ali, one of his friends at work, was going to an event called Rebel Bingo in Shoreditch.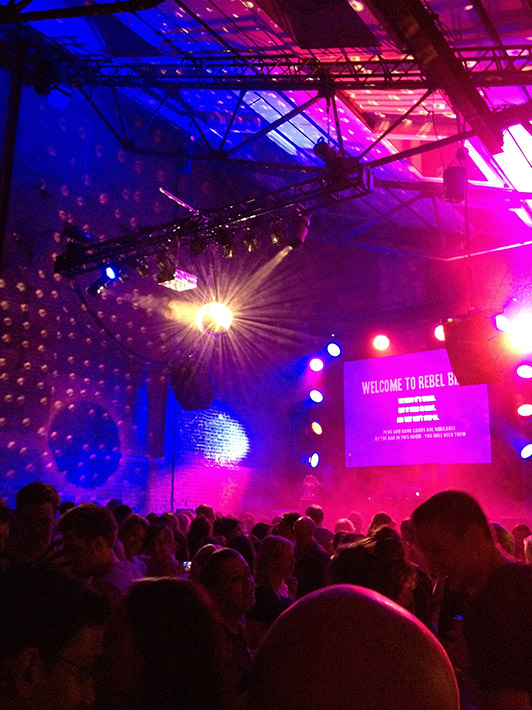 Maybe it's because Ali's cool that he was prepared to give bingo another go. But whatever the reason I could barely contain my excitement at the prospect of going along to Rebel Bingo. We even managed to persuade some other friends to come too. Tickets for Rebel Bingo were £13.50 online, you need to get in quickly as they sell out fast. You can sign up to the Rebel Bingo mailing list to be the first to find out about future events. The Rebel Bingo website doesn't really give much away about what you can expect from the night but its popularity is clear. With events popping up across the globe in countries that include Rio, Sydney, New York and Beijing to name but a few, Rebel Bingo looks set to become a world-wide phenomenon.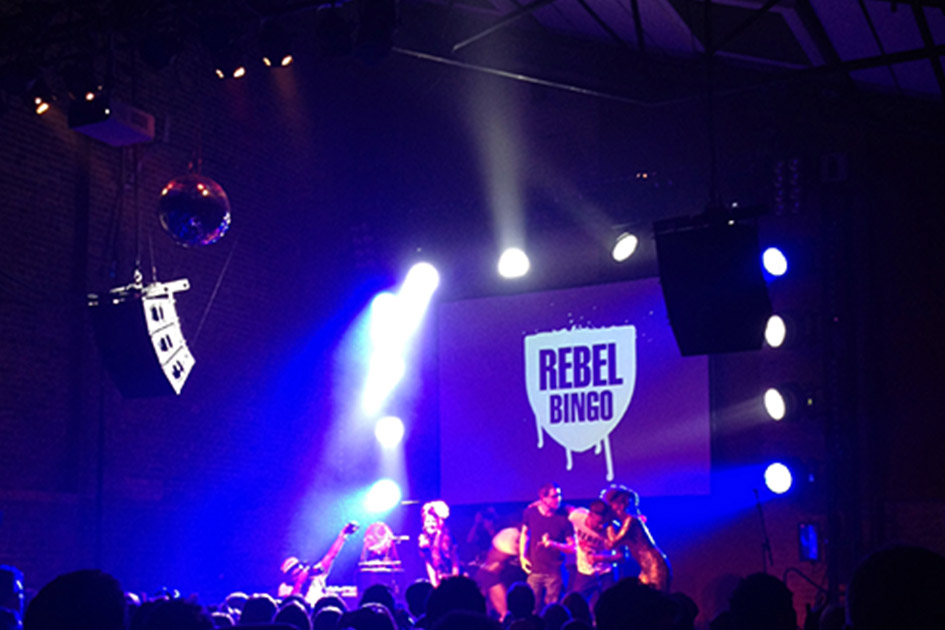 The Rebel Bingo we went along to in London was held in Village Underground, a vast renovated warehouse close to Shoreditch overground station. We turned up around 8pm to find the doors weren't open so went for a drink nearby. When we got back there was a massive queue to get in. Luckily it moved quite quickly and it wasn't long before we were inside. The place was packed, teaming with young trendies buying cans of lager at the bar. On arrival at Rebel Bingo you're presented with a marker pen. Invariably it ends up all over you and everyone else so don't wear your best outfit if you don't want to get it ruined.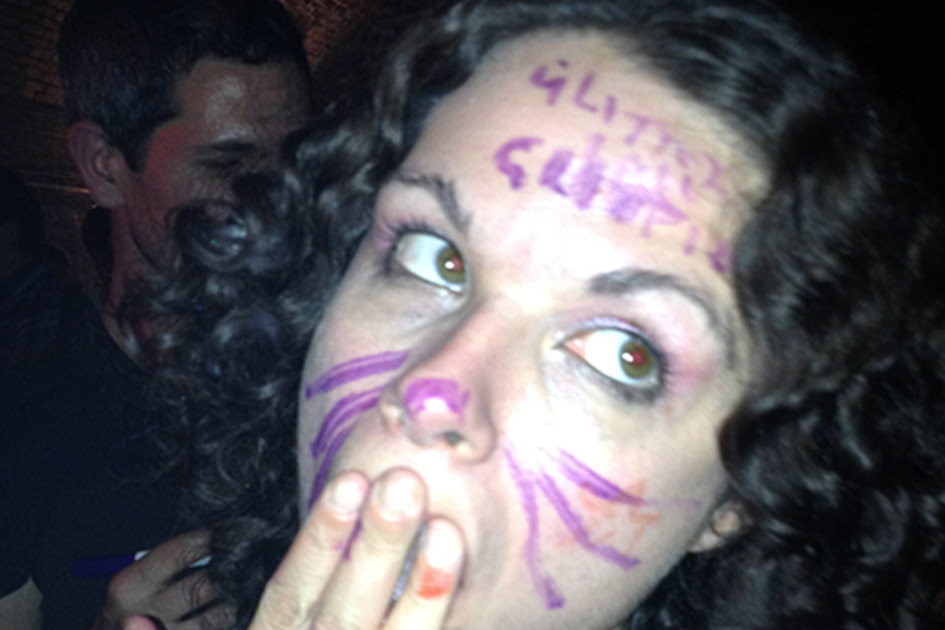 In all honesty there wasn't that much by way of bingo. Two rounds or books are played during the night. It's basically a chance to drink and dance – music wise it was a mixed bag with an eclectic choice of tracks – with some bingo chucked in. But that just adds to the excitement, as when the host steps on the stage everyone goes wild. Bearing in mind this isn't your average bingo there were some pretty unique prizes up for grabs (it's amazing how excited you can get over the prospect of winning tat). Some were introduced by way of a little video. Two glamorous girlies were the bingo callers, who came up with some interesting calls for the numbers.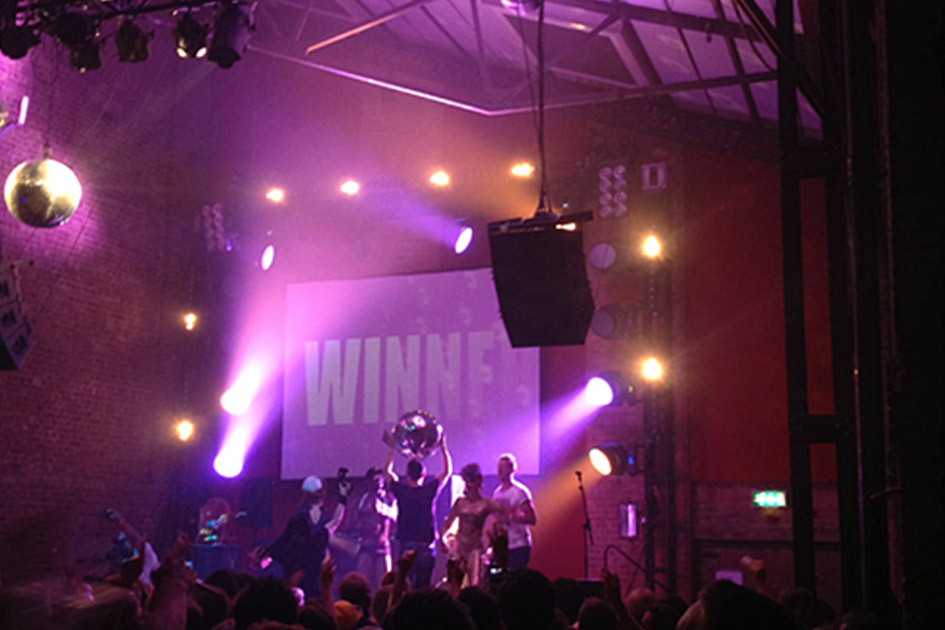 I didn't seem to be having any luck. I'd barely crossed off a number as we were looking for a full house (all the numbers on the game), when suddenly Sharps nudged me. 'I think I only need one number,' he said nervously. And the next thing we knew they'd shouted it out. I started shrieking like a banshee, all the while trying to part the heaving crowd like Moses, as it was first up to the stage wins. Meanwhile Sharps sheepishly tried to make his way to the front. Finally they noticed him and stopped calling numbers. There was a tense moment when they had to verify he hadn't made a false call. Then Sharps was crowned a Rebel Bingo winner. He became the proud owner of a giant discoball (so big it's now taking pride of place in our lounge as we can't fit it in our loft). The atmosphere was buzzing. People were going crazy trying to shake hands with Sharps as he came off stage. But although his five minutes of fame soon passed when the winner of the next game was announced nothing could dampen our spirits as it had been such a fun night out. Rebel Bingo is definitely a Shoreditch hidden gem. You never know you might get lucky like we did and end up winning a discoball that really does mean you go home to a full house.
You might also like