For the last night of our trip in Amsterdam we decided that we wanted to stay in a hotel slightly out of the main hub, to give us a feel for a slightly less touristy side of Amsterdam. The Hotel V on Frederiksplein is in Amsterdam's Pijp area, and while it's slightly out of the centre by Amsterdam standards it's still easily accessible. It's only about a 15 minute tram ride from Amsterdam central station and tram number 10 handily stops right across the road from the Hotel V.
We'd already heard great things about the hotel from a couple we met on a night out at a bar called Door 74 as they were really impressed by the friendliness and knowledge of the staff. The minute we walked into the Hotel V we were greeted by an enthusiastic receptionist who couldn't do enough to help. As our room wasn't ready we were invited to sit in the funky lounge area (where breakfast is also served) to relax and wait while another member of staff took our order for complimentary coffees. We're not talking instant here either, we're talking about cappuccinos and lattes that were so good as it was bucketing down with rain outside we were sorely tempted to just spend the afternoon in the hotel lobby drinking coffee and watching the world go by.
Our room was on the top floor, our new friends had told us that it's best if possible to get a room higher up as they have more light. And we also opted for a large room which in all honesty was pleasant but quite compact, so you're probably best off paying a little extra for a big room unless you just plan to crash out.
But location wise, if you're looking to explore the real Amsterdam and its hidden gems then you can't go wrong with a stay at the Hotel V. We discovered Utrechtsestraat, a trendy street lined with cool cafes, bars and shops with not a tourist in sight. And we were literally round the corner from the Albert Cuyp market and the Bazar restaurant as well as the more touristy areas of Rembrandtplein and Leidseplein and the Museum District.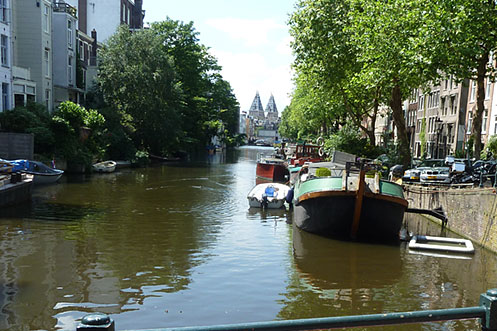 This in itself is enough to warrant the Hotel V being a hidden gem but for me it 's the level of customer service you'll find here that truly sets the Hotel V apart and makes it one of my Amsterdam hidden gems. Whether it was printing out flight details, or giving us insider tips, nothing was too much trouble for the staff. After we'd checked out with all our luggage and gone for lunch at De Kas restaurant I discovered I'd left my mobile on the bed in the room. The staff were mortified when I came back to retrieve it and it was nowhere to be found. The head housekeeper even went so far as to go through all the laundry bags, holding them up to her ear while Sharps called my phone, to no avail. So having given up all hope of finding it I couldn't believe it when the hotel sent me a message on Twitter to say they had spoken to their laundry company, saved it from going in the wash and were posting it back to me! And a week later I was reunited with my mobile.
I've stayed at some pretty high-end hotels so it takes a lot to impress me. The Hotel V did just that, and more. This hidden gem of a hotel in Amsterdam is most definitely worth checking out. Just make sure you've got your phone with you though before you do!
You might also like