When the people at Cinnamon Culture kindly invited me via Twitter (@CinnamonCulture) to try out their three-course menu I jumped at the chance as Cinnamon Culture is definitely a hidden gem of London's Indian restaurant scene. Cinnamon Culture is located in Bromley (on the outskirts of London in the South East, so technically in Kent) but it was pretty easy for us to get there on public transport from our flat in Forest Hill. We had to change buses at Catford but it was all quite straightforward and Cinnamon Culture is also close to Sundridge Park station if you prefer to get there by train.
It's definitely worth the journey to get to this hidden gem, and what is surely Bromley's best Indian restaurant. Housed on the site of a former pub, Cinnamon Culture has been open for 18 months. We were taken aback by how swanky it is inside – high ceilings and lots of white, open space that give you the feeling you're in for a quality dining experience, which is precisely what you get. While we deliberated over the menu we whet our appetite with a selection of poppadoms and chutneys – tamarind and raison, mango and chilli (huge chunks of mango combined with chilli to give it a bit of a kick) and pineapple. Our favourite chutney of the trio was the unusual pineapple chutney, made from fresh pineapple and chilli. It was pleasantly refreshing and not as sweet as I was anticipating it to be.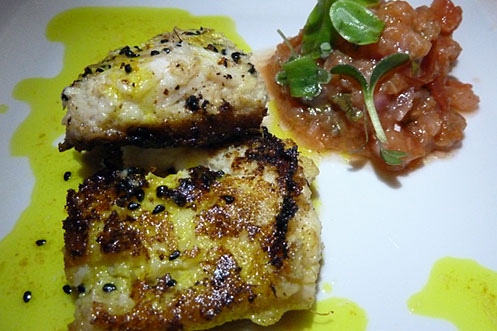 By now we'd finally managed to decide on what we were going to eat. I opted for a starter of pan-fried hake with an accompaniment of aubergine salsa (£6.55). A generous portion for a starter it was the size of my main course at Lima (click here for my review of Lima London) and twice as tasty. Chunks of flaky, moist hake were covered in a rich buttery sauce (though it was made using olive oil) and the wonderful garlicy flavour of the aubergine salsa hit just the right balance as it didn't overpower the dish. Similarly the texture of the aubergine was perfect, not too overcooked and mushy so it still had some bite, with chunks of tomato and red onion for some additional crunch.
Sharps started his Indian feast with bubble and squeak topped with a tamarind glazed jumbo quail breast (£6.95) that he thoroughly enjoyed (likening the tamarind to HP sauce!). And he said he could really taste the smokiness from the tandoor.
I'm obsessed with kedgeree, I'm still surprised by the lack of London cafes and restaurants that offer it for brunch. So when I saw Cinnamon Culture had a posh version of kedgeree (£13.15), using sea bass instead of smoked haddock and broad beans as well as peas, it was a no-brainer when it came to choosing my main course. I wasn't disappointed as the creamy rice, cooked with garlic, coriander, cumin seeds and turmeric had a cheese-like flavour with a super mild heat. If you're not a fan of hot and spicy food then this dish is definitely one for you as it's quite mild so akin to a korma.
Sharps was more adventurous and went for Lal Maas (£13.85) a clove smoked buffalo curry with buttered rice, one of Cinnamon Culture's signature dishes (the other one being a goat vindaloo). He said the buffalo meat was similar in taste and texture to beef and the sauce made from star anise, cinnamon, fennel seeds, green cardamom, red chilli and garlic was pleasantly hot.
Dishes come with rice so you get plenty of food but if you're as greedy as we are I can also recommend the selection of four mini naans (£7 for a basket of four) to mop up any excess sauce. I particularly liked the garlic naan that had pieces of sweet red onion mixed into it. And there's also a good selection of vegetarian dishes available too.
There are lots of similarities between the food at Babur Indian restaurant in Brockley (click here for my review of Babur indian restaurant) and the menu at Cinnamon Culture. This is hardly surprising as Jiwan Lal, one half of the team behind Cinnamon Culture, formerly worked as head chef at Babur. Both restaurants put a contemporary twist on Indian dishes, creating recipes immaculate in their presentation that wow – neither is your average Indian restaurant. But there are points of distinction too, especially in the dessert menu as the one at Cinnamon Culture is a little more extensive.
As well as more typical Indian puddings (such as kulfi) there are also Western style sweet treats that have been given a subtle Indian flavour. Take for example my chocolate fondant (£6.45), a rich chocolate pudding that oozed gooey chocolate sauce when I broke into it but had delicate overtones of cumin, served with vanilla ice cream. Likewise Sharps had a white chocolate brownie (£5.95) infused with cardamom and accompanied with a little bowl of orange jam.
I'd also say that dinner at Babur is a more casual affair whereas Cinnamon Culture has a high-end, special occasion type feel to it. But both are equally as good in terms of their food – it's more about the type of experience you're after. Out of all spices I have an aversion to cinnamon, I try to avoid anything that's got cinnamon in it, but this is one type I could gladly make an exception for.
You might also like