I was on route for Sunday lunch in Peckham with Sharps at the Victoria Inn in Peckham, when we happened to stumble across a lovely little hidden gem and one of London's best chocolate shops, Mélange Chocolate.
This artisan chocolate shop is situated on Bellenden Road, the posher part of Peckham. But if you close your eyes you could easily think you were in a little French café, with its quaint outdoor seating area. Inside Melange you're hit with the most wonderful aroma of cocoa, while your eyes feast on an array of chocolate, with a little tray of samples I defy you to resist. Plus there's a mouthwatering selection of cakes, tarts, sorbet and ice-cream to choose from.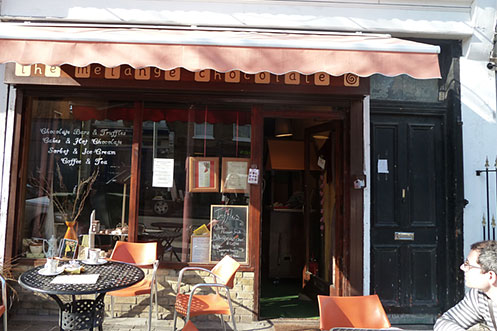 When I heard that Melange's Parisienne owner Isabelle Alaya, a self-taught chocolatier, decided to set up her own chocolate shop I couldn't help but feel as if we were in a scene from Chocolat, although she didn't look much like Juliet Bionoche. Isabelle's passion for chocolate (like most women) is evident and she hosts regular chocolate workshops, in an attempt to educate chocolate lovers. Workshops include a fine wine and gourmet chocolate tasting event, great for a girly get together, chocolate making and even the chance to create your own edible art. When I quizzed Isabelle about how she made her chocolate as she creates her own recipes and lives above the shop, making her chocolate in the back room, she did confess she finds it difficult to find staff that have an intimate understanding of the chocolate making process.
There are a variety of signature chocolate bars infused with spices, herbs and fruit on offer that you can buy in the shop or order online. Flavours include a divine milk chocolate ginger and lime, milk chocolate coriander and grapefruit, dark chocolate five spices and lemongrass and cardamom and nutmeg white chocolate.  as well as a selection of cakes, tarts, sorbet and ice-cream. Despite the fact we were due to have lunch imminently Sharps gave in to temptation, trying the cocoa tea – a thick, rich, velvety drink – admittedly I couldn't resist a sip or two – that warmed us through. And it came as no surprise after tasting it to learn that Melange chocolate was voted the best hot chocolate in London by The Evening Standard. I have to admit that Peckham of all places is an unlikely place to find one of London's finest chocolate shops, precisely what makes Melange such a hidden gem. Just lucky for my waistline it's a bus ride away!
You might also like