On a recent trip to Nottingham with Sharps we stayed the night at the Lace Market hotel, a boutique hotel in, as it's name might suggest, Nottingham's Lace Market area. Given its central location, in the heart of the city, you'd be forgiven for thinking it's not exactly a hidden gem, despite its luxurious rooms, I especially loved the bath, and delicious choice of breakfast (I opted for kippers and poached egg).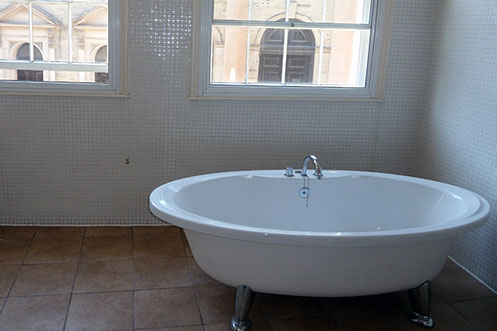 But for me what makes the Lace Market hotel a hidden gem is it's mar'tea'ni afternoon tea. Rather than your average afternoon tea, the Lace Market has introduced an utterly fab afternoon tea with cocktails. For an unbelievable £20 per person you get afternoon tea consisting of sandwiches, a selection of cakes and a scone, plus two cocktails of your choice from the extensive, and unusual, drinks menu.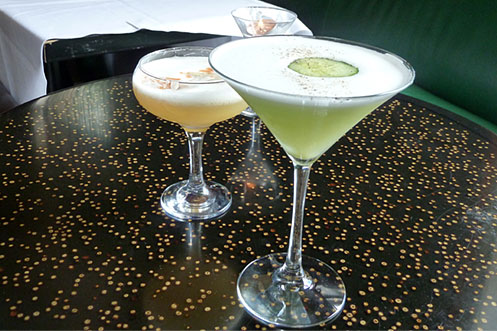 Without sounding ungrateful I have to admit that when, on arrival, I was told we were having cocktails rather than actual tea I was a little bit gutted. I genuinely fancied a cuppa. But always ready to admit when I'm in the wrong (though Sharps may beg to differ) the combo of cocktails and afternoon tea worked really well, mainly in part because of their quirkiness.
As well as all the usual suspects we were pretty impressed by the variety of cocktails on the menu, including as weird as they might sound, savoury cocktails. I went for a vibrant coloured cucumber and wasabi martini topped with egg whites, a different take on a Bloody Mary. And with a little persuasion Sharps gamely tried the (slightly disgusting sounding) bacon martini. Triple filtered with bacon fat Sharps said it infused the cocktail with a pleasant saltiness rather than the taste of bacon and he actually quite enjoyed it.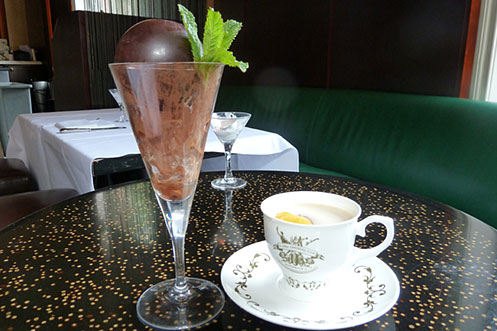 As we discovered it's definitely best to start with the savoury cocktails as once we'd finished the sandwiches and moved on to the cakes we had a hankering for something sweet. Luckily we still had our second cocktail to come. Sharps had an Early Margarita, Earl grey tea with orange, which despite its mellow flavours had two shots of alcohol in it. I opted for a safer Chocolate mint martini, which was served with a dark chocolate cup, that was quite hard to bite into without spilling drink all over the table. One of the most popular cocktails that I can wholeheartedly recommend is the espresso Martini, with its hit of coffee it's a great accompaniment to afternoon tea.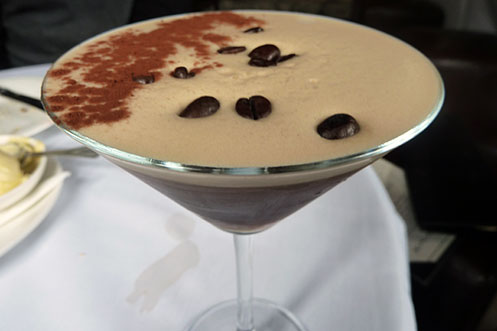 The Lace Market hotel's Mar 'tea' ni afternoon tea is brilliant for a girlie get together or for hen parties and if you don't fancy the idea of being surrounded by lots of women the cocktails are also available at the Lace Market hotel's Saint Bar, there are over 90 amazing cocktails to choose from on the drinks list such as banana toffee daiquari and a Brazilian nut, almond syrup, lime cachau, chocolate liqueur, and hazelnut.
I've been to lots of bars in some of the coolest cities in the world but Nottingham's Lace Market hotel is a real hidden gem as it definitely has some of the most unusual cocktails I've come across yet.
You might also like