Across a bridge, tucked away in the south of Amsterdam is De Kas, a hidden gem of a restaurant that's one of Amsterdam's finest (and one of Amsterdam's unusual restaurants). It's setting is idyllic. De Kas is in a secluded spot  and from the moment we sat down we were in awe of our surroundings. To one side of De Kas is a greenhouse (which grows 16 varieties of tomato as well as a host of other fruit and veg including aubergine, melon and pepper) and to the other is its garden.
I'm pretty fussy when it comes to my food. And as a non-meat eater I'd found the choice of vegetarian restaurants in Amsterdam somewhat limited. So I was more than a little anxious about going for lunch at De Kas restaurant in Amsterdam, due to the fact that they don't have a menu. I needn't have worried as to my delight the focus food wise at De Kas is very much on the veg (de kas means greenhouse so I should have guessed).
The lunch menu at this quirky Amsterdam restaurant consists of two courses, three small starter plates to share (which weren't that small at all) followed by a main dish. Beforehand we tucked into a pre-starter of fresh bread, accompanied with home made basil oil, big, fresh juicy tomato chunks marinated in balsamic vinegar and large green Spanish olives – it took great restraint on our part from filling up on them.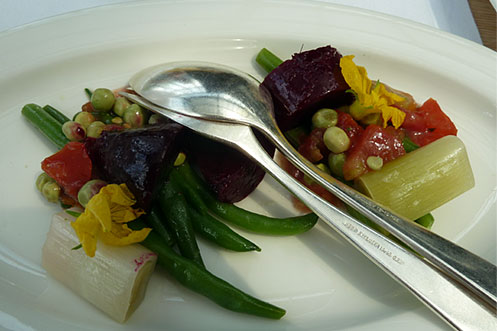 First up was a delicately flavoured salad of beans, leeks, beetroot, cubed and salted tomatoes and marrowfat peas, infused with tomato juices and topped with cucumber flowers. It tasted so fresh and we could really notice the quality of the vegetables that were used.
This was followed by a light aubergine soufflé (for me) served with aubergine caviar – the aubergine had been roasted on a BBQ then scraped and mixed with onion and vinaigrette to give it a wonderfully smoky flavour and the soufflé was incredibly light. Sharps was served sweetbreads as a substitute for my soufflé, also accompanied by aubergine caviar, though his also had anchovies in it. Our final small dish of roasted courgettes and peas mixed with fluffy, creamy chunks of buffalo Mozzarella, salty capers and sweet red pepper (Sharps also had the addition of sliced ham) was equally as tasty.
I thoroughly enjoyed my vegetarian main of crisp wanton stuffed with ricotta cheese, served with green beans, grey peas, grilled artichoke,, home-grown potatoes drizzled in a thick and creamy hollandaise sauce (which was possibly the best I've ever eaten). But I have to confess to having food envy at Sharps' main of grilled plaice (erring on the side of caution when we booked I said I was vegetarian as opposed to a non-meat eater) – moist flakes of white fish that he generously swapped for half of my main.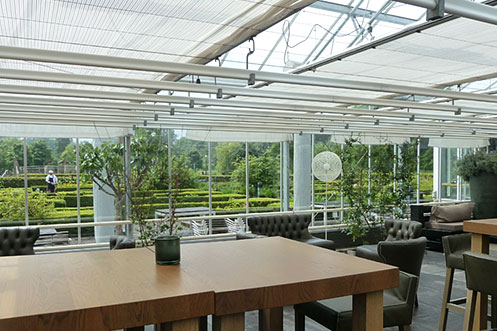 After lunch we were taken round the greenhouse and gardens at De Kas by executive chef Ronald Kunis (who worked under John Torrode at the Conran restaurant the Bluebird Cafe). He explained the reason de Kas has no menu is because all of the ingredients used are seasonal, so they literally never know until they get the list for that day what they're going to get to cook with (the same applies to their meat and fish suppliers). Wandering through the gardens we were shown how everything that possibly can is incorporated into the dishes at de Kas, from fig leaves picked from the fig trees that are used in ice cream to edible flowers (that have a distinctive taste of shallot).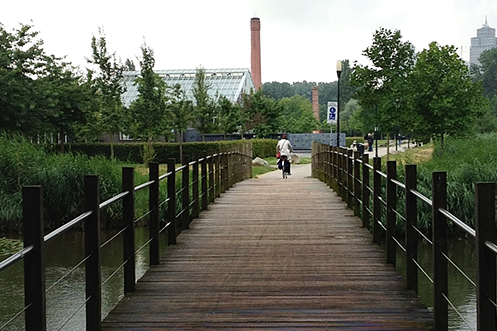 Before we went we'd been warned that it would be a bit of a mission to get to De Kas as it's in South Amsterdam. But in all fairness it only took us around 30 minutes max from the Hotel V (a further 10 minute tram ride from Amsterdam central station) and the journey was pretty straightforward, we had two easy tram changes to make. The south of the city in itself is a bit of a hidden gem, apart from us there seemed to be no tourists, though everyone still spoke fluent English). But location aside (and of course the fact that it's set in a greenhouse) what makes De Kas one of Amsterdam's hidden gems for me is the refreshing way that vegetables takes centre stage. Get a good piece of meat and I've been told it's hard to go wrong cooking it. Vegetarian food on the other hand, requires a whole new level of skill to make it interesting. And I'm not just saying this as a veggie lover as even Sharps, an ardent meat eater, couldn't stop raving about the food at De Kas.
You might also like