It may seem like a bit of a cliche but the Lake District is notorious amongst other things for its wet weather, so it came as little surprise when I was there with the Cumbrian tourist board that the heavens opened and it started chucking it down. But don't let the prospect of a downpour put you off. There's still plenty to do in the Lake District if it's raining, as I discovered when I came across Sarah Nelson's Grasmere Gingerbread Shop, one of the Lake District's hidden gems.
The little village of Grasmere is famous for its connections to William Wordsworth. We stopped off at Dove Cottage, Wordsworth's former home (he lived there for eight years from 1799 and wrote most of his notable poems here) which was a welcome escape from the rain. I'm not particularly interested in poetry, Wordsworth or the Lake poets (Colleridge and ) but our guide was so enthusiastic and knowledgeable about both the area and subject matter, my curiosity was peaked and I was eager to learn more.
Grasmere is also where Wordsworth was buried, you'll find Wordsworth's grave in St Oswald's churchyard, along with the graves of  his family. And adjacent to the churchyard is the Wordsworth Daffodil memorial garden. St Oswald's is conveniently situated near to Grasmere's real hidden gem, Sarah Nelson's Grasmere Gingerbread Shop, a former school for boys where Wordsworth had been a visiting teacher.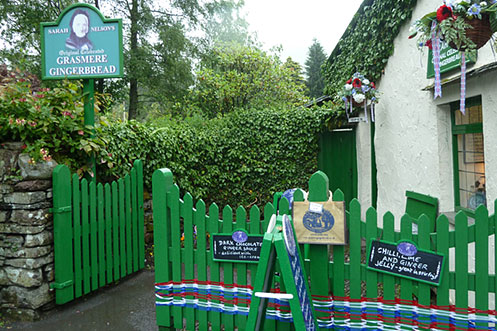 The property was rented out to Sarah Nelson and her family and it was from here that Sarah started making her gingerbread in 1854. The premises for the Grasmere Gingerbread Shop, which was built on sacred ground, are still owned by the church today . This means the shop is shut on Sunday mornings, it opens from 12.30pm, and has to close by 5.30pm on Sundays in time for Evensong and it also isn't allowed to open on Good Friday.
I was amazed to discover that just like Coke, Grasmere Gingerbread is a registered trademark that has a secret recipe, passed down through the generations, housed in a bank vault. Even the staff don't know the recipe in full, despite the fact that all the gingerbread is made by hand, they are each designated a certain part of the process. Today the shop is run by a lady called Joanne Wilson. Her husband Andrew is the only person that knows the methodology, he had the recipe verbally passed down to him by Joanne's father. This means that when the family go on their annual two-week yearly holiday a batch of gingerbread mixture has to be made up in advance.
I was lucky enough to get a sneaky peak behind the scenes to see first-hand how the gingerbread is made. All the gingerbread is baked on site, and only for that day as it's best eaten straight away, something no doubt Sharps will be delighted to hear when I bring him back some to try. That said, you can always freeze it, if unlike me you possess enough self-control.
I have to say that Grasmere Gingerbread definitely lives up to its hype (according to their website Tom Cruise is a fan). Not as hard and crunchy as normal gingerbread, it's rich and buttery and has a softer, chewier texture, topped with crumble style biscuit. Also hugely popular are the gingerbread crumbs, which are bagged up and can be used as a base for cheesecake, to add texture to dishes or just eaten as they are. And 50 % of the sales from these goes to the Leave No Crumbs charity campaign to raise money for local conservation projects. Sarah Nelson's Grasmere Gingerbread Shop also sells a range of ginger inspired products from local producers, including jams, chocolate and candles, as well as their own rum butter. I'm not usually a fan but this rum butter was utterly delicious served on quaint squares of white bread (and I reckon it would taste great served on teacakes too). So come rain or shine this is one Grasmere hidden gem you won't want to miss out on.
You might also like