Cumbria is gaining a growing reputation as a place for food lovers (this year's Cumbrian Food Festival – Taste of Cumbria 2012 is on 29-30 September) and nowhere more so than the picture postcard village of Cartmel in the Lake District. It may be famous for Cartmel racecourse, and home to Cartmel sticky toffee pudding, but gourmets are beginning to flock there for another reason, L'Enclume – a Michelin star restaurant and one of the Lake District's hidden gems for foodies. L'Enclume is frequently described as being Britain's most exciting restaurant and has the accolade of being number two in the Good Food Guide (second only to Heston Blumenthal's Fat Duck). Plus, there's been lots of fuss of late surrounding L'Enclume's executive head chef, Simon Rogan, who's winning dessert featured in series 7 of The Great British Menu.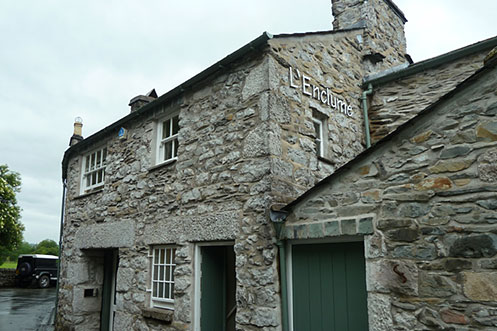 As well as obviously being excited by the prospect of a five-course lunch at L'Enclume part of me was also feeling a bit nervous – I literally had no idea what to expect from the restaurant. There is no menu online, not even a hint at the type of food they serve up at L'Enclume, as the dishes change daily, depending on seasonality and availability. All of the produce used at L'Enclume is British, and local where possible, 85% of the fresh produce is obtained from its farm, located just over a mile away. But I had been assured that they cater for dietary requirements if warned in advance so I wasn't about to miss out. And unlike at some Michelin star restaurants vegetarians are most welcome, lucky then as half of our group were non-meat eaters.
Chef Simon Rogan is renowned for his innovation in the kitchen and while you couldn't fault the presentation of the food I did feel that some dishes wowed more than others. A grilled salad of broccoli, cauliflower and kale, smoked over embers with cheese, truffle oil and a walnut crisp (made from dried sourdough with walnuts) was a bit like a delightful deconstructed cauliflower cheese with extra elements of salty kale and charred broccoli. Whereas the course of roasted carrot with carrot emulsion and nasturtium didn't really taste of much and left me distinctly underwhelmed.
By far the standout dish was my first course, a 'yolk' of celeriac mousse in a saffron gel served with warm garlic mayo and salt and vinegar puffed rice. I almost couldn't bring myself to pierce the exquisitely presented yolk, that oozed a divine creamy centre I greedily mopped up with fresh, warm brown bread that tasted like malt loaf. And the salt and vinegar puffed rice added a bit of bite and crunch.
My carnivorous  companions voted unanimously that their favourite dish was the main of guinea fowl with chicken offal, micro turnips and oyster mushrooms – the crispy skin of the guinea hen and its sweet meat balancing out the velvety flavour of the chicken livers. I was also a bit surprised by an absence of fish from the menu but perhaps they were saving it for dinner, which is a whopping 16 courses.
Another winner for me was the last course, a dessert of cherries with meadowsweet (a foraging herb that is used as a substitute for vanilla) yogurt, hazelnuts, sweet Sicily granita and cider apple reduction. The creamy yogurt brought out the tartness of the cherries, which reminded me of sour sweets I used to eat as a kid (and still do). Combined with the biscuity toasted hazelnuts it became almost a cheesecake affair. I just wish there had been more than a drizzle of the tangy apple syrup as I absolutely loved its sweet stickiness. What I also loved about L'Enclume was its relaxed, unassuming atmosphere. We were seated in an airy conservatory area, with views looking out onto the garden, and I could easily have wiled away the hours here.
But what truly amazed me about this Michelin starred hidden gem of a restaurant in Cumbria was the price. L'Enclume offers its five-course lunch menu for just £32.50 (allow an extra £15 per head with tasting wine), a total bargain that makes L'Enclume accessible and a real hidden gem of a restaurant for foodies. Or, as I previously alluded to, you can opt for the 16 course package (12 courses and four appetisers) for an equally impressive £89 (compared to £80 for a 10 course dinner at Simon Rogan's sister restaurant, London pop-up Roganic) and incredibly good value for money. If you do fancy making the trip to check out the restaurant it's also possible to stay at L'Enclume, as it's a restaurant with rooms that start from as little as £99. And I've heard that Simon Rogan's other restaurant in Cartmel, Rogan and Company, which has transformed itself more into a restaurant than a bistro is also looking to expand its site to include accommodation. So it's easy to see why L'Enclume is fast becoming the place to go for foodies up north.
You might also like