People are always on the hunt for the latest food trend, one of the hottest right now in London being Peruvian food. So I was pretty excited about the opening of London's newest Peruvian restaurant, Lima, in central London. I was keen to find out if it would live up to the hype but it's not the cheapest of places to eat. Lucky then it was mine and Sharps' anniversary so he very gallantly offered to take us there for dinner to celebrate.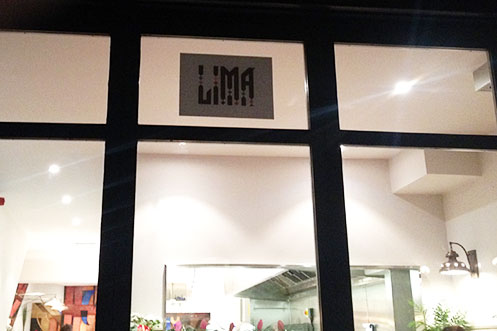 I have to be honest and say that having eaten at Lima I was in two minds as to whether to post about Lima on My Hidden Gems, mainly because I'm not convinced it totally lived up to my expectations. Despite the incredibly friendly and helpful staff the service was painfully slow. We repeatedly had to ask for our drinks and similarly orders were mixed up and we waited over an hour between our starters and mains, without even being offered some bread to nibble on to stave off our hunger.
And sadly my main wasn't worth the wait. My hake was perfectly cooked and its execution (as was the case with all of our dishes) was faultless. But was far too salty which ruined it for me. Sharps fared better with his suckling pig, but without any substantial sides we were both left feeling a bit hungry. Not what you'd expect for paying around £20 per main, and we both agreed as far as restaurants go Lima is somewhat overpriced. I also overheard a couple at the next table discussing how likewise they preferred their starters to the main courses – their vegetarian option of artichoke was also  immaculately presented and looked intriguing.
So you might be wondering why then I decided to include a post on Lima if it's not all it's cracked up to be. One word. Ceviche. I'd been drooling over the menu at the starters, and the ceviche at Lima is by far the best I've had anywhere and this for me is what makes Lima a hidden gem. Slices of delicate sea bass, sitting in a bowl of tiger milk that gave it an almost vinegary, slightly sour taste were served with crunchy corn along with sweet onion shavings. My only gripe is that it could have done with more of the wonderful fried onion topping that perfectly complimented it.
Lima also serves up the most outstanding Peruvian cocktails. I'm not a fan of traditional pisco sours but they had some interesting twists on the drinks menu. I absolutely loved the cuento del diablo that had a real kick – chilli-infused pisco with cointreau, lemon and strawberry, with bits of fresh strawberry floating in it.
If you fancy going out for drinks that are a bit out of the ordinary, accompanied by some of the best ceviche in London then you can't go wrong with Lima. Given it's a new restaurant I'd like to think the service issues are just teething problems but for now I'm afraid I'll just be sticking to the ceviche.
You might also like