As we were staying at the Hotel V (located in Amsterdam's de Pijp district) on our last night in Amsterdam (click here for my post on Amsterdam's hidden gems) we decided we wanted to eat locally so we could get a feel for one of Amsterdam's neighbourhoods. Luckily for me, Visit Holland organised dinner for us at the nearby Bazar Amsterdam. Located in an old church (although there was Hebrew writing on the walls which left me wondering if in fact it had been a synagogue) Bazar Amsterdam is a Turkish restaurant in the heart of Albert Cuyp Market.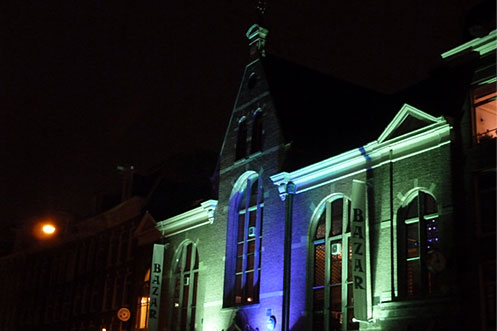 Inside Bazar Amsterdam it was a hive of activity, not dissimilar to that of an actual bazaar. Bazar Amsterdam was filled with the sound of people chatting and music playing in the background adding to the relaxed atmosphere. The high ceilings and  decor enhanced the feel of us being in a Turkish market.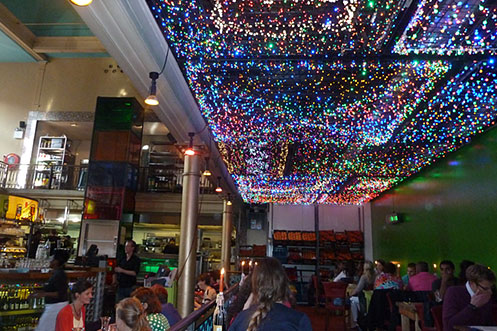 I particularly loved the crates of fruit lined up against one of the back corners of Bazar Amsterdam, as well as the sparkly lights which added some chintz. The bar area was also pretty cool, with rows of cans stacked underneath it.
Waiters carried trays heaving with food high above their heads making an ostentatious show of presenting the dishes they were serving – you can't see them before they're put down. We were surrounded by tables groaning with food – sparking instant food envy from all corners on our part. After much deliberation we opted to share a vegetarian platter of meze. This consisted of  a cold tomatoey aubergine dip (my favourite of the meze), curd cheese with bits of carrot, smooth, creamy hummus, stuffed vine leaves and cheese straws (flaky pastry filled with hot, salty cheese) that had a subtle hint of mint.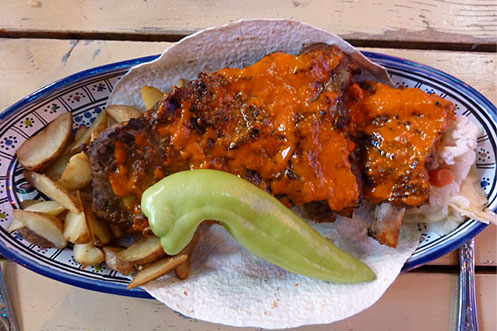 What arrived was a starter of gargantuan size. Bazar Amsterdam was  just our kind of restaurant. By the time our mains arrived we were already quite full, but we made a valiant attempt at eating them. My vegetarian casserole was a tomato based dish, combined with hazelnuts and tofu and covered in a thick layer of cheese. It wasn't dissimilar to a vegetarian moussaka and was served with a generous portion of rice. Sharps went for ribs with chilli barbecue sauce. A humongous slab of meat it was pretty much like a giant kebab. It was accompanied with chips, pickled veg and a large green pepper (this seemed to be the standard garnish for all of the mains).
Despite having saved ourselves for dinner by not eating much all day, both of us were forced to admit defeat. I felt as if I'd competed in an episode of Man vs Food and Sharps only managed half of his ribs. I'd recommend skipping the starters, or sharing a starter and a main. You get an awful lot of food at Bazar Amsterdam. Having said that, Sharps still somehow managed to make room for dessert. He went for the tea Bazar, which would have been ideal in itself for afternoon tea. It comprised of tea (he chose mint), a pistachio style brittle, dates, sweet baklava and two delicious pieces of Turkish delight, all covered in spun sugar.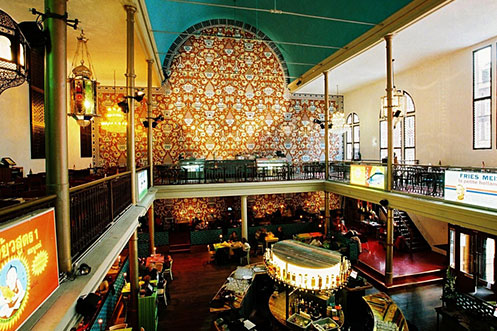 Posh nosh it's not. But Bazar Amsterdam is a hidden gem in that offers great value for money and a fun evening out. Our ridiculously massive starter was around £10 and mains were between £9-£15. We ate around 7pm and Bazar Amsterdam was packed with groups of friends, families and couples who mainly seemed to be Dutch. Bizarre as it may seem, if you're on a budget eating in an old church in Amsterdam is a god send.
You might also like