People have been banging on about how great Brixton Village is for foodies for a while now. But for one reason or another I've never managed to have a weekend free to check it out. So when a friend invited me to check out Senzala creperie in Brixton Village it was just the excuse I needed to finally get round to paying it a visit.
What struck me most about Brixton Village (once I actually managed to find the entrance to it) was its cosmopolitan feel. At this point, having wandered through the various aisles and drooled over some of the other cafes and restaurants, I have to admit I was a little gutted we were going for crêpes when such a veritable array of cuisine was on offer. Especially as I'm not the biggest of crêpes, or pancakes – I actively avoid them so there's no tossing in our flat on Pancake Day.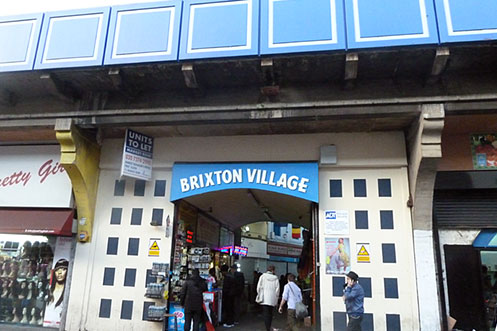 Obviously I'm used to tracking down hidden gems but finding Senzala creperie was a bit tricky. I knew that it had links to the Brick Box, a social enterprise that focuses on the arts, playing host to various exhibitions, theatre and screenings. So after wandering round aimlessly trying to find Senzala creperie without much luck we ventured into the Brick Box to ask for directions. It was only then that we discovered that Senzala creperie was in fact where the Brick Box used to be until it moved to bigger premises round the corner. But Senzala's lovely Brazilian owner assured me that changing the name on the sign is up there in his to do list.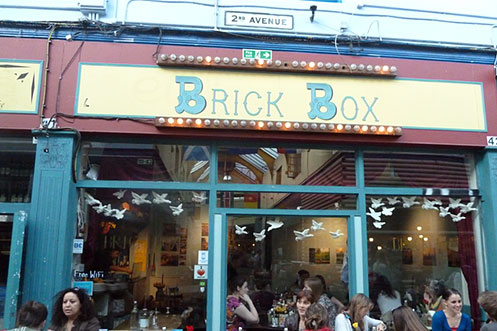 After all of our walking about we'd worked up a bit of a thirst, ideal I'd heard that the cocktails are pretty impressive at Senzala creperie. We weren't disappointed. Sharps had a pretty potent caipirinha and my mojito was perfect, not too sweet with a burst of mint running through it and lots of lime. When it came to our dinner, as usual I'm more than happy to eat my words. Despite my aversion to pancakes the food was delicious – what we were presented with weren't your average crêpes, or in my case galette (a crêpe made from buckwheat). I opted for the Senzala galette (£6.40). I figured it would be rude not to. It comprised of gorgonzola, homemade caramelised onions, sun-dried tomatoes and rocket, plus I requested the addition of black olives. I was relieved to find that my galette didn't really taste that pancakey, it reminded me more of a Jewish latke (potato cake) in texture and taste. It was packed with flavour, the sweet, soft onion offset the rich, creamy gorgonzola that oozed out of the middle.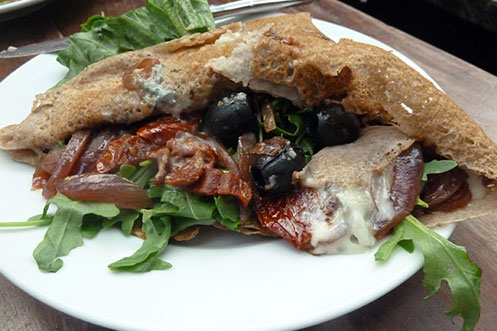 Sharps went for the picante crêpe (£6.50), a mix of cheese, minced beef, peppers, jalepeños and red onion. He also thoroughly enjoyed his food and we both agreed it was a bit like eating a pizza. But the pièce de resistance was the homemade spicy sauce made from Brazilian chillis, pepper and lime juice. The owners wouldn't reveal the rest of the ingredients as it's their secret recipe. It was so good I was almost tempted to sneak a bottle into my bag until I found out you could buy it inside. For once I abstained from dessert but Sharps found room for a sweet crêpe filled with rum soaked raisins and rich Belgian chocolate, accompanied with ice cream.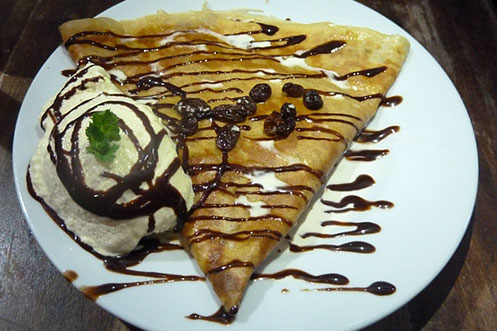 You can choose to eat inside Senzala creperie, where you're treated to a first-hand display of the food being freshly cooked. Or you can opt to sit outside Senzala creperie like we did (you're still in a covered area so there's no fear of getting rained on) which is where the action seemed to be at. While we were eating a DJ from a neighbouring record shop started playing a set so we had cool music to accompany our meal thrown in as an added bonus.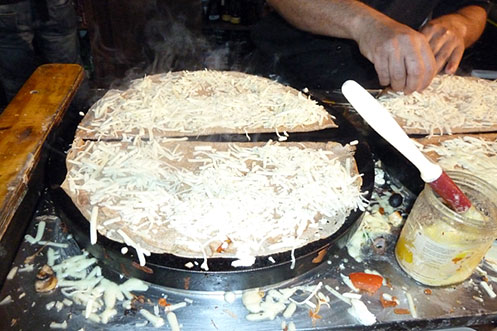 I know it sounds cheesy, and no disrespect to Brixton, but it almost felt like we were in another country. There was kind of holiday vibe going on. While Sharps popped outside for a cigarette I ended up chatting to the couple sitting next to us. They told me they're regulars at Senzala creperie as they love its casualness. You can come out for dinner and still feel relaxed. A huge part of this is down to the owners of Senzala creperie Elieser and Claudia, a Brazilian born husband and wife team. I was super impressed when two girls sat down Elieser commented, much to their surprise, on how nice it was to see them again as they had been there once before. It's this attention to detail that results in a highly enjoyable dining experience and means people keep coming back for more. With so many places to eat in Brixton Village it's easy to overlook Senzala creperie but you'd be silly if you do. Senzala creperie is most definitely a hidden gem, and great value to boot.
You might also like