Myvatn Nature Baths Iceland
The Blue Lagoon in Iceland is undoubtedly one of Reykjavik's biggest tourist attractions, and for good reason. Located about a 45-min drive from the city centre it's actually easier, and quicker, to stop off at the Blue Lagoon on route to Reykjavik airport and it's the perfect way to kick off a holiday in Iceland.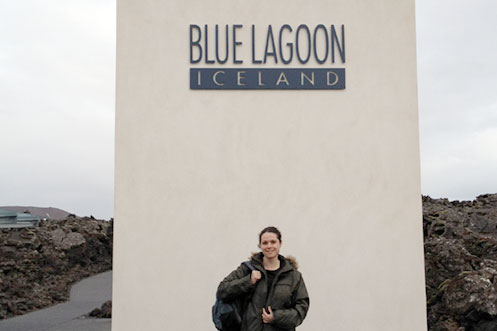 We spent a good three hours or so chilling out in the warm (the temperature is between 37-39°C), therapeutic (the geothermal seawater of the lagoon is full of minerals and silica) water of this destination spa.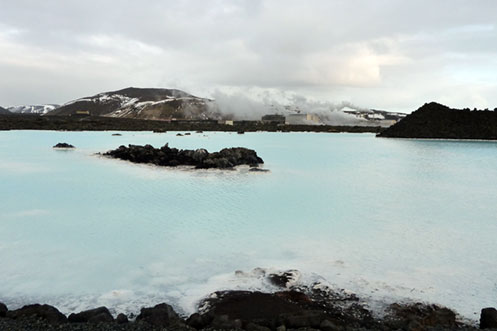 If that by itself isn't enough to leave you feeling totally relaxed, you can book treatments, or have a massage, in the water (in a cordoned off spot). Use of the steam rooms and relaxation area are also included in your entry, which at around £40 per person isn't cheap, so Sharps and I were quite content to stick to the free option of dousing ourselves in silica mud (found in wooden boxes dotted around the side of the lagoon). It's claimed that silica mud deep cleanses and exfoliates the skin, smoothing your complexion. We applied it liberally over our faces and body (well arms as I was too cold to get out of the water and sit on the side) for 5-10 minutes to let it dry.
You can also now get facials from the ash of the volcano that erupted not that long ago and caused chaos across Europe – so it's good to know there was some benefit from it! Since my last visit five years ago a bar has now been installed in the middle of the Blue Lagoon. So you can partake in an ice cold beer, cocktail or ice-cream, while enjoying the warm geothermal waters. I'm not sure whether it was psychological, but either way I genuinely felt revitalised when reluctantly we left to get the bus to our hotel.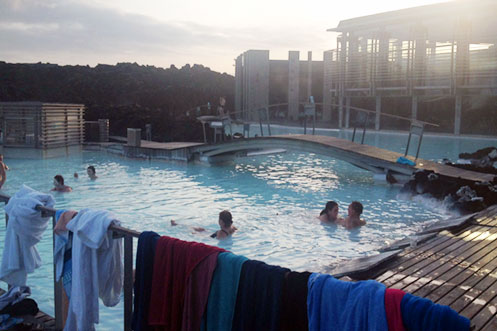 But Iceland also boasts another less well-known geothermal spa, the Myvtan Nature Baths situated in the remote north east part of Iceland, which we were lucky enough to also visit on our trip to Iceland.
The Myvatn Nature Baths, often referred to as the natural Blue Lagoon, is a real hidden gem, our group were the only ones in the water for the two hours we were there. And cheesy as it sounds, being in the middle of nowhere, with spectacular views of the steaming hillsides, I was struck by an overwhelming sense of tranquility and isolation – I genuinely felt at one with nature.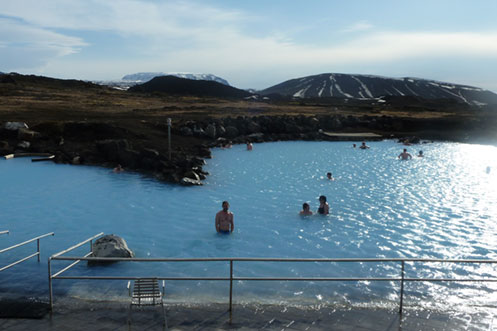 At around £12 it's considerably cheaper than the Blue Lagoon, although as you might expect the facilities on offer are more basic  – there are two steam rooms built on top of the geothermal area, and a cafe as well as the changing room areas. During the winter time the Myvatn Nature Baths are open until 10pm so it's also a great place to come at night and try and see the Northern Lights. Once again we were loathe to leave the therapeutic waters of The Myvan Nature Baths – this is one hidden gem in Iceland you'll definitely find it hard to make a clean break from.