Underground supper clubs are all the rage with discernible foodies, there are now probably in the region of 100 in the London area alone, but for some reason I've never actually been to one. I don't know if it's the idea of going to stranger's house for dinner that puts me off, or that the quality of the food may be more of an unknown factor than if, say, you went to a restaurant. But when the lovely people at Nudo olive oil invited me to come along to a special dinner they were hosting at the Saltoun Supper Club in Brixton I thought it was about time I see what all the fuss has been about.
It felt quite weird walking down a street in Brixton and turning up at some random person's flat for dinner, kind of like I was participant in Come Dine With Me but without the cameras (and fortunately for everyone else I wouldn't have to subsequently cook). And ringing the doorbell I had no idea what to expect inside this hidden gem but I was greeted by our incredibly friendly waiter for the evening. He led me up the stairs and into the lounge area to meet the rest of the guests and sample some nibbles.
The Saltoun Supper Club is housed in the gorgeously quirky home of Arno Maasdorp, a South African self-taught chef, food stylist and photographer. Arno, who also previously worked as general manager at Les Trios Garcons, clearly knows his stuff judging by the immaculately presented food we were served. For our supper club Arno was given a brief by Nudo, which meant that all he created dishes incorporating their oil in some capacity, and we were served six courses instead of his usual four.
Our starter of homemade white pesto lasagne, using basil oil, was utterly divine and my favourite course of the evening – perfectly cooked pasta combined with a rich, creamy sauce and crunchy pine nuts. This was followed by a generous slab of a semi-dried tomato and goats cheese crostini. As a non-meat eater I was then served up a salad of green beans, capers and smoked artichoke – the substitute for everyone else's smoked ham – infused with garlic oil.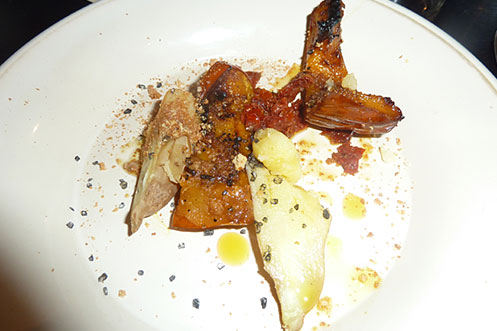 Arno was more than happy to accommodate my dietary requirements (there's always one awkward one and of course it's usually me) and went out of his way to ensure that my dining experience was similar as possible to the rest of the group. For our next course I tucked in to potatoes (my substitute for scallops as I also don't eat shellfish) and roast squash topped with Amaretto crumbs, to give it some bite, and a drizzle of chilli oil.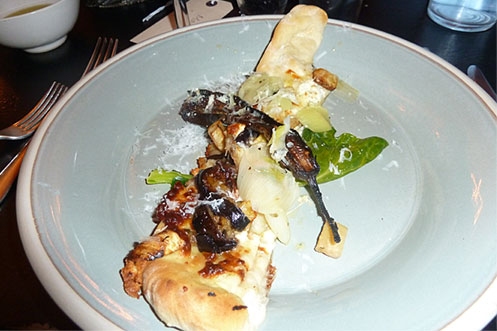 By this point I was already starting to get quite full but there were yet more culinary delights to come, an aubergine and feta pizzetta which had squash on my version and lamb on the others. The sweetness of the squash perfectly offset the saltiness of the feta and the base was delightfully chewy, and not too stodgy as is often the case with pizza. Of course it would have been rude of me not to find room to sample at least a mouthful of the chocolate and salted caramel cake, drizzled with mandarin oil, which was wonderfully rich and surprisingly moist. By now the group was so stuffed we could barely move but we summoned up the energy to retire back upstairs for a selection of homemade petit fours, coffee and mint tea. I was particularly taken with the cool teacups.
Any initial concerns I had about going along to a supper club went out of the window – rather than a pretentious get together I met a group of like-minded people who enjoy good food. And although this was a specially arranged event I've no doubt the usual supper clubs attract an equally fascinating gathering from all walks of life. Single diners are welcome but due to the layout, there are four tables, it's probably best to come along with a friend as there isn't one table set aside for singles, which means you could get seated with a group or couples, though there is the opportunity to mingle during and after courses. The Saltoun Supper Club only has one rule, that if you've been before you have to bring along someone new of you come again, which seems fair enough.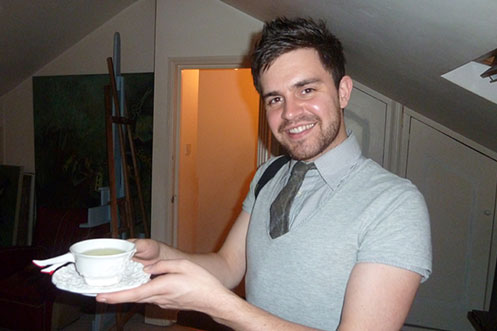 Arno suggests a payment of £35 towards the cost of dinner (not including alcohol which is BYO). This may seem steep but given the quality of the food it's worth bearing in mind that you'd expect to pay considerably more at a fine dining restaurant in London. This donation covers the cost of food, helpers and upkeep of the space, Arno doesn't actually make a living from running the Saltoun Supper Club. His motivation is his love of food and his desire to share his culinary expertise with others. Unlike at most restaurants there's no hurry for you to leave as you're encouraged to enjoy the relaxed atmosphere at your own pace –I left after midnight. Walking back through the streets of Brixton I couldn't help but feel what a surreal, albeit pleasant, evening it had been at the Saltoun Supper Club. And if Arno could conjure up such an array of delectable dishes having to use specific ingredients I can only imagine the masterpieces he creates left entirely to his own devices.
You might also like