Increasingly when Saturday night rolls around despite having good intentions about going out, especially to somewhere new or lovely for dinner, I can't be bothered to venture into central London. So when Sharps said he fancied going for dinner somewhere local I suggested we try Babur Indian restaurant in Forest Hill/Brockley. I'd been meaning to try for ages. Unlike some of my hidden gems Babur, which derives from the Persian word meaning tiger, was pretty easy to spot. The large tiger above the window outside was a bit of a give away.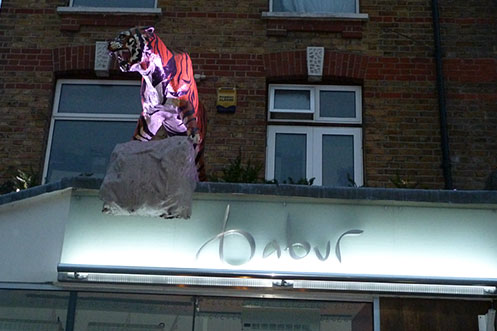 From the moment we sat down at Babur Indian restaurant we were salivating at the food the table next to us had ordered. But choosing what to have from the mouthwatering menu was a tall order. While we were trying to work out what to eat we decided to have a cocktail from the drinks menu, which sounded just as interesting. Although I was told there may be up to a 20-minute wait for my green apple martini it arrived pretty promptly. Perhaps staff want to manage customer expectations when it's super busy which is no bad thing. Sharps's pisco sour didn't take long to arrive either. Both hit the spot, though my cocktail, light and refreshing with a slightly velvety texture, was the winner of the two.
I absolutely love beetroot so I was torn between the starter of beetroot patties and the mackerel with green apple and coriander salsa. After about 20 minutes of deliberating I opted for the later. I wasn't disappointed. A generous piece of warm pan-fried mackerel arrived. Exquisitely presented it came with a mini jam jar of apple salsa, reminiscent of apple pie filling.
Sharps was equally as indecisive as I was. Eventually he went for the starter of the venison chapli with a divine beetroot and yoghurt sauce (luckily it was separate from the meat so I got to try a bit). The raita had a saltiness beautifully offset by the sweetness of the beetroot. Babur isn't your average local Indian restaurant so don't expect heavy, oily food. This is Indian fine dining at its best. I was surprised by how light and refreshing some of the dishes were. In particular the carrot chutney, slithers of carrot cooked with cardamom seeds, served as just one of the home-made accompaniments to our poppadoms.
On to the mains. It was a tough call for me between the veggie option that I'd been eyeing up at the table next to us of anjeer ke kofte with crispy spinach pakora (fig-stuffed spiced potato dumplings served with cashew and saffron sauce) and one of the fish specials. Eventually I plumped for the fish, spice-roasted barramundi in a sweet and sour coconut sauce, with red onion and mint ghee rice. Again I was presented with a beautifully executed and ample size portion of fish that had bite, covered with a delicate, fruity coconut sauce that wasn't too creamy.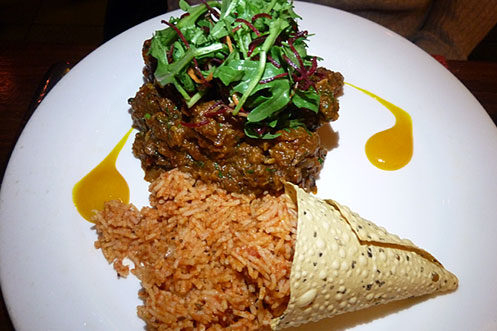 Meanwhile Sharps was attempting to choose between a dish of clove-smoked buffalo cooked in a Rajasthani-spiced hot masala, the seared Gressingham duck breast with sweet and sour plum sauce and carrot masala and rabbit with mustard and ginger, cooked in rabbit broth. After much cause for dilemma, he went for the steamed spice crusted shoulder of lamb with beetroot chichi (pictured above). He was delighted when a mound of tender meat, piled high, appeared before him. Sharps said his lamb was bursting with flavour. It had more of a dry, concentrated sauce, combining curry leaf, mango, mustard and tikka. It was served with a thick tomatoey rice, almost paella like in both taste and texture, and pieces of spicy poppadom.
Of course, by this point we were ridiculously full. Sharps (with little persuasion needed from me) agreed to share a dessert of pineapple tart tartan with salted caramel gelato which I'd asked for as a substitute for vanilla as it sounded far more intriguing. Lucky for me I didn't have much room as I barely got a sniff of the gelato before Sharps demolished it. But my mouthful of puff pastry and sweet pineapple, somewhat similar to a glazed Danish pastry sufficed.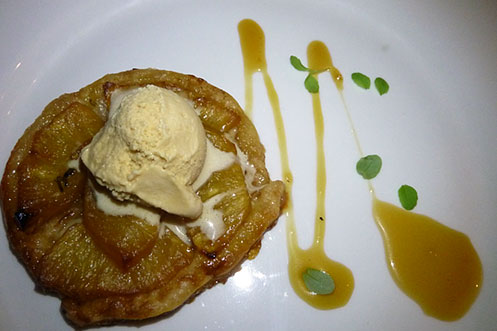 Being a Saturday night Babur Indian restaurant was packed. We subsequently ran into people we knew while we were there. But despite it being busy staff were attentive and the service was great. When I asked what was in one of our dishes the waiter, much to my embarrassment, got the chef out of the kitchen to have a chat to me. Despite the contemporary decor, lots of brown but with a modern 70's retro feel, I was also quite surprised to learn that Babur Indian restaurant has been around for 27 years (it celebrates its anniversary next month).
Babur Indian restaurant also offer a take-away service, Babur to go. This has a different menu from the restaurant with more of the traditional type of food you'd expect to find on the menu at an Indian restaurant. We tried once before but for me the vegetarian options didn't quite live up to expectation. If you do opt for the takeaway I'd recommend the Babur à la carte, which is the same dishes as the restaurant.
As the saying goes you get what you pay for and Babur Indian restaurant isn't cheap. But this hidden gem of a restaurant in South East London is worth every penny. Each mouthful of food was a pleasure to eat. It's also worth bearing in mind that although it may seem a bit pricey for a neighbourhood restaurant some of the mains do come with rice or a poppadom so you don't need to order side dishes separately. On Sundays Babur also offers a Sunday lunch buffet menu. For an amazing £11.95 for adults (£7.95 for kids) you can choose between a variety of dishes (though admittedly from the sample menu there doesn't seem to be a huge choice for vegetarians) and it's all you can eat. And after dining at Babur I'm pretty sure this is one tiger that will survive for years to come.
You might also like