I've been to some pretty weird events over the years but I have to say that a recent outing to Scrap Club in London ranks up there as one of the most surreal. The destructivist event describes itself as 'celebration of carnage' which I'd say is pretty close to the mark. Set up by artists Joel Cahen and Wajid Yaseen the idea of Scrap Club London is that you smash stuff up, all in the name of art. Modern art isn't usually my thing but this on the other hand sounded quite cool, and a much cheaper way to get rid of any anger issues than going to see a shrink. So I was keen to check it out to see if Scrap Club London was a hidden gem, or just a load of old crap.
This particular Scrap Club London event was held in a warehouse in an industrial estate in Bermondsey. It wasn't the easiest of places to find but for once it wasn't me that got lost but my friend who had to call and ask for directions. Once inside I discovered a cafe and bar, as well as a small room that for some reason had been furnished and a kids' play area (though I'm not sure I'd personally want to bring kids along to an event like this). The main event is held in a separate space which you need to have tickets for (£10 to smash stuff up or £5 to watch). And on joining the queue of trendy 20-30 somethings we were each asked to sign a Scrap Club London safety disclaimer before we were allowed entry.
The organisers pick out 10 names at random. These lucky people are given a 10 minute session to go to town and trash items that have been selected and sectioned off – these included a cooker, washing machine, dishwasher, bicycle, space invader machine and even a piano.
Before the rampage begins participants are kitted out in safety goggles, a construction hat and gloves and are then allowed to choose from an array of weapons including sledgehammers. Then comes a pep talk, emphasising the importance of safety to others as there isn't much distance between items when people let loose. The St John's Ambulance are also on hand in case of any accidents but I'm not sure if that's more worrying that reassuring!
I was quite gutted that I couldn't get in on the Scrap Club London action because of my RSI but even from the sidelines you get sucked into the intense burst of madness. On the signal people literally went crazy unleashing everything they had into destroying the scrap, with bits of debris flying out into the crowd who were cheering them on. There was an overwhelming sense of camaraderie between sessions. And to add to the atmosphere (and banging noise) there was a DJ playing psychedelic tunes in the background as the remnants were swept up for recycling and the floor was got ready for the next round.
Although 10 minutes may not sound like that long, I'm sure when you're taking it part it most definitely feels like it. One of first guys to go up said he was utterly exhausted from working muscles he never knew he had. He also acknowledged that while it was fun he still couldn't get his head around the fact that ultimately it is a bit of a strange thing to do. This was reiterated by another girl who said she felt guilty the one time she accidentally dropped a cup and smashed it so was feeling a bit daunted at the prospect of going to town with a sledgehammer.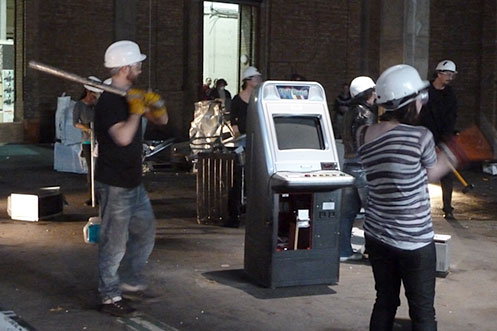 It must be odd for anyone without an Asbo to wantonly destroy things but after their initial hesitation people quickly got into the spirit of things (almost scarily so). Keep an eye on Scrap Club's website for details of the next event as this is one hidden gem you're guaranteed to have a smashing time at.
You might also like