It's fair to say that an industrial estate isn't the most glamorous of places at the best of times. And it's definitely not where you'd expect to find a 2 star (no less) Michelin restaurant that's also ranked 9/10 in the Which Good Food Guide 2012 and has five AA rosettes. You might then be surprised to learn that Sat Bains restaurant with rooms in Nottingham, winner of all of the aforementioned accolades, is located close to a flyover, about a 10-minute drive from the city centre. So I'm possibly stating the obvious in saying that Sat Bains restaurant is undoubtedly one of Nottingham's hidden gems.
A regular on Saturday Kitchen and winner of the accolade of getting 10/10 on the Great British Menu in 2007 for his duck egg with pea shoots, chef Sat Bains set up his restaurant of the same name with his wife Amanda in 2005. We were lucky enough to be staying as guests thanks to the Nottingham tourist board in one of the eight rooms (it doesn't call itself a hotel but more of a restaurant with rooms). We got very excited by the super posh cast-iron bath in our open plan bathroom/bedroom (there was a separate toilet).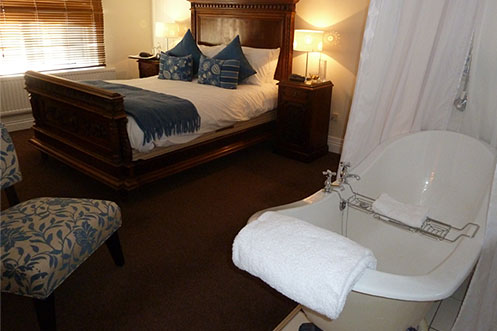 Fortunately our dinner reservation at Sat Bains restaurant was at 9.30p. This gave us sufficient time for us to work up an appetite for the seven-course meal we were booked in to sample. The concept behind the food is simple. You can choose between a seven or 10 course taster menu, where each dish looks to arouse all of your taste sensations – salt, sweet, sour, bitter and umami. Sat Bains restaurant uses only seasonal produce (and British where possible).
First up was a bizarre sounding amuse-bouche, horseradish panna cotta with croutons and nettle soup, named NG7 2SA after the Sat Bains' restaurant postcode. Ingredients for it had been foraged for locally. It was slightly weird to think we were eating nettles from the field outside near to pylons! But as I love horseradish I was pretty excited by it. The accompanying creamy horseradish ice-cream sandwich with elderberry vinegar and pine nuts was also a winner.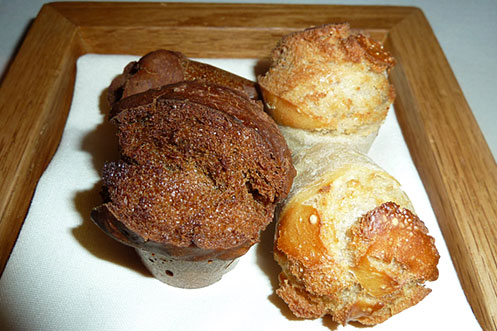 A restaurant's freshly made bread can often be a good indicator of the quality of food to follow. We devoured the hot loaves that could easily have been mistaken for mini muffins. The brown bread was cake-like in texture and tasted like malt loaf. The white bread reminded me of crumpets. It took serious willpower to refuse a second helping but we wanted to make sure we left room for what was to follow.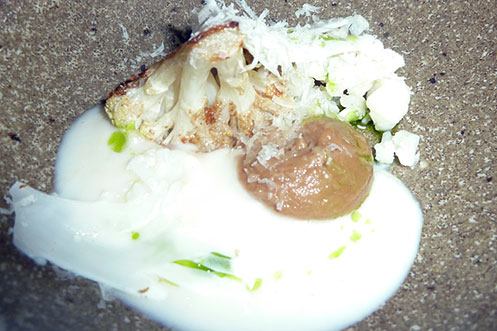 I'm not usually a fan of cauliflower cheese. Often it tends to be bland and mushy (well it is when I cook it anyway!) so I was a bit apprehensive when I saw it on the menu. The cauliflower cheese at Sat Bains restaurant was in a league of its own. A piece of cooked cauliflower was juxtaposed with caramelized cauliflower purée and pickled cauliflower, which combined to create an unusual texture. These were served with a slither of 4-6 month old Parmesan cheese.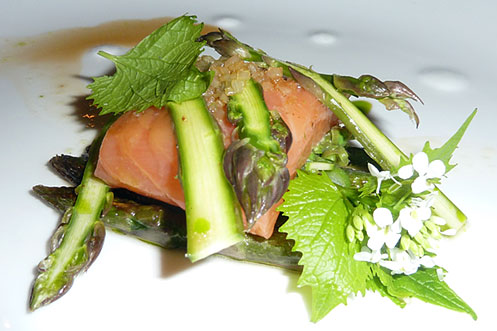 But for me the star dish was the Loch Duart salmon. A simple serving of gorgeously pink fish, the salmon was gently cooked giving it a taste and texture similar to sashimi, with textures of asparagus (in other words they were cut into various slithers and pieces).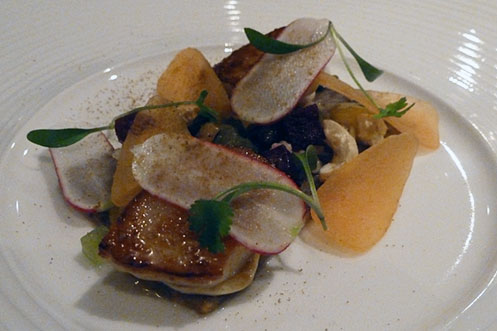 Sharps was torn between choosing a favourite from his first course, a perfectly cooked and slightly sweet scallop served with pig's head and radish, that added a tinge of bitterness to the mix, and the course that followed, Cornish crab with avocado, sea vegetables and peanut brittle. He said this tasted citrusy and salty at the same time and combined soft and crispy textures. Before moving on to the puddings at Sat Bains restaurant we were presented with a crossover pre-dessert. The idea is to introduce sweet notes into savoury dishes for a clean transition. Our beetroot lollipop with white chocolate and raspberry and a dash of vinegar (the acidity cleanses the palate and gives it an earthy flavour) definitely did the trick and we were ready for pudding.
Warm, velvety rich chocolate, almost like a flour-less cake, was fused with ice-cold yoghurt and topped with a drizzle of cumin caramel sauce was a heavenly treat. Yet another example of how Sat puts together individual elements to create sublime concoctions. Another stand out dish was undoubtedly the treacle sponge with apple and parsnip crisp and cream. A far cry from the stodgy treacle puddings I'm used to this looked like an actual sponge and was light and airy. The secret, Sat revealed when I met him for a chat in the kitchen, is that the sponge mixture is a spoonful of mixture is cooked in fact the microwave (at a Michelin star restaurant who knew?).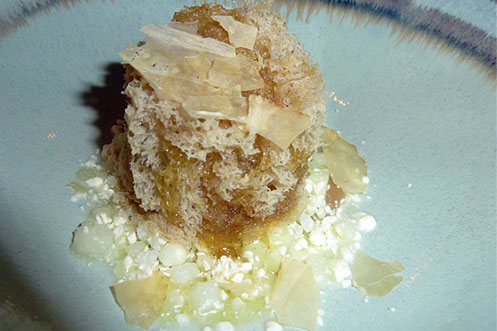 Unlike some posh places I've been to we didn't feel in the least bit intimidated in this hidden gem, Sat Bains restaurant is more of a celebration for people who enjoy eating. The staff were happy to explain anything if we didn't understand. We were even taken into the kitchen to meet Sat and his team, whose passion for food shone through. If I were to find fault it would only be with the price of the mineral water, £5 a bottle, but given we were in a Michelin starred restaurant it's to be expected and the food itself was pretty good value at £75 for 7 courses at Sat Bains restaurant.
Despite our initial concern by the small, albeit exquisitely presented, portion sizes by the end of the meal we were contently full – as usual our eyes were bigger than our bellies. Thankfully we only had to waddle back up to our room, and into the comfiest bed I've slept in for a long while, with thoughts of the dreamy delights we'd just consumed.
You might also like