I love Italian food (click here for my blog post on Sorrento's best restaurant) so when I was invited to check out In Parma, a new Italian cafe on Charlotte Square, London, I was keen to see if it offered an authentic flavour of Italy. The concept of In Parma (by Food Roots) is pretty simple – the cafe is dedicated to Italian PDO (Protected Designation of Origin) products. This means that only regional foods genuinely originating from that area are allowed to be called by that name (eg Cornish clotted cream and Jersey Royal potatoes).
Its owner, Christian Pero, (who comes from Parma) spent two years sourcing top quality Italian ingredients from local producers, and we weren't disappointed with the results! During the day In Parma sells sandwiches, focaccia, salad and food to take away – you can also buy trays of ham and Food Roots products. We went in the evening when the main offering is the charcuterie, cheese and wine.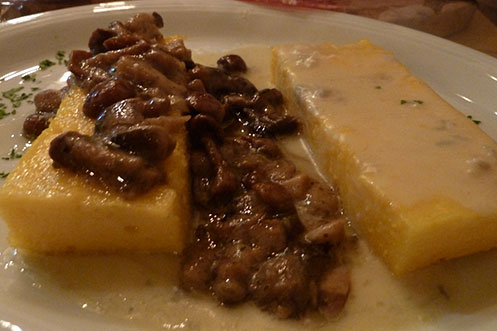 As I don't eat meat my friend Stef was more than willing to sample the supreme meat platter – which consisted of Prosciutto di Parma, Pancetta Piacentina, Salame di Felino and Coppa Piacentina.We also tasted a selection of Italian cheeses including a light and fluffy mozzarella, Taleggio, Gorgonzola, Pecorino Toscano and our favourite, a rich, nutty Fontina. Any fears I had of going home hungry as a non-meat eater were completely unfounded as we tucked into a divine homemade polenta served with Gorgonzola and mushrooms (£8) – the sauce wasn't too cheesy or overpowering and the polenta was creamy, without being overly wet or bland. There are also a range of salads, bruschetta, soup of the day and nibbles to choose from. We tried the warm, sweet and sour red, green and yellow peppers cooked in a sweet balsamic vinegar (£4) which for me was the star dish of the night (along with the slightly spicy peppers stuffed with capers that accompanied the meat platter).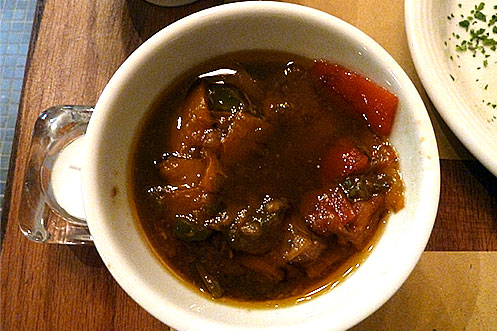 It's not just the food that is PDO at In Parma as we discovered when we tried the Lambrusco. When I think of Lambrusco for some reason a sickly, sweet wine springs to mind. And apparently I'm not the only one, as Christian confided that most English people that come to In Parma are under the same impression. But he's happy to try and set the record straight, and we soon changed our opinion after drinking Lambrusco in the traditional way (out of a white bowl called a Fojeta).We were pleasantly surprised by how easily this sparkling red wine went down.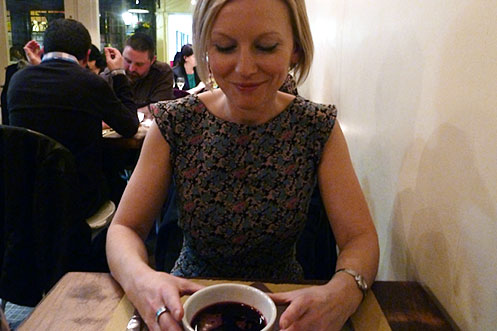 There's also the opportunity to learn more about the products stocked and the producers of the gastronomic delights through a series of educational videos that are projected onto the back wall and Christian has his bible of PDO approved foods that he enthuses customers with. In Parma is a real hidden gem – it's cosy and relaxed atmosphere makes it easy to spend hours over a glass of top quality wine and authentic, flavoursome Italian cuisine. And given the level of quality this place the food a real bargain, with huge meat platters that start from around £17. This hidden gem shows it's definitely possible to have a taste of Italy without actually being in Parma.
You might also like