Last time I was back in my home town of Manchester I have to say that I was pretty disappointed by its lack of decent restaurants. For a city of its size, and its reputation as one of the North's more cosmopolitan cities (obviously I'd say that as I'm from there) I expected better. But not one to be defeated, this time around I was on a mission to uncover some of the Manchester restaurant scene's hidden gems.
I'd heard about a fine dining restaurant in Ramsbottom (a name that used to make me laugh when I was a kid) in North Manchester called Ramsons. I don't think I've ever been to Ramsbottom before, which itself has a lovely village feel to it with boutique shops and tea rooms. It is a bit of a mission to get there if you don't live locally but fortunately for me my dad was willing to drive us there so I could check it out.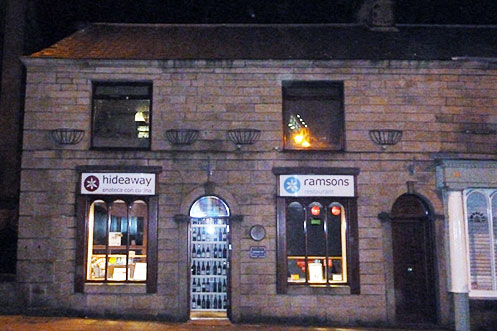 With my usual impeccable timing Ramson's restaurant was closed for renovations on the dates I was going to be in Manchester. But as luck would have it, the Hideaway, its sister restaurant downstairs were still open for business. The aptly named Hideaway is a real hidden gem – tucked away in the basement – its concept is being that of a wine bar with a kitchen. As it has just 20 covers it operates a set menu of four courses, so choice is somewhat limited, although the menu does change daily based on the seasonal produce that is available. Meat (sadly for me) is very much at the heart of the menu at the Hideaway but I guess that's to be expected at a Tuscan restaurant– and I had been warned of this in advance.
I never, ever, thought I'd hear myself say this but the portions at the Hideaway were perhaps a bit too generous in size. Our antipasto were huge, Dad thought it was the main course. I was slightly envious of his courgette and crab frittata, served alongside chicken liver pâte, a selection of cured Italian meats and a soft and fluffy mozzarella and tomato salad (I had a non-meat version). Dad's starter of a thick lentil soup also gave me food envy (I couldn't eat it as it was made using meat stock) – he said it was quite spicy as the cayenne pepper gave it a real kick.
But the star dish of the evening was his equally gargantuan serving of rich, gamey stew, comprising of venison, rabbit and wild boar (none of which he'd ever eaten before) slow cooked in a Chianti sauce with game stock cannellini, black-eyed and borlotti beans. Dad said that the venison (we were able to identify it as he said it tasted like the best steak he'd ever had) was flaky and melted in his mouth. This was accompanied by wonderfully crispy rosemary roast potatoes and a serving of Calvono Nero, a type of Tuscan cabbage, that had a slight bitterness which perfectly complemented the richness of the stew. So I didn't feel too guilty that I'd deprived him of the Bistecca fiorentina (Tuscan steak available for supplement) as it had to be shared between 2/4 people. And by the time it came to dessert I could literally just manage a mouthful of the moist coconut cake.
What's clear when you come to the Hideaway is the owner Chris Johnson's passion for food – this is reflected in the quality of the produce he uses and his desire to educate his staff who were incredibly knowledgeable. In fact the chef, Lou, told us she was off on a work trip to Tuscany to spend time in an Italian kitchen to learn even more about Tuscan cooking. The night we were there he was working front of house and was incredibly hands on. Nothing was too much trouble for him – when Dad asked about the size of a goose egg he actually went off to the kitchen to try and find one to show him. And if, like us, you find the wine list, with its vast selection of wines that are all imported from Italy, a little overwhelming (and a bit on the pricey side), the staff are more than happy to suggest an alternative.
With jazz music playing in the background, the relaxed atmosphere of the Hideaway makes for an intimate dining experience – we had whiled away four hours there before we even knew it. The Hideaway in Ramsbottom dishes up a hearty serving of uncomplicated rustic fare for an unbelievable £22 for four courses midweek (and only marginally more on Fridays and Saturdays). If this hidden gem is anything to go by I can only imagine how good the food at Ramsons must be too.
You might also like