Most people, even those from Manchester, have never heard of Prestwich (in North Manchester) unless they're actually from near there, despite the fact it's only about a 20/25 minute drive from the city centre. So I'd have imagined that the chances of finding a fine dining restaurant based there would be pretty slim. Or so I thought, until I heard about hidden gem of a restaurant called Aumbry, located of all places in Prestwich . It actually transpires that Aumbry is literally a 15 minute walk from my Mum's house on Church Lane (and hence it's name as an aumbry used to be a church cabinet used to store vessels). Yet despite knowing all about my blog and my search for hidden gems she failed to mention. 'It never really dawned on me,' she said in typical Mum fashion!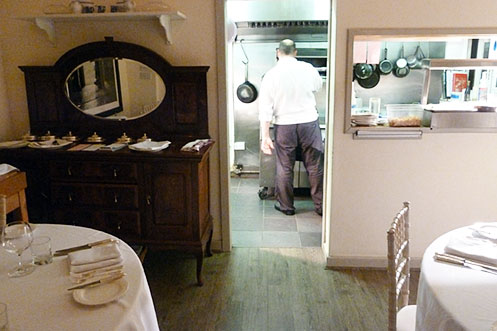 Even though I'm quite familiar with the area I have to admit that I'd never noticed Aumbry before. This could  be partly as it's housed in an old cottage so it's not obviously a restaurant from the outside. But it's easy to spot once you know where it is, slightly tucked off the main road.  Inside the cosy space is a mixture of vintage and modern decor – stylish gold and cream wallpaper, contemporary table settings and cutlery (Mum clearly doesn't get out enough as she was far too excited by the knives) paired with old-fashioned mirrors and an antique wooden dresser at the back of the room near to the open kitchen.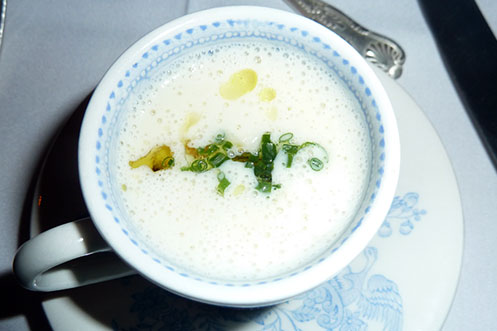 The utterly divine celeriac soup with chestnuts at Aumbry
When I told my brother Darren (who's a bit of a food snob) that the husband and wife team behind Aumbry, Laurence Tottingham and Mary Ellen McTague, had worked at Heston Blumenthal's Fat Duck for four years he was suitably impressed. He complained that he'd been trying to get a table there for ages, maybe now he won't need to, as from the menu at Aumbry it's clear they are trying to push the boundaries culinary wise. The star dish for me was the amuse bouche of celeriac soup with toasted chestnuts and truffle oil, it was quite possibly one of the nicest mouthfuls of food I have had in a long time – which is saying something as I'm lucky enough to eat out a fair bit. First there was a creamy, almost mushroomy flavour. Then I was hit by the sweetness of the soft chestnuts and truffle oil, infused with a hint of garlic which I could really smell. I'd have happily eaten a gallon of it.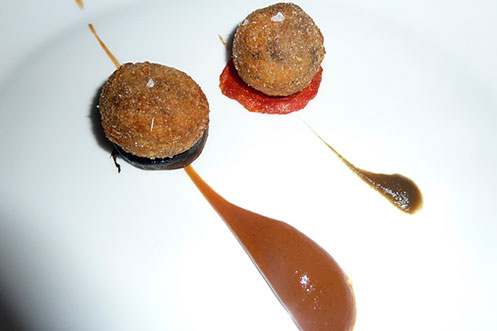 Mum's starter of veggie Scotch eggs
Other stand-out dishes were my starter, home-smoked mackerel which arrived as a long slither, served on rhubarb poached in Cointreau and grenadine with mustard cream. The combination of the salty fish and the sweet, crunchy rhubarb was utterly delicious. Mum equally enjoyed her starter of vegetarian Scotch eggs (these were actually on the tasting menu but the very accommodating waiting staff said we could have it as a starter) served with home-made ketchup and mushroom relish. Two dainty balls of veggie black pudding (I was surprised to learn it was made from barley and oats as it was very similar in texture and appearance to sausage meat) were cooked to perfection with the egg runny inside.
I also loved that the most unlikely of ingredients somehow just worked together. Sautéed mushrooms with home-made curds and malt loaf sprinkled with birch powder were spot on both in taste and texture. The curds brought out the earthy flavour of the mushrooms and combined with the richness of the malt loaf, my taste buds experienced sweet and salty simultaneously. Similarly, this was the case with the grapefruit posset with grapefruit sherbet and celery granita, which sounded just wrong! It was almost akin to downing a shot of tequila – our waitress instructed us to eat the sherbet on the spoon then dive straight into the posset. The tangy sherbert (my favourite part) helped to balance the super-sweet custard of the posset, as did the remarkably inoffensive celery granita, which gave it a refreshing quality.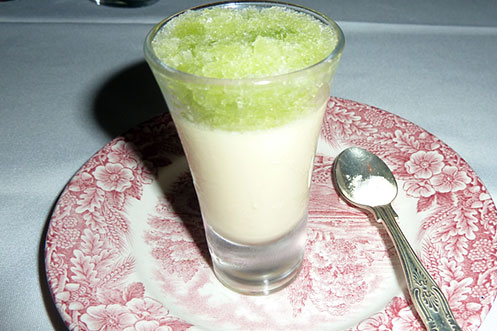 The presentation of all of our dishes was faultless and the portion sizes were deceptive – they may have looked quite small but they were served from massive plates which was so big we had to clear the cutlery to make room for them. And on Tuesday evenings Aumbry offers a taster menu of five courses for £25 which is a total bargain. Yet again it goes to show you don't always have to wander far from home to stumble across a real hidden gem and Aumbry is exactly that. Fine dining, in Prestwich, North Manchester? Who knew? I do now.
You might also like