I've lived in London for years, and can't tell you the number of times I must have walked past the Ripley's Believe It Or Not! London attraction in Piccadilly Circus. But finding myself with a few hours between meetings and not relishing the prospect of hitting the shops to kill time I decided to take their PR up on the offer to check out Ripley's Believe It Or Not!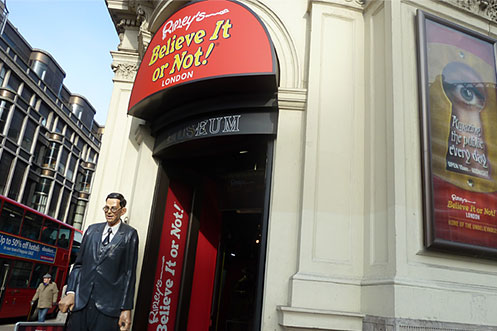 The bizarreness of Ripley's Believe It Or Not! hits you the moment you walk through the door, where you're greeted by a moving puppet display featuring the World's Tallest Man playing the double bass.  The first thing that struck me when I went inside was just how big it is – like entering the tardis –as  from its exterior I'd never have guessed just how many weird and wacky factoids (there are over 700) are housed over five floors. And it's hard to believe that this hidden gem is bang in the middle of Piccadilly Circus.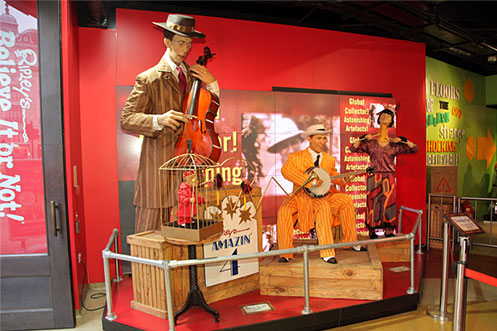 Working your way  from the top floor down, the experience starts off with the story behind the museum and Robert Ripley's obsessions with the everyday strangeness of the world. Moving on, you uncover themed displays that include a 'Royal Section' and replicas of shrunken heads, instruments of torture (probably not the best section for young kids), a pink and girly area devoted to Marilyn Monroe and an aquarium.
Ripley's is bursting with random facts, for instance did you know that the first fork was introduced into Massachusetts, America, in 1630 against the wishes of senior clergy who denounced it! And there are lots of interactive exhibits to keep kids entertained. There are also two additional attractions, Ripley's Marvelous Mirror Maze, which I'm not ashamed to say I got ridiculously lost in despite the attendant saying it was quite easy (I ended up going back out the way I came, as so did a couple of other guys too). And there's the brand new LaserRace attraction in the basement, which due to my lack of co-ordination (well that's my excuse anyway) I was also appalling at. With the Mission Impossible theme tune playing in the background, the idea is to dodge a series of green lasers and get out of the room as fast as you can. It involves lots of rolling around on the floor, which I'm sure kids (and blokes) will love, but it just served to show me that I hadn't missed my calling as a secret agent.
My only issue with Ripley's Believe It Or Not! is the price – £26.95 for adults (£21.95 for children) including the Mirror Maze and LaserRace. But then I suppose that you are smack bang in the centre of London. To put it into context, a trip to the cinema in Leicester Square could easily set you back up to £19 for the ticket alone (and we're talking about at the Odeon not some fancy cinema either). And if you book your tickets for Ripley's Believe It Or Not! London online you can get a 15% discount. Without a doubt Ripley's is a hidden gem as it guarantees a fun and educational family experience. Believe It.
You might also like