Street food is all the rage in London at the moment. Food markets seem to be springing up all over the place, there's a new one in Hackney and about 20 mins away from me is Brockley food market, held every Saturday from 10am-2pm.
Located half way between Brockley and New Cross (Brockley makes it sound a bit posher) the market consists of around 20 food stalls. With lots of young people and families milling it had a surprisingly villagey feel to it, despite the fact it's pitched in Lewisham College's car park. about I was salivating over the vegetarian offerings, breads, cakes and street food – ranging from Mexican to meatballs.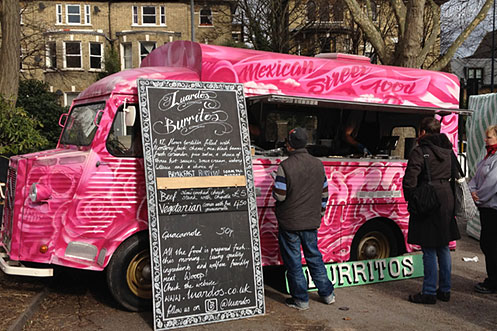 I have to admit that I was quite disappointed with the Honest Carrot's London roast, which I tried back at home as all I could taste was cumin. But, I did stumble across Mike + Ollie, a real hidden gem of a food stall on Brockley market. It has an uncomplicated menu. There's a choice of one veggie, one fish and one meat dish, a blessing really as otherwise it would have probably taken me forever to choose what to have.  As it was it took me long enough and I opted for the mackerel (£5.50), a delicious piece of sustainably caught Cornish mackerel fillet, enveloped in home-made Lebanese flatbread, with cauliflower and garlic purée, red cabbage, rocket, pickled rhubarb, home-made yoghurt and toasted seeds.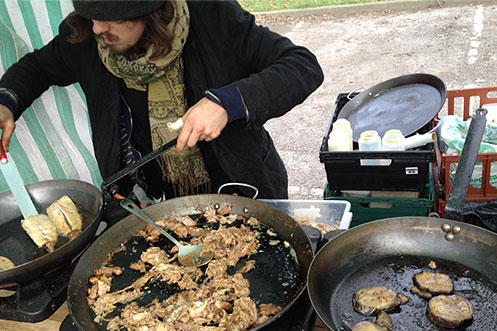 No surprise that Sharps went for the Lebanese flatbread with slow-cooked Moroccan spiced lamb shoulder, hummus, carrot, Seville and blood orange marmalade, home-made yoghurt, toasted seeds and coriander (£5.50). Both were freshly cooked in front of us and it was a joy to watch Mike put together his creation, even more amazing considering Mike said he's never been trained in a kitchen. This time Sharps that had food envy as my mackerel flatbread was wonderful – the sweetness of the pickled rhubarb was the perfect counterpart to the salty mackerel and smoothness of the cauliflower purée, with the added layer of texture from the crunch of the toasted pumpkin seeds. I was so full I could barely move afterwards.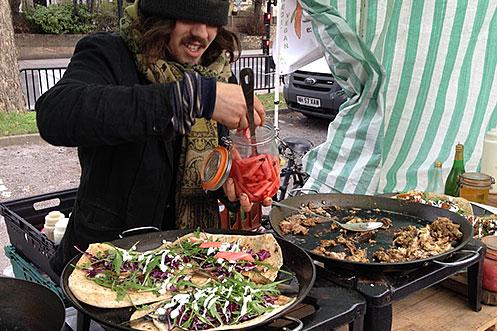 Mike told me that he's really into food foraging (another growing food trend) so the menu changes depending on what's in season and what they manage to find, like quince from Crystal Palace. Mike and Ollie set up their market stall six months ago and they also have a food stall in Deptford on Wednesday and Fridays. And for their latest venture they catered a series of sold-out dinners at the Deptford Project, with more dinners to come soon. If Mike + Ollie's affordable street food is anything to go by it's bound to be another hidden gem I'll have to check out.
You might also like