Anybody that doesn't live in London (and probably a lot of people that do) might be wondering about the title of this blog post. Yes, I have indeed described Peckham as leafy as just off the hectic main road, with its food shops and countless hairdressers, lies Choumert Road, which is where you'll find another of my hidden gems, the Victoria Inn. This part of Peckham has a real village feel to it, with a couple of boutique shops and cafes on nearby Bellenden Road. Though for some reason even though I used to live down the road in Peckham Rye I rarely ventured here.
The reason the Victoria Inn in Peckham is a hidden gem is two-fold. First there's the pub, which belongs to the Capital Pub Company chain whose boozers in South East London also include The Florence in Herne Hill and The Bishop on Lordship Lane. The pub oozes charm and for some reason unbeknown to Mollie (its super-friendly manager) the Victoria Inn has become famous for its chorizo scotch egg.  So of course Sharps just had to sample the chorizo scotch egg (to be fair I did actually make him in the interests of research as I don't eat meat although he didn't take much persuading). I had a total case of food envy and he said it didn't disappoint – the egg was runny in the middle and the sausage meat was soft and spicy and not stodgy like other scotch eggs.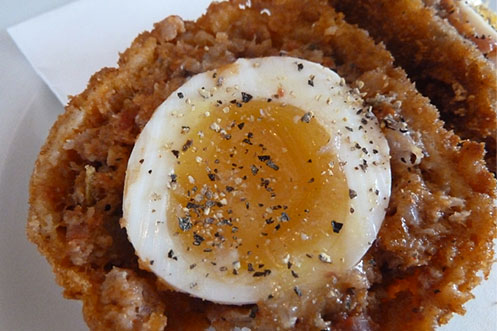 The other thing that's great about the Victoria Inn is that it caters for both families and those without kids. In-keeping with the community feel of the area, the Victoria Inn decided to forgo a beer garden which may potentially annoy the neighbours, for an indoor designated children's playroom. What's even more brilliant about the fact that kids have their own space to run around, complete with a dress-up box, games, toys and a TV to watch films, is the TV monitor in the bar. It allows parents to keep an eye on their little ones without having to get up and check on them (I quizzed my friends with kids and they loved the idea) and gives them the chance to relax too.
Then there's the accommodation at the Victoria Inn. It's pretty hard to find a decent place to stay in London, especially on a budget, but the Victoria Inn has 18 rooms that tick both boxes. Prices are pretty reasonable, ranging from £75 for a single room up to £110 for a family room. But what makes this a hidden gem for me is that you don't have to stay in central London, which can be pretty full on at the best of times, and even more so if you're not used to it. The suburban surroundings of the Victoria Inn have a friendly feel and when I went to check out the rooms I was quite surprised by the lack of noise, as I was expecting to hear sounds from the pub below, and couldn't. Although breakfast isn't included Mollie does ensure there's a supply of tea and coffee and her attention to detail means there are even sachets of porridge that you can just add water to. She also told me that the Victoria Inn is popular with people who are between houses when they're renting or buying – some of the rooms have kitchenettes and they can offer special rates for weekly/monthly bookings. If you're looking for an affordable place to stay in South London, or just a pint in a pub that's got a bit of character, then the Victoria Inn is a hidden gem that's worth you checking out.
You might also like