Sharps and I stumbled across (or should that be in to) the Whistling Shop, a hidden gem of a bar while on a night out in Shoreditch. Maybe I'm getting old, but meeting some friends for drinks at McQueen, winner of London Bar and Club Awards best new bar 2010 and allegedly one of Shoreditch's hippest hangouts, we were decidedly unimpressed by its brash decor and music that's so loud you can't hear yourself speak.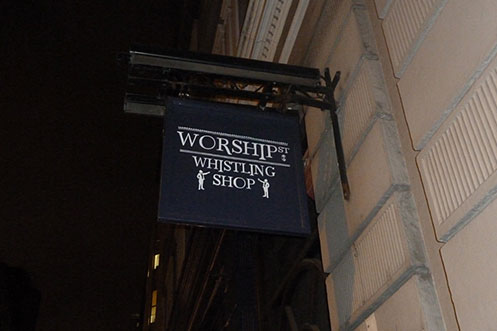 We were about to head home when I mentioned that the Whistling Shop on nearby Worship Street was supposed to be quite a cool place to get a drink. Despite having had my fill of trendiness for the evening, I'm not one to miss out on a potential hidden gem, so we thought we'd pop in for one drink and give it a go. It's quite easy to miss the entrance to the Whistling Shop, a sign subtly hangs over the doorway, guarded by two burly bouncers. But you don't need to know the secret password (or whistle) to be let in and when we stepped down the stairs and into the main room we were pleasantly surprised by this quaint drinking hole.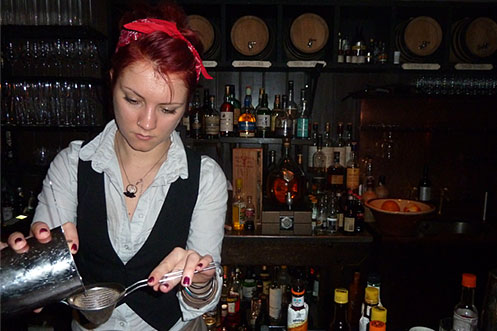 The Whistling Shop (owned by the team behind Purl in Marylebone) models itself on the old Victorian/Dickensian drinking dens and the selection of gins and whisky on offer are pretty impressive. I'd heard that the cocktails here are quite unique and they definitely lived up to expectation with a drinks menu that not only had its own glossary at the back but also included warm Hot Buttered Gin (£7 – gin, citrus, sugar and spiced butter) and Toddy-O (£7 – malt whisky blend, green Chattreuse, chocolate, honey and Matcha). As I don't really drink whisky, rum or gin I wasn't brave enough to sample any of the cocktails on offer but Sharps opted for a Punch and Judy (£9.50 – Guatemalan rum and 'walnut ketchup' and malic acid) which was quite strong (I had a sip in the interests of research) and had a thickness to it with an unusual, slightly savoury taste that may not be to everyone's liking.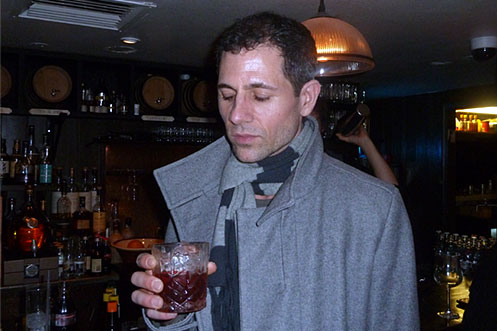 But what I wasn't expecting was an interior resembling an old man's pub, with its dark and dingy cellar room and leather chairs as opposed to that of a glitzy, contemporary cocktail bar. And it's this relaxed and unpretentious atmosphere that makes the Whistling Shop a real hidden gem in the Shoreditch bar scene.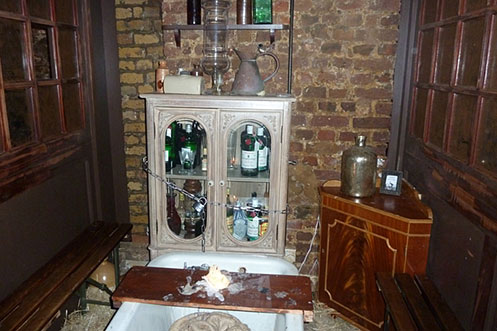 Aside from the main bar area there's another room sectioned off for people with reservations and within that an eighteenth century Dram Shop, complete with its very own bathtub, which can be booked for up to eight people. Once you have the key to this secret bar you'll discover shelves of period gin bottles and a sawdust covered floor which add to the authenticity of the experience. Worship St Whistling Shop goes to show that sometimes bars do live up to their hype. And those other super cool places, well they can aren't worth a whistle.
You might also like