When we were invited to check out London's only gospel brunch at Altitude 360, Sharps did a double take on arrival. Hardly surprising as it's easy to be put off by the grim faςade of the Millbank Tower. But don't let the outside of the building deceive you, as up on its 28th floor hides one of London's newest hidden gems.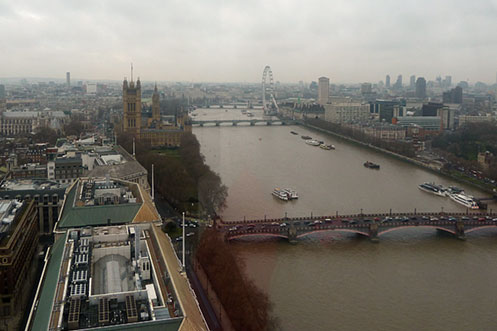 The panoramic views at Altitude 360 are some of the best you'll find in London. You can practically see all of London's famous landmarks including the London Eye. I was quite impressed that Sharps could recognise Lambeth Palace – until he pointed out that the pictures on the window indicating which landmarks you can see from each particular point.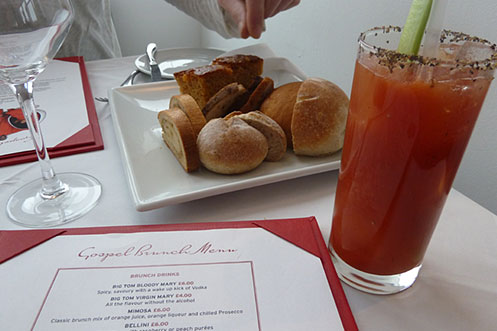 Modelled on the American style brunch, the gospel brunch menu dishes up a hearty serving of soul food. The concept for what is currently London's only gospel brunch came from Peter Kerwood, Altitude 360's marketing manager. He took inspiration from the gospel brunches (which are an institution in New York) that he'd been to while in The States. The weekly gospel brunch at Altitude 360 started in November of last year. I'm amazed no-one here has cottoned on to the idea before as it's brilliant. While we deliberated over what to order I had a Bloody Mary, before a selection of breads arrived at our table. I seriously had to restrain myself from eating the lot. There was a squidgy brioche with sweet onion, pumpkin bread and my favourite, a corn bread which was similar in both texture and taste to ginger cake (only not quite as gingery).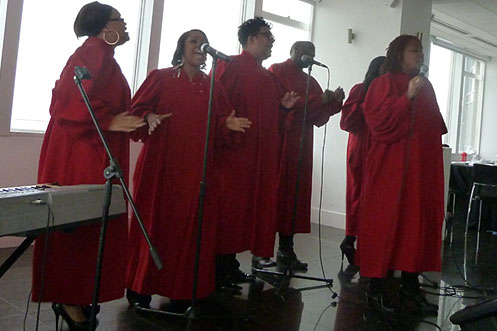 Then, six members of the London Community Gospel Choir took to the stage area and burst into song, kicking off with a rendition of 'Ain't No Mountain High Enough. Instantly the mood lifted and the power of their voices was so incredible the entire room was mesmorised. It may have been grey and miserable outside but within the walls of Altitude 360 at our gospel brunch we couldn't have been happier.
CLICK HERE TO WATCH THE LONDON COMMUNITY GOSPEL CHOIR PERFORMING AT ALTITUDE 360'S GOSPEL BRUNCH
Sitting beside us at the next table was an American guy who had been taken to the gospel brunch as a birthday surprise by his partner. We learned he was in a gospel choir back home (Sharps guessed as much as he was harmonising along to all the tunes) and he was incredibly impressed by the whole set up. The choir perform sets between courses, which means they get to eat too. After their starter of mainstream songs they moved to a main of more traditional gospel numbers, finishing full-circle with hits that were familiar to everyone. I was really hoping they would sing Say A Little Prayer, which they did and made my day.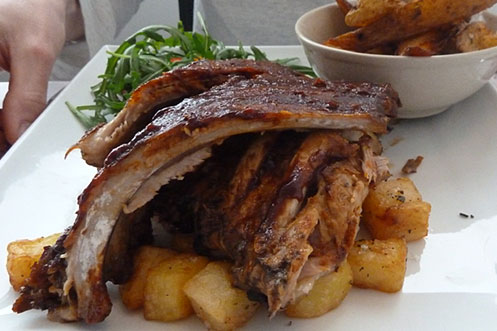 Heartily recommended by our new US friend, who said they were the closest thing he's found to American ribs in the UK, Sharps opted for the barbecue ribs. They simply fell away from the bone. The American influence was clear in terms of our portion sizes, they were gigantic. But if you're expecting fine dining then perhaps this isn't the gospel brunch for you. Garlicy guacamole (the star of my main course along with a side of potato wedges) was heaped on to a hunk of tuna which had tomato and courgette underneath. I had been salivating over the coleslaw on the menu so was a little disappointed to find the side order wasn't quite the traditional Southern slaw I'd been anticipating.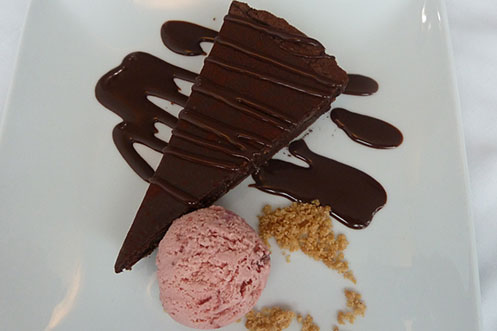 For dessert (yep we managed to fit it in) I chose the maple syrup waffles and Sharps had the Mississippi Mud Pie, both with ice-cream. We lucked out as they had run out of vanilla ice cream so were given strawberry flavour, which had great chunks of strawberries in it, instead.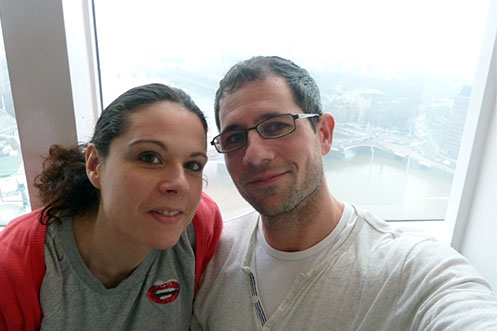 The only thing I could really find fault at the gospel brunch at Altitude 360 with was the service, which slightly let it down. For some reason my waffles turned up minus the maple syrup. It was incredibly hard to attract the attention of the waiters to get them to bring some over, and to take our drinks orders and track down missing sides. But I do mean slightly, as for me it was more about the experience as a whole than the food. The feel-good factor of the gospel choir was infectious. I genuinely can't remember the last time I had so much fun. By the end of their final set pretty much everyone without exception was clapping, and singing along (even Sharps). And the choir buoyed on by the audience's participation moved between tables, thrusting the mike at unsuspecting diners to sing solos. They honed in on our American friend who was quite chuffed and had a great voice to boot, and on groups of people, all clearly loving it. In fact if we hadn't been eating I'm sure people would have been dancing on the tables.
Without a doubt the gospel brunch at Altitude 360 is a real hidden gem. You can't help but leave feeling happy and with a massive smile on your face. Undoubtedly the best brunch I've been to in London, I can't think of a better way to spend a Sunday afternoon. I can't sing it's praises enough.
Sadly the gospel brunch at Altitude 360 is no longer running. But it is still possible to head to Altitude 360 for Sunday brunch from 11am, so you won't miss out on the best views of London's skyline.
You might also like