The hottest new spa trend for 2012 is the hammam. Something I spotted the potential in a while back (click here for my blog post on the only reason to visit Marrakech). So when I was invited to check out the Dolphin Spa, London's best hammam and newest Moroccan themed spa, and home to the only stand-alone hammam in London, I leapt at the chance.
I was a bit taken aback when I arrived at Dolphin Square in Pimlico. I was envisaging it to be, well, a street that made up a square. But Dolphin Square is actually a 1930's residential development, that at the time was the largest block of flats in Europe. It's the last place I'd expect to find a five-star spa, which is what makes the Dolphin Spa, home to London's best hammam, a real hidden gem in London.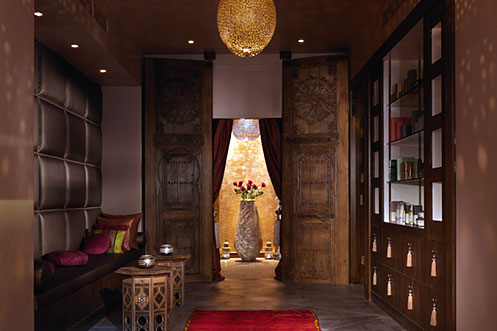 Stepping inside the spa was like entering a warm oasis, with lots of dark brown wood in contrast to the contemporary white building of the neighbouring fitness centre. I was shown to the changing rooms, Moroccan pipe music playing in the background as I put on my swimming costume and thick, towelling robe.
It would be rude of me come to a Moroccan-inspired spa and London's best hammam without trying out one of the Moroccan signature rituals the Dolphin Spa has on offer. I opted for the Moroccan Majorelle. This started off with a hammam, but a more gentile version of  my experience in Morocco. Unlike a traditional hammam there was no steam as the walls were heated. Warm water was gently poured (as opposed to chucked) over me by a lady who then asked me to lie down flat on the marble slab. Next she gently exfoliated (rather than pummelled) my body using soap made from olive oil and Eucalyptus (which I could really smell). It's best not to touch your face to avoid getting any in your eyes. The only tricky bit was when she asked me to turn over so she could apply the scrub to the back of my legs and arms. As the surface was quite slippery it made it difficult to roll over in a ladylike fashion (or without falling off). Then I was left to relax for 10 minutes or so, before I was directed to the shower to wash off the scrub. I was quite relieved that unlike in Marrakech I didn't have cold water thrown on me to finish off – even though I know it's supposed to be good for your circulation.
Already feeling chilled out I was led to one of the relaxation areas, decked out in lots of white, floaty material. I was served hot and sweet Moroccan tea, accompanied by pistachio nuts and apricots, before a beauty therapist came to take me for my treatment. On entering the room I was greeted by a waft of an Arabian blend of aromatherapy oils – cinnamon, ginger and nutmeg. As I lay down, hot towels were placed on on my feet as the therapist massaged my back and upper body which was utter bliss. Once I turned over, she applied a honey and ginger mask to my face, and Rhassoul lava clay (which strengthens the hair follicles) was massaged into my hair. The longer you leave the Rhassoul in your hair the more effective it's supposed to be, and as it really wasn't that noticeable (it didn't look as if I'd been wallowing in mud) I decided not to wash it out for the journey home. Finally the therapist removed my face mask and applied some Argan oil to my face, another hidden gem from Morocco, that's used to help combat anti-ageing and nourish the skin. My face instantly felt rehydrated and so tight it was as if I'd had a facelift – and explains why Argan oil is referred to as liquid gold. Now, thanks to the luxurious Moroccan spa treatments at the Dolphin Spa, London's best hammam, I've no reason to visit Marrakech at all.
You might also like