St David's Coffee House in Forest Hill is a great example of how you don't always have to travel far afield to discover real hidden gems – they can be right on your doorstep. Located opposite Forest Hill station on St David's Road (the clue is indeed in the name) it's just down the road from me and this place easily gets my vote as one of the best (and friendliest) coffee shops in South East London.
The reason that it's taken me so long to get round to checking it out is that it's either been full (it's pretty small inside with around just five tables) or closed as I never seem to time it quite right and get there too late at weekends (it is open till 3.30pm on Sundays so a bit of a lame excuse I know). But when our never-ending DIY-athon forced me to evacuate our flat it gave me the perfect excuse to decamp to St David's Coffee House, which during the week appears to be a mecca for yummy mummies and freelancers alike (free WiFi is available).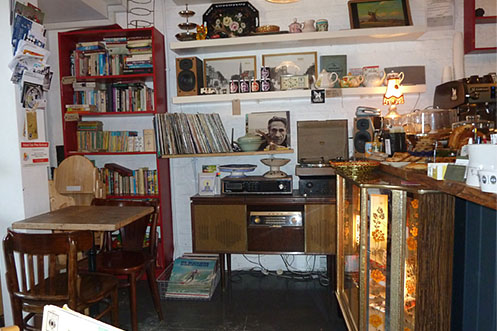 Run by a lovely couple called Dan and Lisa, the pair set up shop 18 months ago. And from the minute you walk inside you're enveloped by a sense of cosiness. From mismatched crockery to an array of bric-a-brac lining the walls (every time I looked up something different, and equally bizarre – including Beach Boys records, an old tape player and cine reels and stockings – caught my eye), its quirkiness makes you feel at home – as opposed to that pretentious vibe you can get with some of London's cooler cafes.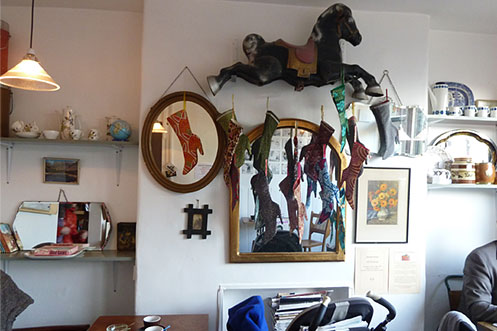 Original prints are on display by local artists and are available to buy, as is the opportunity to exchange your used books, or buy second hand ones. And there's even an old fashioned record player, in good working order, that was churning out background tunes to add to the relaxed mood.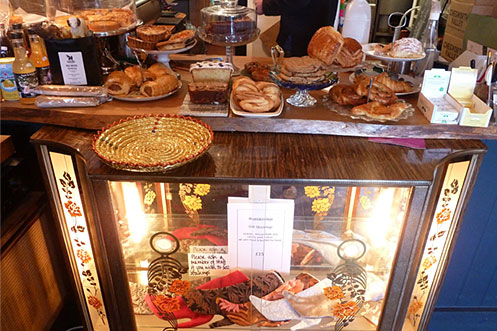 Plus, the coffee is pretty good too, another bonus for me as it means I don't have to venture from my local neighbourhood of Forest Hill and into East Dulwich to get a decent cuppa. The only down side I can see to St David's Coffee House is that it doesn't serve hot food, it's more of a salad, sandwiches and cakes (albeit delicious ones) kind of cafe. But the owner Dan told me it's something they're looking into and are hoping to expand their food repertoire, which can only be a good thing. I'm lucky this hidden gem is pretty close to me but whether you're local to Forest Hill or not, St David's Coffee House is definitely worth a visit.
You might also like