When I first heard about MADD, a dessert shop in Soho, London, I thought its owners must be crazy to open up a mango themed cafe. Colourful they may be but mangos aren't everyone's favourite fruit (well certainly not mine anyway as I find them a little too sickly). So I was intrigued when I was invited to go along to the official launch night to find out for myself if it was sheer madness on their part, or if the idea of a mango based restaurant that just serves puddings could really work.
The inside of MADD (so called as it's a combination of the words Mango and ADDiction) reminded me a bit of a cupcake shop (click here for my blog post on My Little Cupcake) with its white walls and bright graphics.
We were served mini versions of the puddings including a thick and creamy mango cheesecake and mango upside down cake – a different take on a classic which worked well as it wasn't too sweet and the sponge was deliciously squidgy But I was surprised to discover that for me, the star pudding was the mango Siam, sticky coconut rice that was perfectly chewy, offset with the sweetness of the mango chunks. Desserts range in price between £4.50 to £5.50 and include a complimentary topping, though you really don't need it!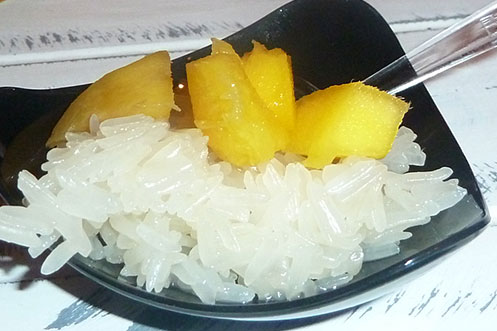 By day MADD is a great place to hang out for a coffee or mango smoothie, especially as it also offers free Wi-Fi. And by night you can chill out downstairs and challenge your mates to a game of Connnect 4 or Jenga, while sipping mango-infused cocktails and imagining you're in tropical climes. Tthe mango mojito (£6.50) and mango caipirovska (£6.50) were pretty potent and went down far too easily. I also love the fact that you can just pop in for dessert, as opposed to going for dinner, which gives it a more relaxed vibe despite being in the hustle and bustle of Soho (and its strip clubs opposite) and makes it a real hidden gem.
MADD also sells a variety of non-mango cupcakes and desserts as well as a ridiculously rich chocolate mousse cake made from Nutella and the usual selection of teas and coffees you'd find in regular cafes. So even if you're not a massive fan of mango don't despair, it's definitely worth paying this place a visit. You'd be mad not to.
You might also like