Every year without fail one of my New Year's resolutions is to learn a new language, Spanish. But the reality is I never seem to be able to find the time to enrol in classes. For some unknown reason when I was at doing my GCSEs at school of all the languages I could learn I opted for German (I also did French but this was compulsory). I've no idea why. Not that there's anything wrong with speaking German, but let's face it, it's just not particularly useful unless you're in Germany. And of course not spotting the error of my ways I then chose to study Italian as an extra subject at sixth form, which again hasn't proven particularly helpful on my travels. With hindsight, given my love of travel, Spanish would undoubtedly have been a better option. And I always feel incredibly embarrassed at my attempts to speak Spanglish when the need arises.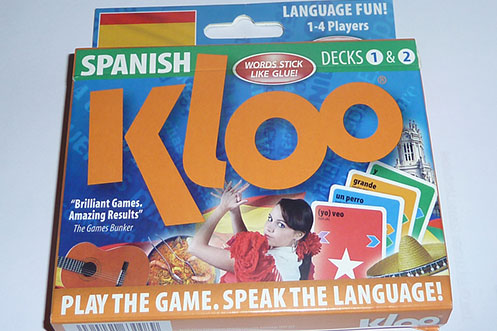 So when the lovely people at Kloo sent me their Spanish learning game I was quicker than Speedy Gonzales in trying it out. Kloo claims to help you to learn a language 200% faster as you start to form sentences within a minute. And as Kloo games are fun to play it supposedly helps you to remember words as it doesn't feel like you're studying.
The idea is that you have two packs of colour coded cards which you use to make words and sentences. Classic Kloo is played with two people, you compete against each other to form the longest sentences that you can, translating all the words in them that you recognise. Click here to watch a video of how to play classic Kloo. There are various other games you can play too, including a Kloo board game Race to Madrid. But for total beginners of Spanish it's recommended that you try the solo game Under Starters Orders first, to familiarise yourself  with some basic vocabulary and get to grips with how to build sentences.
Having dealt my cards I was a bit overwhelmed. It wasn't the prospect of putting the sentences together that phased me as that's pretty straight forward – you have to start with a card that has a star on it and each card then has arrows telling you the colour of the card you need to play next.  It was the thought of having to translate them. Each card has a Spanish word at the top (phonetically spelt out underneath so you know how to pronounce it) and a Spanish word at the bottom with an English translation. And I was struggling to spot which words at the bottom of the cards matched those at the top to make sense of them.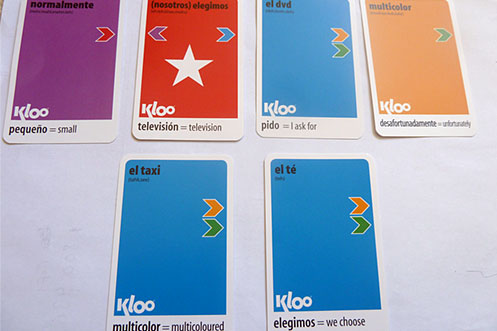 But with a bit of patience, and after I finally got my head around the structure of the sentences, I began to get the hang of it, recognising more words and phrases the more times I played. I may not be fluent but my Spanish has definitely improved thanks to Kloo. Hopefully next time I need to ask for the toilet (servicio) in Spain I won't get given a beer (cervizio) – although sometimes being misunderstood clearly has its benefits!
Kloo is available in French and Spanish and is brilliant for both adults and kids. Check out kloogame.com for more details of the games.
You might also like