I've been salivating at the breakfast menu at Dishoom (which describes itself as London's first Bombay Cafe) in Covent Garden for a while now. But I'm not a morning person and the prospect of dragging myself out of bed early at the weekend, and into central London to boot, isn't one that appeals. So when Massey PR invited me to meet them for a working breakfast, suggesting where I might like to eat was a no-brainer, as I was keen to see for myself if Dishoom really is a hidden gem.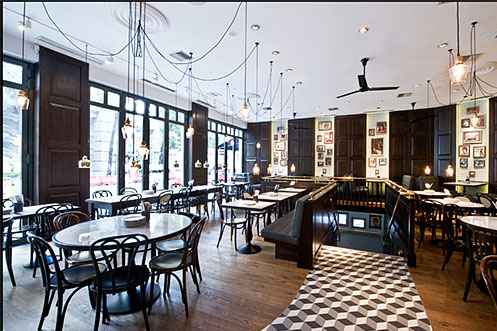 The concept of Dishoom is that it draws on the heritage of traditional Bombay cafes – walls adorned with family photos and slow-turning overhead fans. And Dishoom is what I imagine to be a glitzed up, contemporary version of the cafes you'd find in Bombay – with its brickwork walls, dark wooden furniture, high ceilings and open-plan kitchen. I particularly liked the booths where you can look up to see a variety of quirky Indian posters, plus the house rules which include no cheating or combing your hair!
For once I knew straight away what I was ordering as I was intrigued by the sound of the Bombay breakfast bake. One of the girls I was with had the sausage naan roll (£3.70) which, she said, wasn't too greasy and perfectly complimented by the chilli jam it's served with. The other PR tried the spicy Bombay omelette with sausage (£6.90) which I have to say didn't look anything out of the ordinary. But she assured me it was pretty tasty. But they both had food envy (I'm clearly on a roll) when my vegetarian Bombay breakfast bake (£7.90 or £8.90 with sausage) arrived at the table.
A lentil bhaji mash topped with two baked eggs and served with fresh naan may sound a bit of a weird combination, and not the sort of thing you'd want to eat first thing in the morning, but I was keen to try an authentic sounding Indian breakfast dish. Thick and creamy, with a bit of a kick, I thoroughly enjoyed it and it set me up for the day (I didn't eat again till dinner time which as Sharps will vouch for is highly unusual for me). There's also an interesting selection of chai and lassi to choose from (including chocolate chai and rose and cardamom lassi). To wash down my food I had a spiced cappuccino (£2.20) but I have to be honest and say while it tasted perfectly lovely I couldn't really detect any spiciness as this was perhaps overpowered by the flavours of my meal.
It's easy to see why people rave about Dishoom and its breakfast menu is a hidden gem in that it's real departure from the usual full English or muffin and pastry type offerings you get at most restaurants and cafes. There's fat chance I'll ever be converted into an early riser but breakfast at Dishoom is definitely worth getting out of bed for.
You might also like