Shopping for clothes isn't one of my favourite pastimes. And it can get more than a little hectic shopping in central London, especially at weekends. But when I heard about Boxpark, a new pop-up shopping mall that's just opened in East London (next to Shoreditch High Street overground station) I was quite excited. As I live in Forest Hill (South East London) I'm on the overground line, which means I can get directly to Boxpark in around 30 minutes, bypassing central London and making it a real Shoreditch hidden gem.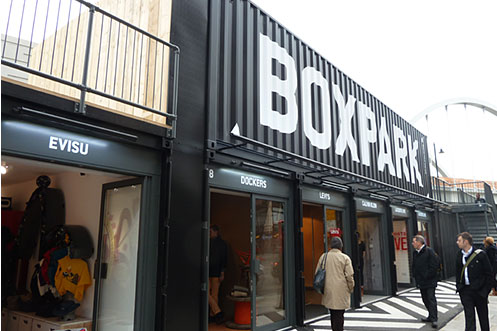 Shopping wise the Boxpark site is quite compact. The new Boxpark shopping 'mall' is built from shipping containers and with 60 fashion, food, arts and lifestyle brands. Boxpark is split into two levels. The ground floor of Boxpark is made up of chic, trendy clothes outlets. Many of them you'd expect to find on or around Carnaby Street, including Puma, 55DSL, Levis, Gola and Irregular Choice. My favourite Boxpark store is Playful Promises which sells vintage-inspired lingerie (there's also a branch in Bethnal Green). I loved the quirky shopping display (below).
Head up the stairs at Boxpark and you'll find an array of restaurants and food shops. Boxpark eateries including PieMinster and Hop Vietnamese cafe and a branch of Cybercandy. There are various decking areas with trestle tables and benches so you can sit down and eat alfresco at Boxpark. And as lots of the venues also serve alcohol it looks set to be a great place for summer after-work drinks. Boxpark is also home to an Amnesty Shop as well as a permanent gallery for the brilliant East London based charity Art Against Knives, showcasing the artwork of young, local talent.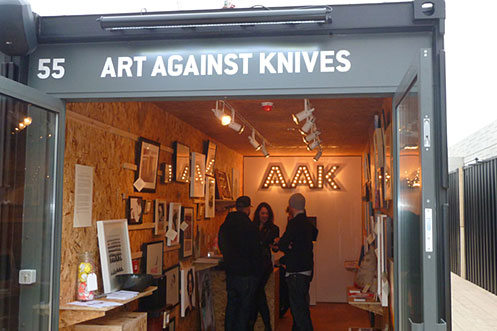 At Boxpark you can buy affordable artwork (pieces start from as little at £20) while helping to support the local community. Art Against Knives hopes to reduce knife crime through arts projects that provide an alternative to gang culture (its supporters include Tracey Emin, Chrostopher Kane, Banksy and Anthony Gormley).
One thing that still leaves me puzzled is why Boxpark has been labelled a pop-up shopping mall. Speaking to lots of the store owners I discovered they have signed five-year  leases so it's not exactly what you might call temporary. But personally I'm glad Boxpark is one fad that looks set to stick around.
You might also like