Vietnamese food is catching on fast in the UK. Particularly in London with lots of budget Vietnamese restaurants on Kingsland Road, in Shoreditch and Hoxton. So when I was invited by the people behind Pho to sample their menu, which included legendary weasel coffee,  I was keen to see whether the concept of a chain of Vietnamese restaurants would work.Pho opened the doors to its first branch in Clerkenwell six years ago and now has five restaurants in the capital, including its newest addition in the Westfield Shopping Centre, plus one in Brighton.
We decided to go to the Soho branch on Wardour Street. On arrival at 7pm were told there would be a 45 minute wait as they don't take bookings. But you can hang out at the bar area and it gives you an excuse to sample the homemade lemonade, with a shot of vodka, or one of their refreshing fresh juices (I had a zingy combo of apple, mint and lime). It was pretty packed, but given the lack of decent, low-cost places to eat in Soho if you haven't heard of Pho I'd still say it's a bit of a hidden gem.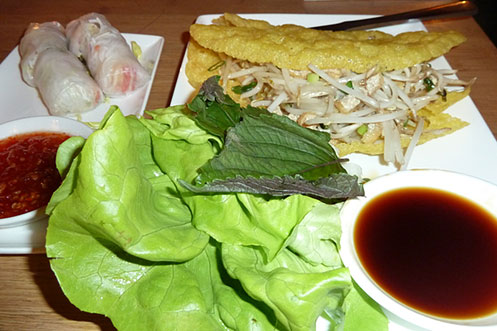 For starters we opted for veggie summer rolls. Served cold, they were fresh-tasting. The soft, outer texture of the noodles perfectly complemented the crunchy veg inside. We could really taste the coriander, which I'm not usually a fan of. We also shared a traditional Vietnamese crêpe, filled with tofu and beansprouts (Banh Xeo Chay). I'd envisaged more of a pancake but our Vietnamese crêpe was made from rice flour and fried. It was thin and crispy and almost poppadom like in taste – delicious. Eating it proved a bit of a challenge. Our incredibly helpful waitress explained that first we should divide it into four sections. Then we take a lettuce leaf, wrap it round each piece, and dip into soy sauce – much trickier than it sounds. It was quite messy, so probably not the best choice if you're on a date. We were quite happy to eat with our hands.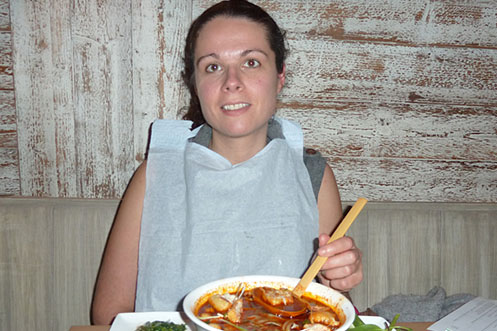 Given that we were in Pho restaurant, we thought it would be rude not to sample the dish of the same name. Pho is actually the national dish of Vietnam and the ultimate in Vietnamese street food). I wasn't disappointed when my huge, steaming portion of Pho noodle soup arrived. The waitress offered us bibs. I didn't take it personally as I'd seen her ask other people too. I gladly put mine on as I've been known to miss my mouth on more than one occasion. I went for the hot and spicy tofu and mushroom soup. It had a real kick and makes a great hangover cure. My Pho had a rich, tomatoey flavour (despite being made from vegetable stock, not tomatoes) with a hint of something that tasted similar to Worcestershire sauce. And for once it was Sharps who had food envy as although he enjoyed his hot and spicy brisket beef soup he said the flavours were more subtle, coming from the coriander, herbs and green chilies – the heat exploded in his mouth when he munched on one. Perhaps this was because unlike my dish made from stock, his was served with a chilli shrimp paste which you add to it, rather than it being cooked all together.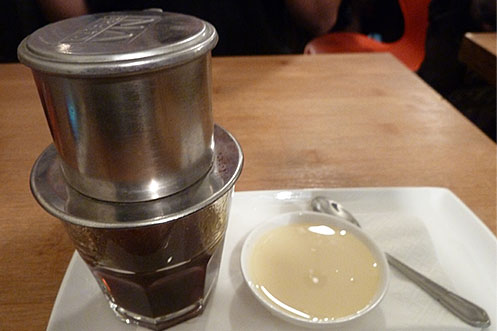 As usual our eyes were bigger than our bellies. After the massive two courses we were bursting at the seams. Even Sharps couldn't fit in dessert, though we were tempted by the honey and ginger ice creams. We settled for a Vietnamese coffee instead, and this for me is what makes Pho a real hidden gem. I discovered Pho has weasel coffee on the menu. The owners claim weasel coffee is exclusive to Pho in the UK. At £5.95 a cup it's not cheap but that's because it's one of the rarest coffees in the world (so rare in fact that I had to pay a second visit to Pho to try it as they didn't have any left, which Sharps was quite relieved about). The weasel coffee (Chon Ca Phe) is so-called because it's eaten, digested then pooed out by Vietnamese weasels. Allegedly this alters the flavour of the coffee beans. I was dubious at the thought of a strong, bitter drink so I had my weasel coffee served long. It was surprisingly mellow and quite refreshing. I've had some shit coffees in my time, but weasel coffe wasn't one of them.
You might also like